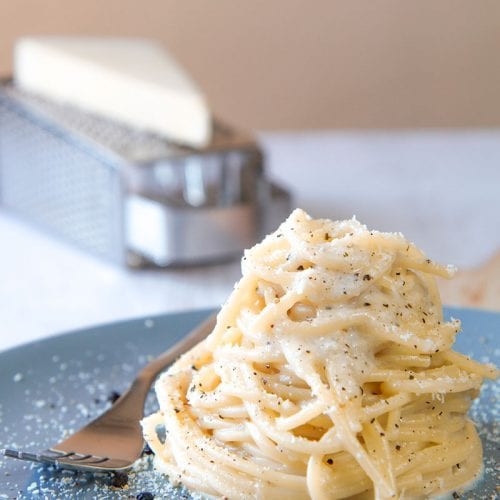 The Legend of Cacio e Pepe
So simple, but so delicious, Roman Cacio e Pepe is an an iconic dish. Learn the story of its creation and then make the pasta.
First, place a pot with 5 quart of water and the cooking salt on high heat. Grate the Pecorino Romano with the Outward protruding holes with spiky edges on all sides: this because the cheese have to be grated into flakes as small as possible. Now, combine the grated pecorino with black pepper, coarsely ground at the moment. When the water is boiling, pour the spaghetti into the pot. To cook perfectly the pasta, the water have to strongly simmer.
THE CHEESE SAUCE
The secret of the cacio e pepe recipe is the creamy sauce. The worst thing that you can do at your cacio e pepe (and Italian people can't tolerate!) , is add, butter or cream. To obtain the original cheese cream, follow this steps.

Meanwhile the pasta is simmering, pour the grated pecorino and black pepper into a bowl big enough to contain spaghetti. When the pasta is cooked "al dente", turn of the heat, and take an half ladle of spaghetti water and combine with cheese and pepper. Beat strongly the cheese with water to obtain the sauce. The cream have to be very smooth but not washy, if necessary add some more tablespoon of cooking water. When the cheese sauce is ready, drain and pour the spaghetti into the bowl and whisk strongly. Finish the dish with fresh grated Pecorino and black pepper, and serve quickly, otherwise the sauce become too thick!