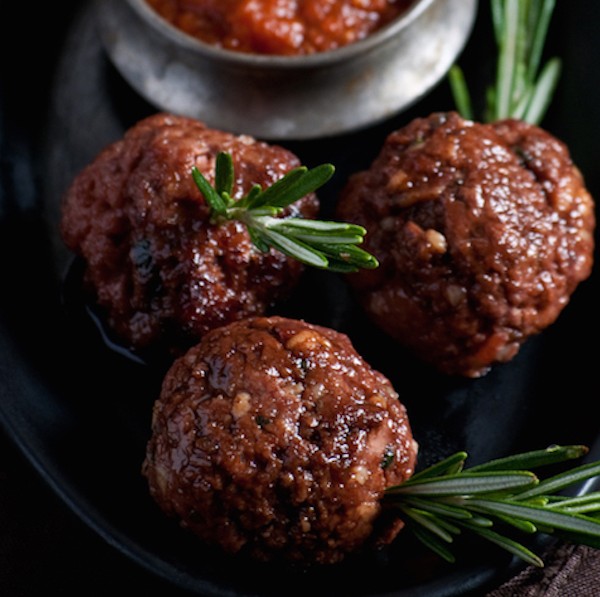 Rosmarin in Culo: Meatballs in Sun-Dried Tomato Ketchup
Inspired by the famous Tuscan butcher, Dario Cecchini, these meatballs are freshly ground and served medium-rare, skewered with rosemary.
Sun-dried tomato ketchup
1/2

cup

sun-dried tomato halves

1/2

cup

boiling water

1

tablespoon

olive oil

1/4

cup

onion

finely chopped

1

garlic clove

finely minced

1

tablespoon

balsamic vinegar

1

tablespoon

brown sugar

1

teaspoon

tomato paste

Pinch

of salt

Pinch

of chili flakes
Meatballs
I kilogram of meat

The ratios for these juicy, flavourful meatballs was 10% guanciale, 20% sirloin, 70% chuck. I cut the meat into cubes no bigger than an inch before grinding

1

garlic clove

finely minced

1

teaspoon

of finely chopped fresh rosemary

1

teaspoon

fresh thyme leaves

1/2

teaspoon

freshly ground pepper
Sun-dried tomato ketchup
Soak sundried tomatoes in boiling water for 30 minutes, until soft. Heat oil in a small saucepan over medium heat, add onion and sauté 3-4 minutes or until translucent. Add garlic and tomato paste, and cook for another minute or two. In a blender, or food processor combine sundried tomatoes and their soaking liquid with all of the other ingredients and purée the mixture until smooth.

Transfer the purée to a small saucepan, and bring to a gentle simmer over medium heat. Reduce heat to low, cover and let simmer for 20 minutes, stirring occasionally. Transfer to a small jar, and let cool completely before refrigerating.

Leftover ketchup will keep for up to a week in the fridge.
Meat
See instruction link above recipe for grinding.

The most important thing to remember when grinding your own meat is to have everything very cold. I chilled the processor bowl and blade as well the meat in the freezer for about 30 minutes before I started grinding.

Once ground, roll the ground meat mixture into balls about the size of a walnut.

Cook in a cast iron skillet over medium high heat, shaking the pan to keep the balls rolling and evenly brown on all sides. It should take 7-9 minutes for about a medium depending on the size of your balls. Skewer each ball on a sprig of fresh rosemary and serve with homemade sundried tomato ketchup.