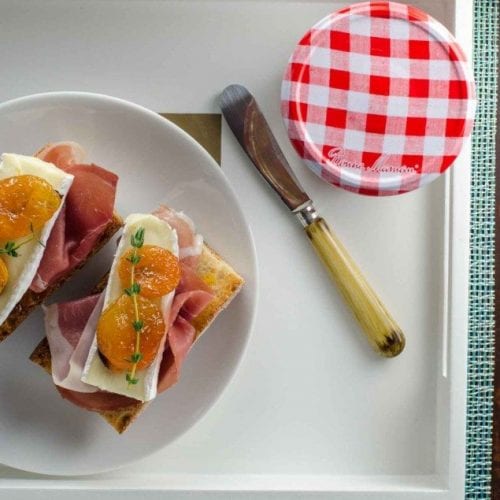 Prosciutto and Brie Apricot Toasts
Looking for an easy but elegant breakfast in bed recipe for Mother's Day that's perfect for little hands to make? Try this prosciutto, brie and apricot preserves on a toasty baguette.
Preheat oven to 350°F. Cut the baguette into five sections and halve each section lengthwise. Line a sheet pan with parchment paper. Place sections, cut sides up, in a closely spaced single layer on the pan, leaving some room for the apricots.

In a small bowl, stir together two tablespoons of the apricot preserves and the dried apricots until the apricots are evenly coated. Place apricots in a single layer in the remaining space on the sheet pan. Bake for about 15 minutes, until bread is lightly toasted and apricots are a bit sticky and jammy.

Spread each baguette piece with some of the remaining apricot preserves. Drape with a slice of prosciutto and top with a slice of brie and a couple of jammy apricots. Garnish with thyme and serve.