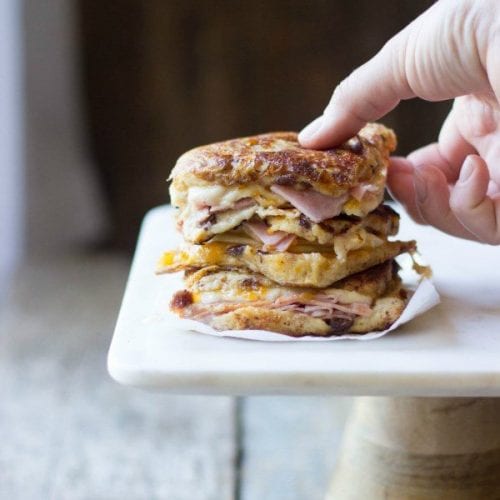 Apricot Monte Cristo
This Monte Cristo sandwich takes things to a whole new level with cinnamon raisin bread, muenster cheese and apricot preserves.
Layer 4 slices of bread with honey ham, muenster and apricot preserves. Place remaining bread slices on top.

In a shallow dish, whisk together milk, eggs, nutmeg, cloves and salt until combined.

Heat one tablespoon butter in a nonstick skillet to medium heat. Dip one assembled sandwich in milk/egg mixture, then place in the hot skillet. Cook 3-4 minutes per side, until bread is golden brown and cheese is completely melted. Repeat this process with remaining butter and sandwiches.

Slice each sandwich into 4 squares and serve with extra apricot preserves and powdered sugar (optional).