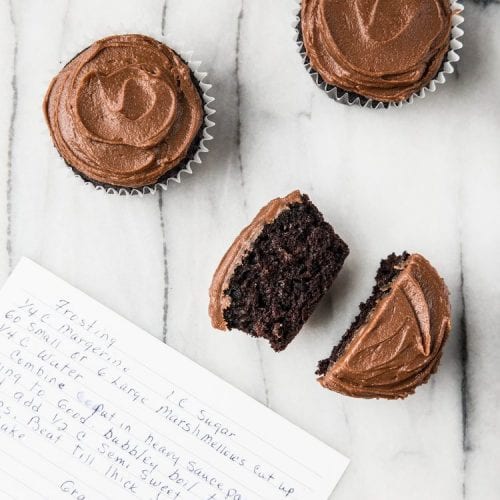 Ultimate Chocolate Frosting and Cupcakes
Check out this fluffy, rich chocolate frosting made special with marshmallows. Make the chocolate cupcakes to match, a delicious chocolate bite baked with extra richness, thanks to strongly brewed coffee.
Chocolate Frosting
1/4

cup

56 grams butter

1

cup

200 grams granulated sugar

6

standard or 60 mini

42 grams marshmallows

1/4

cup

60 mL water

1/2

cup

85 grams semi-sweet chocolate chips
In a large saucepan over medium heat, whisk together butter, sugar, marshmallows, and water. Bring to a boil, stirring constantly, and remove from heat. Whisk in chocolate chips until melted. Cool the frosting in the refrigerator, whisking energetically every few minutes until it reaches a spreadable texture (approximately 15-20 minutes).

Frost cooled cupcakes and serve. Store in an airtight container at room temperature or in the refrigerator, depending on preference.