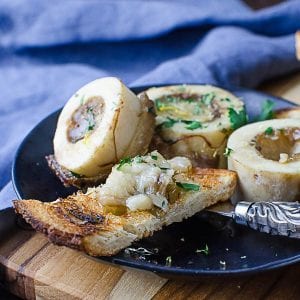 How to Prepare and Serve Bone Marrow
You've had the sinfully rich, buttery, fatty bone marrow dishes at restaurants and not it's time to make your own at home. Here's how to prepare and serve bone marrow.
2

pounds

marrow bones cut crosswise about 1- 1/2" thick

1/4-1/2

teaspoon

kosher salt

4-5

slices

artisan bread from a boule or country loaf with a sturdy crust

1

clove

garlic peeled

parsley chopped

lemon zest
Preheat the oven to 425°. Line a baking sheet with foil and place the marrow bones cut-side-up on top of the foil. Sprinkle with the salt and roast in the hot oven for 20 minutes.

Meanwhile, heat the grill to a medium high heat -- about 400° and grill the bread on either side until browned and crisp with telltale bits of char. Transfer the bread to a sheet pan and rub one side of the bread lightly with raw garlic. The crispy bread acts as a grater and infuses the bread with the garlic aroma and flavors -- so don't be too heavy handed -- you won't use the whole clove. Cut the bread into halves or thirds (depending on how large the slices are) and serve in a bread basket or alongside the marrow bones.

When the marrow has finished roasting, transfer to a serving platter and sprinkle with chopped parsley and lemon zest.

To serve, use a small spreader knife to scoop out the marrow - spread it on the grilled garlic toasts, like butter and enjoy!