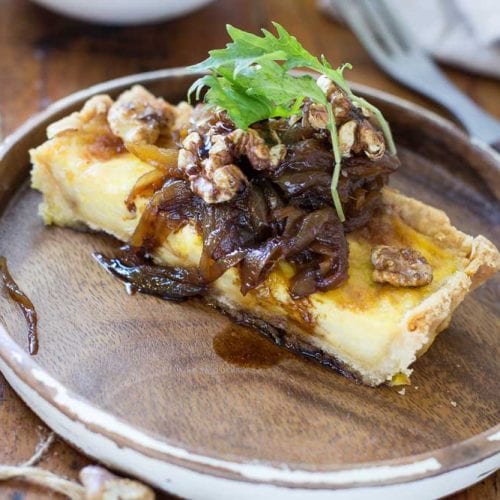 Savory Gruyere Tart
What's better than a creamy cheese filling sitting in a buttery crust and topped with sweet and sour marmalade onions? Make this savory gruyere tart STAT.
1

x Baked tart shell

Find the recipe link above My tart case measures 35cmx 13cm (13 x 5 in) You could use a 24cm (9 in) round tin or a 28 x 18 cm (11 x 7 inch). Just make sure they have a removable bottom

200

gm / 7 oz grated Gruyere Cheese

300

ml

/ 1½ cups or 10 fluid oz thickened

heavy cream

3

yolks

large

1

kg/ 2.2 lb sliced onions

50

gm/ 1.8 oz butter

2

Tablespoons

olive oil

2

Tablespoons

orange marmalade

5

Tablespoons

white balsamic or Caramelized balsamic

1

tablespoon

aged balsamic

or plain balsamic if using caramelized above

50

gm Walnuts

2

Tablespoons

sugar
Once you have a baked tart case:
Put ½ the grated cheese onto the bottom of the tart case.

Put the egg yolks, cream and the rest of the cheese into a bowl with some salt and pepper and mix well. Pile the mixture into the tart case along with the other cheese.

Put the tart into the oven and bake 15-20 minutes or till just set (it may be a bit wobbly when shaken)
To make the onions:
Heat a pot and add the olive oil and butter. Let it melt then add the onions and cook on low till starting to wilt and colour stirring frequently. ( the bottom may catch a little. Just don't scrape it.)

When the onions are golden in colour add the marmalade and the white balsamic vinegar. Continue to cook till the onions become a deeper golden colour and look kind of glossy.

Add a Tablespoon of sweet balsamic to finish.
To make the walnuts
Heat a non stick frypan and add the walnuts. Toss over a medium heat till starting to colour. Once they are lightly coloured turn off the heat and sprinkle over the sugar tossing to coat. The sugar will melt with the heat and coat the walnuts. Cool on a plate

Serve the tart wth a little extra balsamic ( sweet or aged)