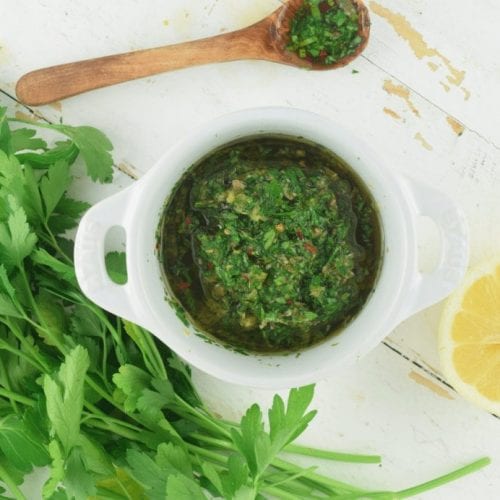 Italian Salsa Verde and Grilled Chicken
This dish is so simple, but comes out tasting so flavorful and feeling so impressive. Fire up your grill and make this easy grilled chicken served with an herbaceous Italian salsa verde.
2

lbs

boneless skinless chicken thighs

1

recipe of Italian Salsa Verde

click the link above
Make the salsa verde.

Marinate the chicken thighs in ¾ cups of the salsa verde for one hour in ziplock bag or a large covered bowl. Toss the chicken around in the marinade so it's evenly coated. Set the remaining ½ cup of the salsa verde aside and save for topping the grilled chicken.

Remove chicken from plastic bag or bowl, and discard any marinade that's touched the raw chicken.

Grill the chicken on a preheated grill (or grill pan on your stovetop), about 5 minutes per side, until the chicken is cooked and an instant read thermometer registers at 165* F. Remove from heat when cooked and lest rest for 5 minutes.

Arrange the chicken on a platter, and drizzle with some of the remaining salsa verde (that did NOT touch the raw chicken). I like to leave a bowl of the salsa verde out with a spoon so people can add more if they like.