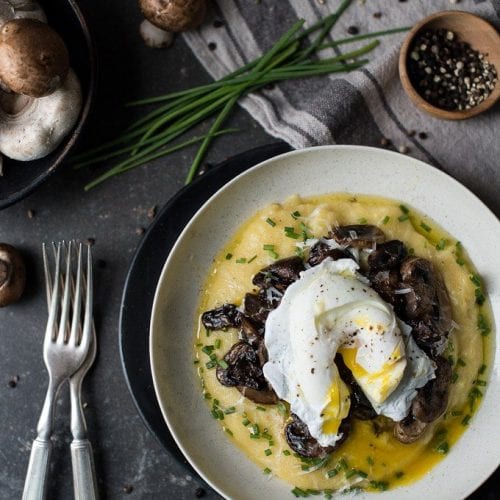 Mushroom Ragout and Creamy Polenta
This hearty, earthy mushroom ragout is served on a bed of creamy polenta and topped with a poached egg. A cozy meal we can't get enough of.
TO PREPARE THE MUSHROOMS:
Preheat oven to 400°.

In an oven-safe sauté pan, heat olive oil and garlic over medium heat.

Add chicken base and stir until dissolved.

Add mushrooms and sauté until coated with oil.

Place skillet in oven and allow to roast for 15 minutes, stirring occasionally
While roasting, start to prepare polenta:
To poach eggs:
heat water in small sauce pan with a splash of vinegar until water is steaming but not boiling.

Crack egg directly into water and cook until white is set and yolk runny, about 4 minutes.
TO ASSEMBLE:
Place 1 C polenta in a bowl and top with ¼ of the mushroom and remove egg from water using a slotted spoon and place on top of mushrooms.

Garnish with chopped chives and serve.