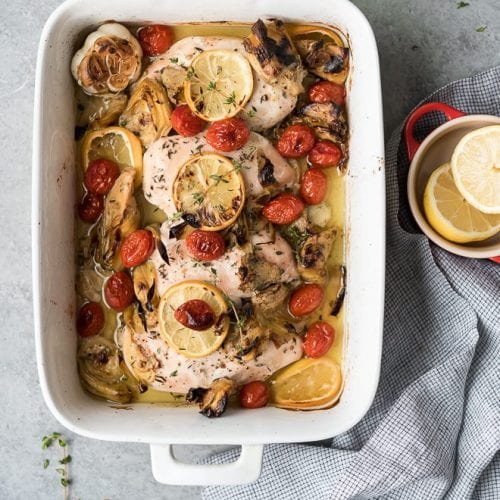 Artichoke Lemon Chicken
A quick and easy chicken dish full of bright lemony flavor with garlic, artichokes and cherry tomatoes.
Preheat the oven to 375 degrees. Lightly spray/oil the bottom of a 9x13 baking dish. Lay 4-6 slices of lemon on the bottom of the dish. Place the chicken on top and season both sides with salt and lemon pepper.

Sprinkle the crushed garlic cloves on and around the chicken. Add the artichokes, tomatoes, thyme and remaining lemon slices on top.

Bake for 40-45 minutes until chicken is cooked through. If you want that extra brown color on top, you can broil for 2-3 minutes at the end. Let rest for 5-10 minutes then serve!