SPONSORED POST: From Dijon Originale mustard to Cornichons, Maille has a rich heritage starting in 1747 that honors tradition. Check out these easy recipes that pack great flavor, thanks to Maille. BONUS: Maille is giving away a one year's supply of their delicious products! Be sure to enter below.
Dig into this hearty and healthy Winter Buddha Bowl that is cozy and loaded with roasted veggies and drizzled with a honey mustard and tahini dressing. Serve with a Grapefruit-Pomegranate Sour Cocktail for a perfect match.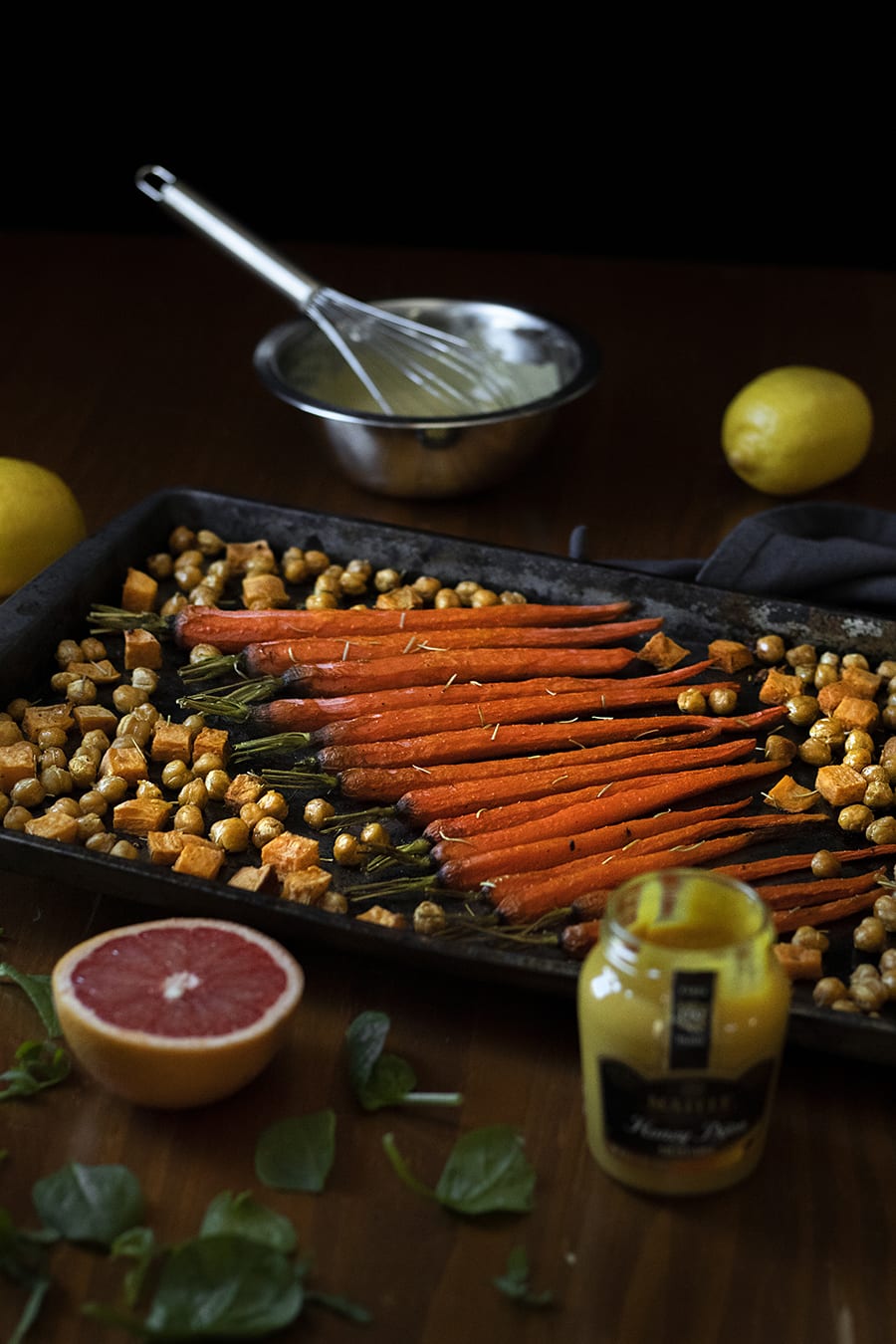 Year's Supply of Maille Giveaway!

One of my goals this year is to return to the healthy eating habits I strayed from during my pregnancy (morning sickness put me on a carb heavy diet). After my daughter was born, it was just too easy to continue eating quick and less than nutritious meals on a regular basis. After a long day, and especially with a new baby, easy wins. Now that Isla is a toddler, easy is still winning on most nights. So that's why my New Year's eating plan is made up of delicious, fresh, and very healthy meals that are also super quick and easy!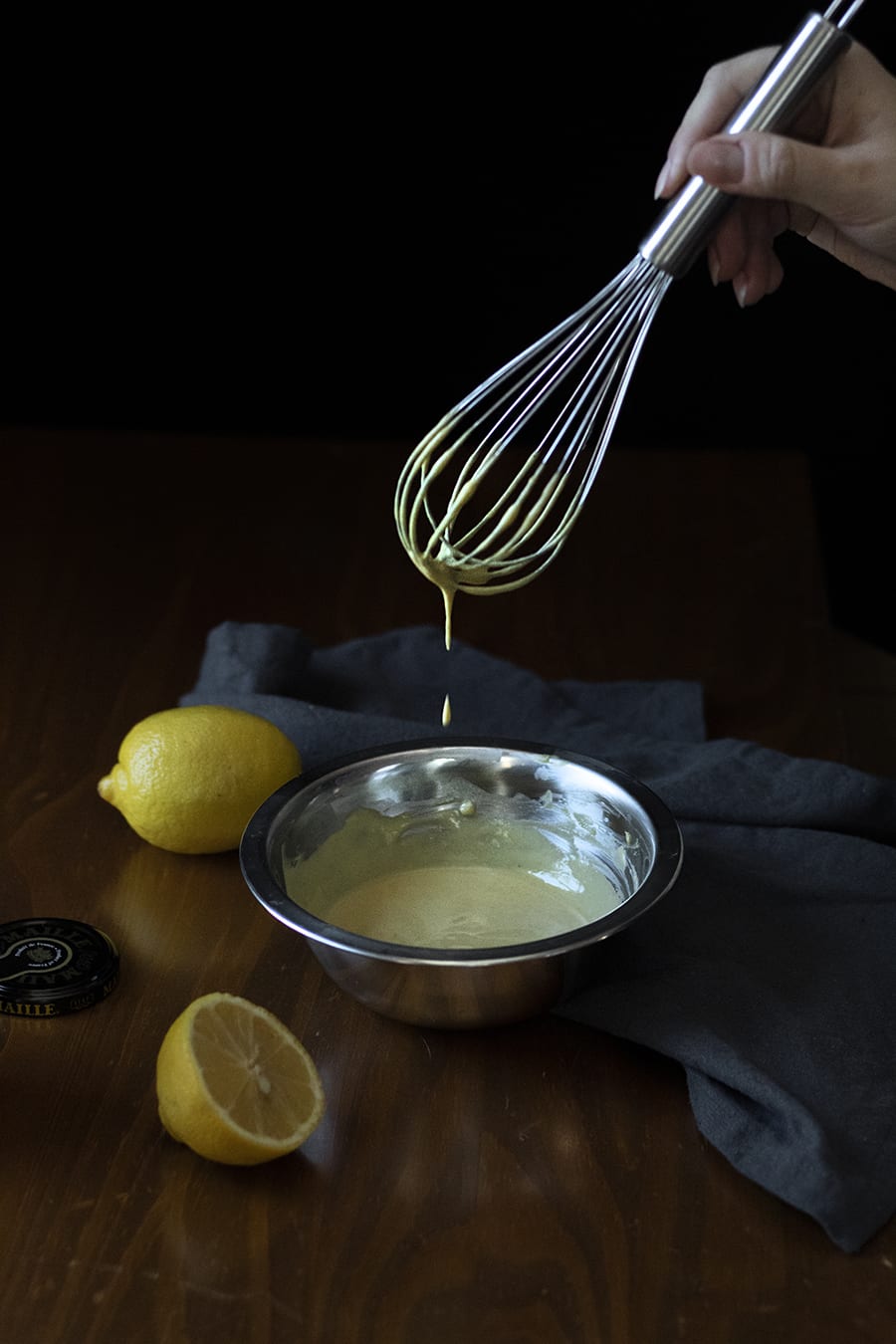 I really enjoy eating and drinking seasonally, so this time of year I'm all about hearty root vegetables, savory, roasted flavors, and sweet-tart fruits like pomegranates and perfectly ripe citrus. This Winter Buddha Bowl with Honey Dijon Dressing is all of those things, and packs a ton of nutrition into a quick, easy, and also very easy-to-enjoy weeknight dinner. The perfect pair for this feast of winter flavors is my light, crisp Grapefruit-Pomegranate Sour, a great lunch or dinner time cocktail with vodka, grapefruit, lemon, and a honey pomegranate syrup.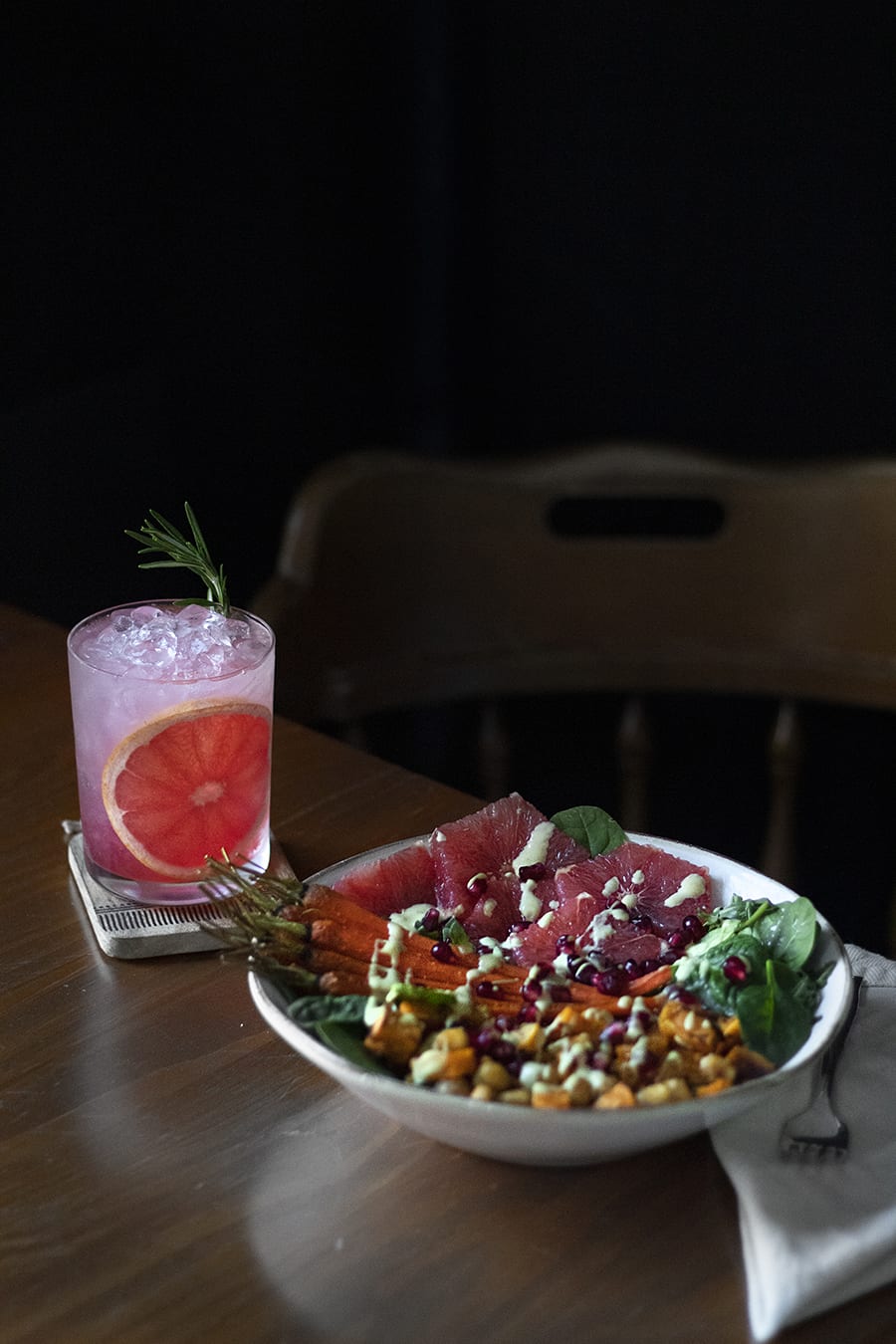 I used oil to roast the chickpeas and veggies, but it's also possible to make this recipe without it if you're avoiding oil. Simply steam the potatoes and carrots for a few minutes (just until tender) and then toss with seasonings before popping them in the oven. You'll want to shorten the cook time a bit, as they will only take 20-30 minutes once steamed.
I went with some beautiful organic tender young carrots for this recipe, but you can certainly substitute bagged baby carrots for convenience. Cut them in half lengthwise to ensure they cook quickly. For the seasoning, I chose a simple combination of rosemary and garlic which I associate with cozy winter evenings and pairs wonderfully with the Maille Honey Dijon in the dressing. However, this meal is still pretty delicious even if seasoned only with salt and pepper, thanks to the dressing.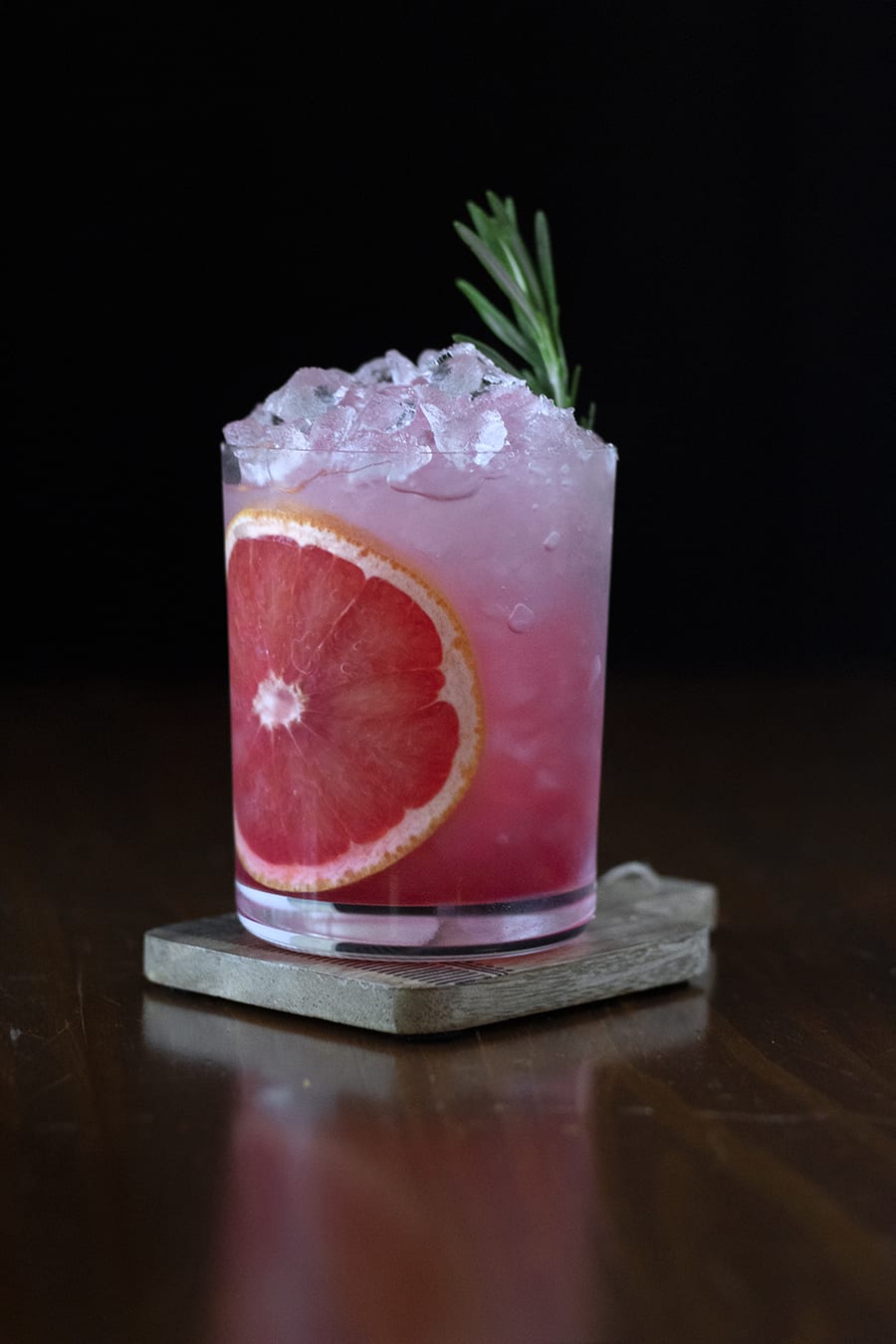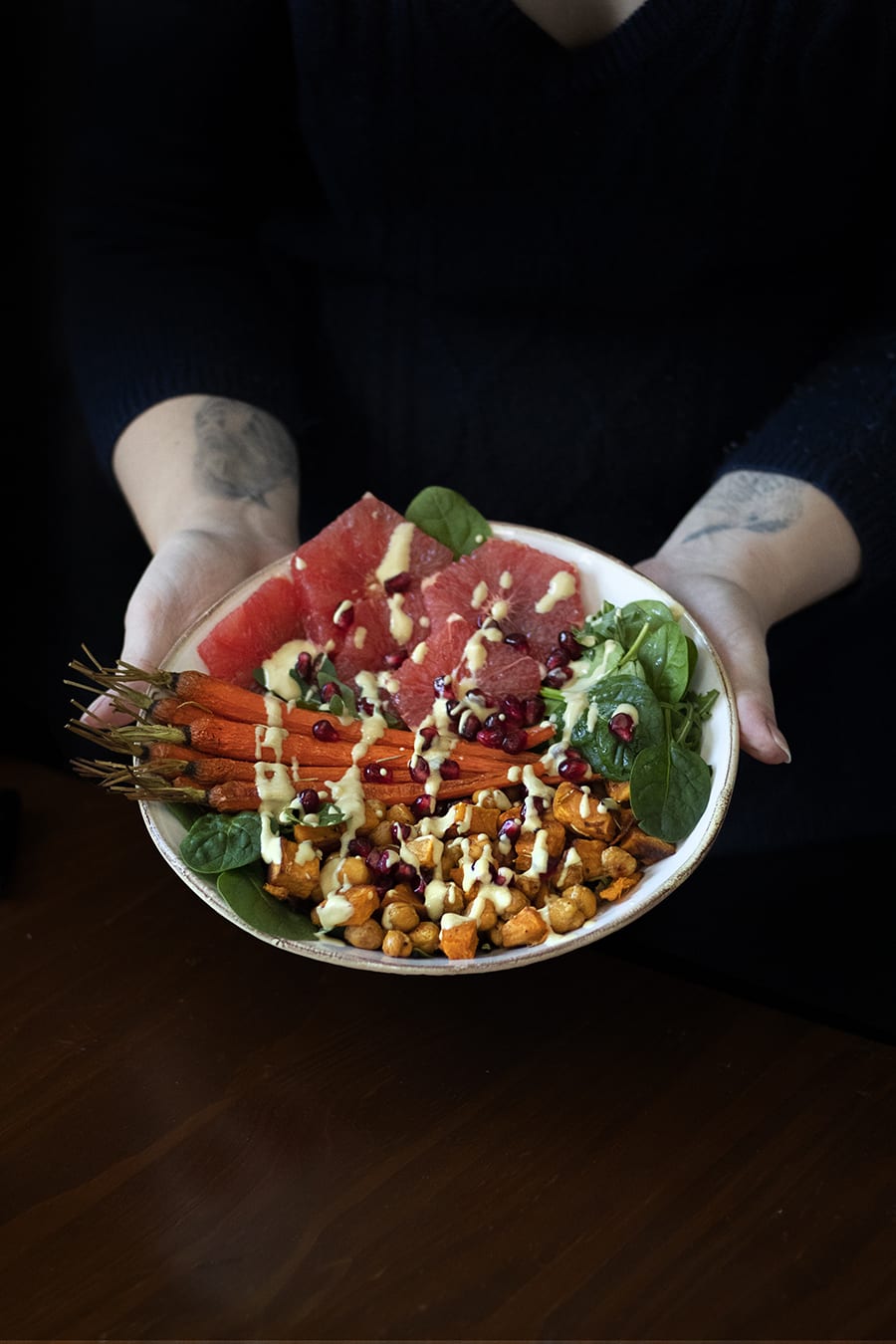 The dressing is the key to a fabulous Buddha Bowl, and this one is my favorite for winter bowls. A common issue with the usual tahini-heavy Buddha Bowl dressings is that they tend to be kind bland and one note. That is not the case with this blend of honey mustard, tahini, and lemon, which is savory, nutty, earthy, tangy, and a tiny bit sweet (in my opinion – perfection!) I used Maille Honey Dijon for this, and I don't recommend substituting other much sweeter and less flavorful mustards for this sauce. Quality is key, and trust me, if you pick up a jar of this stuff you won't want another mustard ever again.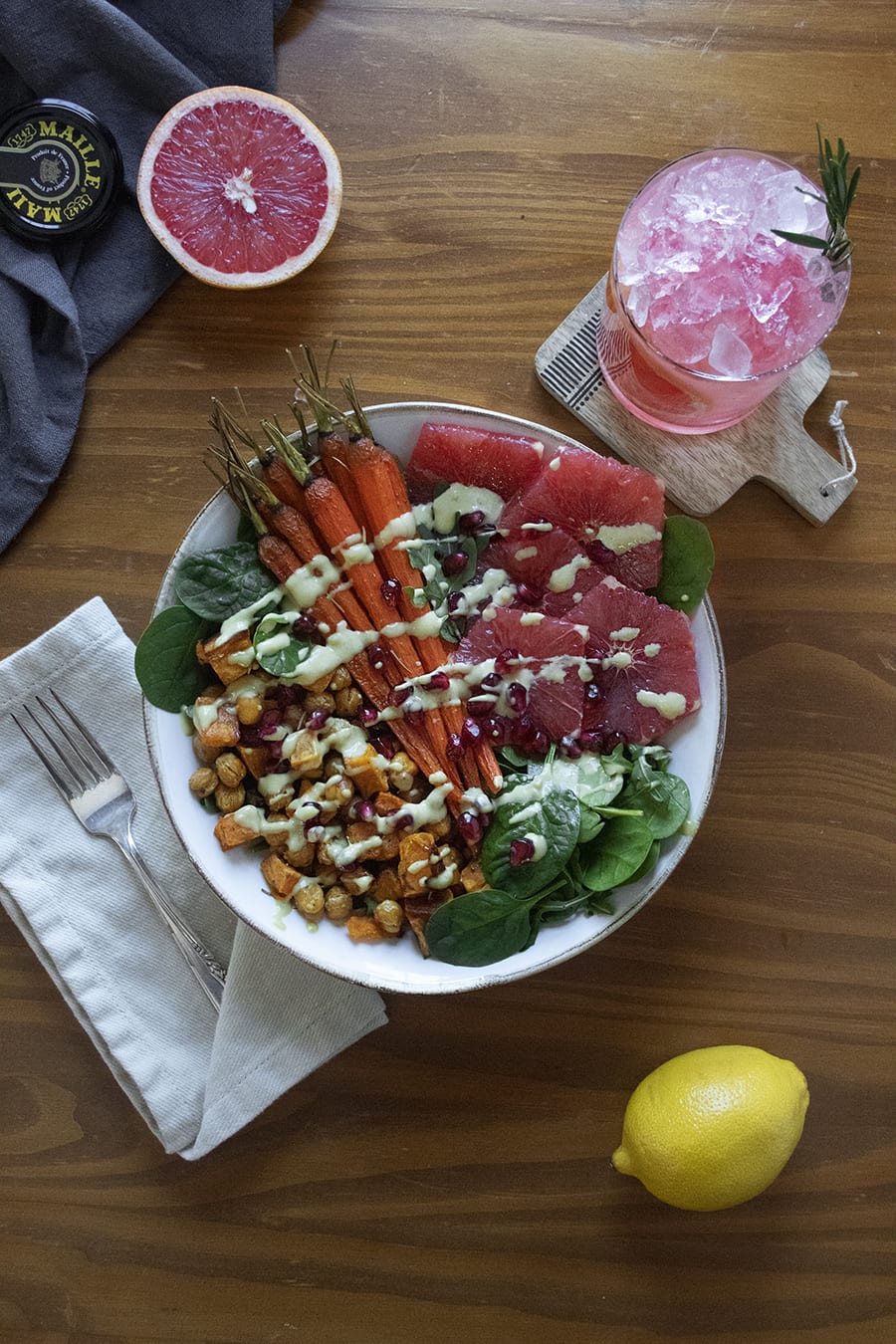 Click HERE for the buddha bowl and cocktail recipe.