Kathy Bechtel takes us on a wine tour of the Friuli-Venezia Giulia region in Italy.
By Kathy Bechtel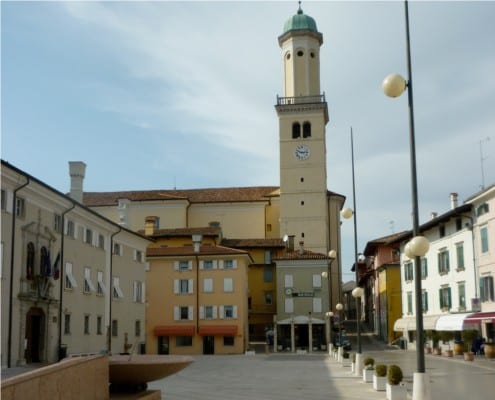 In March, 2012 I had a chance to visit the town of Cormons, Italy, located in the region of Friuli-Venezia Giulia, just a stone's throw from the Slovenian border. Cormons enviable location places it in both the Collio and Colli Orientali di Friuli wine zones. A spectacular region for our bike tours, with so many amazing wines to discover along the way.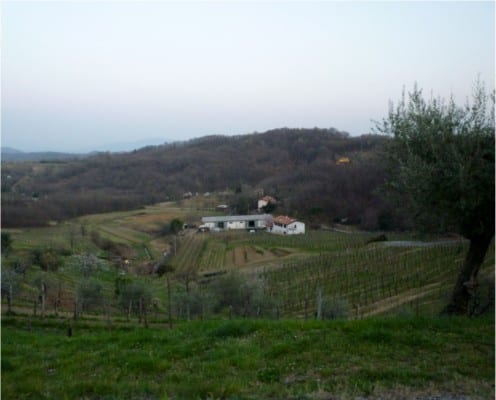 The Collio and the Colli Orientali del Friuli DOCs are considered to be the heart of the wine country of Fruili-Venezia Giulia. Many wine connoisseurs regard the whites from these two regions as perhaps the best in Italy. Collio lies in the province of Gorizia, bordering Slovenia and across the Judrio River from Colli Orientali. The two zones are often referred to as Collio Goriziano. The zone itself runs east/west, with the Adriatic to the south and the Giulian Alps to the north. This region has only been part of Italy since WWI, and the majority of the original wine zone lies across the border in Slovenia, producing wines under the "Brda" designation, which is "little hill", or Collio in Slovene. The largest towns in the zone are Spessa, Capriva, Oslavia, San Floriano and Cormons, the last the home of the wine consortium and one of Italy's greatest wine towns. The white varietals cultivated here include native grapes such as Tocai Friuliano (now know as Friuliano, as the EU has restricted any wine but the Hungarian Tokai from using that name), Malvasia Istriana, Ribolla Gialla as well as Pinot Bianco, Pinot Grigio and Sauvignon Blanc.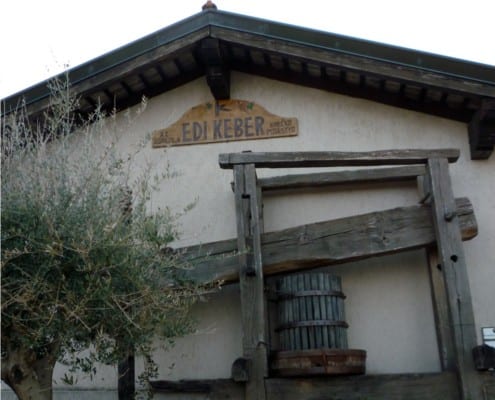 I didn't find a lot of wineries open for tasting this early in the season. During a drive through the surrounding hills I found the estates of many of the top producers whose wines I had been researching and tasting, including Branko, Edi and Renato Keber, and Oscar Sturm. The Branko winery I had specifically sought out, as I very much enjoyed their Pinot Grigio, voted one of the best whites in Italy. But most were shut up tight.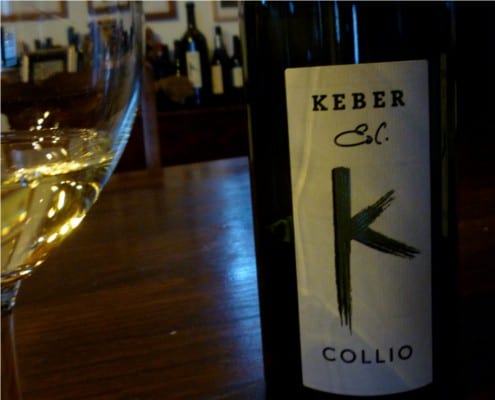 Edi Keber was open, and I was able to taste the one white they produce, Collio Bianco 2010. Edi Keber comes from a long line of wine producers, originally from Vienna, bottled his first wine in 1957, and today cultivates 10 hectares of vineyards in Zegna, all featuring the extremely poor "ponka" soil characteristic of this region, a stony, friable marl that stresses the vines and results in very low yields. This poor growing environment gives the wines a remarkable body and weight, and unique minerality.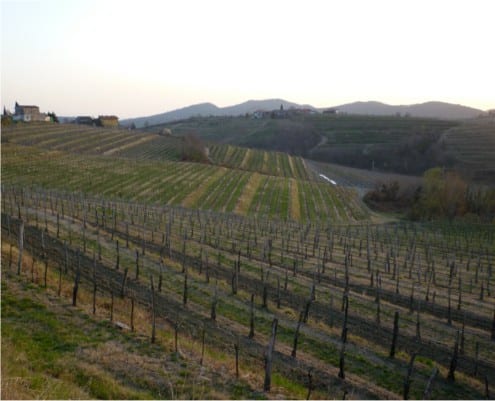 Edi is dedicated to producing wines that truly represent the terroir of the region, and therefore produces only a single white wine: the Collio Bianco, a blend of three varieties that have been grown in the area since before the two World Wars: Friulano, Malvasia Istriana, and Ribolla Gialla. Each provides it's own unique character to the blend: structure and body from Friulano, aromatics from the Malvasia, and acidity from Ribolla Gialla. This blend was intensely flavorful, with lots of fruit and that nice minerality. A persistent, refreshing finish. This would be a wonderful accompaniment to vegetable dishes such as risottos and pastas, and seafood first courses.
My tasting was limited on my travels, but I knew I would have plenty of opportunity to taste at the Enoteca di Cormons. I had read about this wine bar in several publications, all recommending highly. I wasn't disappointed!
I arrived in early evening, around 6:30 or so, and there were only two other patrons, so I had plenty of attention from the proprietor. I let her recommend the best local wines, and began with the indigenous varietal most typical of the region, a Friulano from Magnas. Magnas winery of Andrea and Luciano Visintin started up in the early 1970's. This producer is located in yet another adjacent wine zone, the Isonzo del Friuli DOC, an area also known for high quality white wines. The Visintin family has been agriculturists for several generations, and emphasize quality over quantity in their production. Their Friulano is made from 100% friulano grapes, and is straw-yellow in color with hints of green. As is typical with Friulanos, it is highly aromatic with flavors of tropical fruit, citrus, and hints of almonds. Full-bodied, flavorful, and dry, with a nice acidity to round it out. A very pleasant wine, again a good match with cured meats and cheeses in the local antipasti, vegetable dishes, seafood and white meat.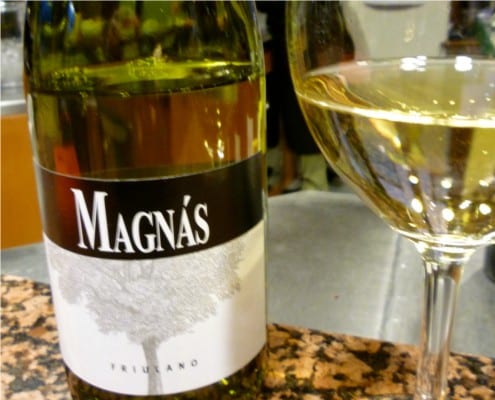 As I was enjoying a few sips of the Magnas Friulano, I noticed the other two gentleman patrons were tasting the Branko Pinot Grigio, a wine I had discovered in the US and found very nice. I commented on how much I like the Branko wine, and to my surprise found that I was talking with Igor Erztic, the winemaker himself! After explaining my visit, as I learn and taste the wines of the area for future visits our our Italiaoutdoors Food and Wine bike tours, Igor and his friend took it upon themselves to give me a thorough introduction to many of the best wines the the area. What followed was almost a blur of wines, and the two gentlemen and the proprietor placed wine after wine in front of me! I steeled myself to make sure I took pictures, lots of notes, and spit! Here's the lineup: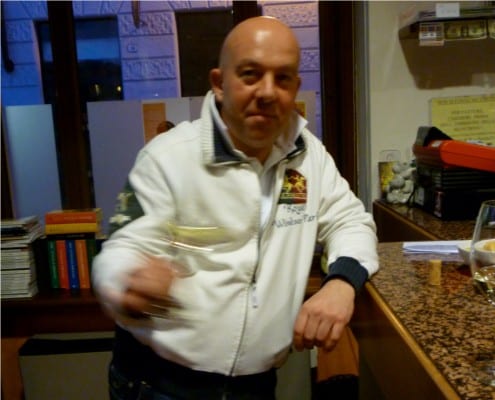 We began with the Branko Chardonnay 2011. The Erzetic family has been cultivating grapes and producing wines in this area for many years. Branko Erzetic, restored the terraced vineyards with his then teenage son, Igor. Today, Igor runs the operation. The Branko Chardonnay is wonderful example of how flavorful and refreshing a chardonnay can be, especially when the oak is used to enhance the grapes, rather than overwhelm. We had a discussion about this tendency of some producers, especially in the US, to over-oak their chardonnays, something I have never been a big fan of. The Branko Chardonnay has a very pleasant bouquet with floral notes, pear, apple, and just a hint of oak. Crisp and refreshing, this is a wine to introduce to your friend who has sworn off this grape after one too many glasses of the oaky, buttery versions.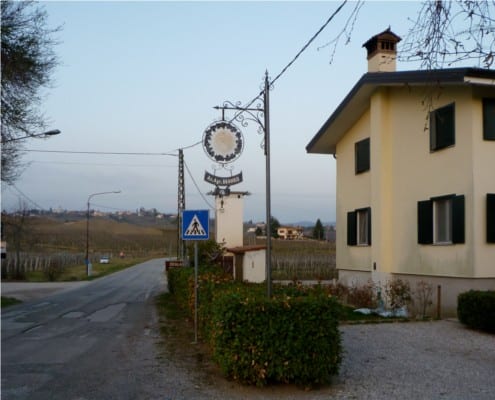 Next, the Branko 2011 Pinot Grigio. This is Branko's flagship wine, and a regular contender at Gambero Rosso's Three Glass finals. This wine has walked away with the prestigious 'tre bicchieri' award on numerous occasions, earning a reputation for a top notch example of this varietal. For those of you who view Pinot Grigio as a rather uninteresting wine, this will be an eye-opener. Full-flavored and intense, hints of ginger give this a spiciness that is balanced with velvety flavors of pear and almond, and just a hint of oak. It manages to be both complex and refreshing at the same time, and is now one of my favorite Pinot Grigio wines. A wonderful, flavorful wine that pairs well with an antipasti of speck and local cheeses, or poultry.
Igor Erzetic explained to me the layout of the local vineyards, with the Friulano vineyards located in the flatter valleys, and the Pinot Grigio grapes cultivated on terraced vineyards up in the hills. This region, with its many small hills, provides optimum growing environments for both varietals.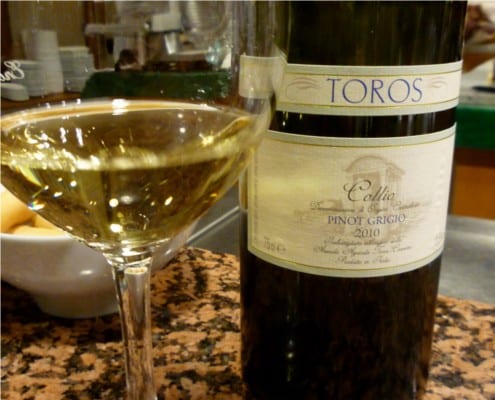 Next, another wonderful Pinot Grigio, this one a 2010 from Toros. Franco Toros makes some of the most magnificent examples of Pinot Grigio, Tocai Friulano and Pinot Bianco in Friuli. The Toros winery is a relatively small but picturesque 18 acre estate located just a couple of miles from the Slovenian border. Here was another intense and full-bodied Pinot Grigio, with flavors of flowers and fruit, and a balanced finish between a crisp acidity and an hint of sweetness. Franco Toros consistently produces wines that receive the Tre Bicchieri awards from Gambero Rosso.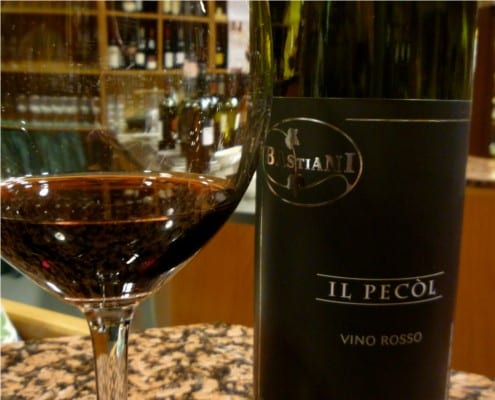 Finally, on to some reds. The first was a producer unfamiliar to me, and difficult to find information on, as a web search uncovers very little information. The producer is Bastiani (not to be confused with Bastianich, another producer in the region, well-known US residents Joe and his mother, chef Lydia), a Vino Rosso named Il Pecol. A well known local winemaker, Stefano Bastiani, produces wines for Borgo Savaian, and this I suspect may be one of his wines. An IGT red produced here in Cormons, my notes claim a Barbera, but this is a varietal I've never seen produced in this region. Wish I knew more! A lighter bodied red, with aromas of cherry and dark berries, and a nice acidity. A good match to the local cured meats, as well as pastas or risottos with sausages or meat sauces.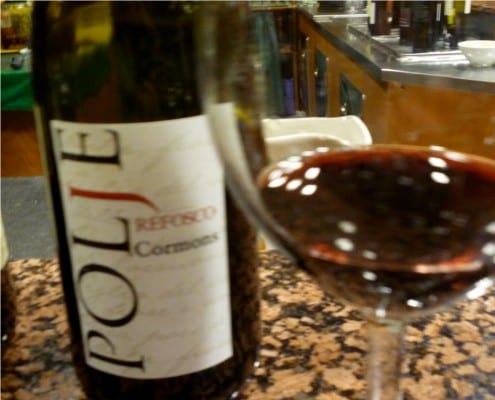 My next taste was a more typical wine of this region, the indigenous varietal Refosco dal Peduncolo Rosso – Refosco of the Red Stem. A medium-bodied red, with a light ruby color. Flavors of bell peppers and black fruits, with hints of smoke. This is a fairly acidic wine, a good foil for braised meats and game. This particular wine was from Polje, a farm that covers over 12 hectares of vineyards, some very old, located on the sunny and south-east facing slopes of hills in the Collio and Collio Orientale regions. The winery's name comes from "polje", the sinkholes that mark the land of the Collio in the area surrounding Cormons. Their elegant Refosco wine hails from their vineyards in the
Colli Orientale del Friuli region.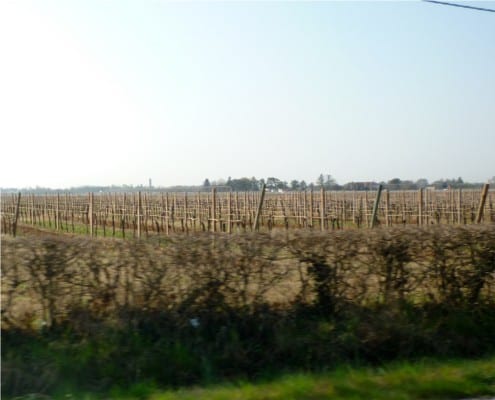 The next two wines were from a fairly large producer which dominates the landscape as you enter Cormons, Angoris. In 1648, Emperor Ferdinand III of Hapsburg awarded the Locatelli family 300 fields in the area of Cormons known as Langoris, in reward fro Signore Locatelli's valor during the 30 Years War. The Villa Locatelli was built on this property, and became a retreat for the Hapsburg elite. The wines produced on this estate made their way across the royal courts of Europe.
Today, Tenute di Angoris is managed by another Locatelli family, not related to the original owner, and the 17th century villa is beautifully restored and used for special events. The estate now consists of 620 hectares, 100 or so of which are dedicated to the cultivation of grapes in three wine zones: Collio, Collio Orientale del Friuli, and Isonzo.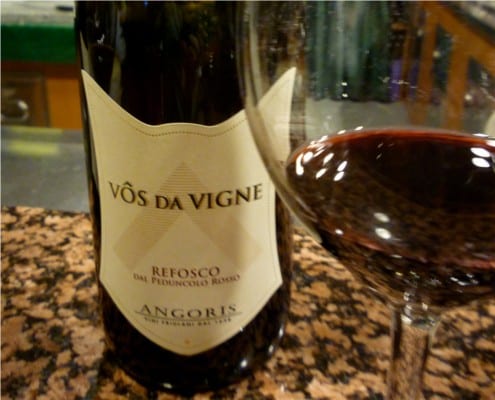 I tasted the 2009 Vos da Vigne Refosco dal Peduncolo Rosso from their vineyards in the Collio Orientale del Friuli DOC. There are 9 different types of Refosco grapes, with the Peduncolo Rosso considered the best. This wine is deep garnet in color, with purple tinges. An intensely aromatic wine, with earthy scents of dark fruits and berries, and hints of tobacco. Medium bodied, spicy, acidic, with a slightly tannic finish.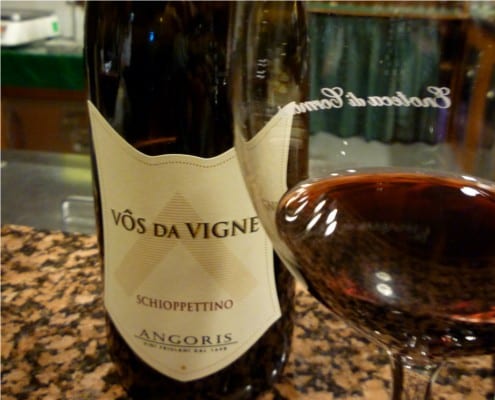 Next, another fun varietal almost unheard of outside the region, Schioppettino. I tasted the Angoris Vos da Vigne 2009 Schioppettino. This native grape takes its name from the Italian word for "popping" ("scoppiettare"), due to either its' characteristic spiciness, or the fact younger versions of this wine were produced, and often allowed to slightly ferment in the bottle, producing a bit of fizziness on the tongue.  A paler, ruby red, with aromas of dark berries and grape. Medium bodied, with spicy, slightly peppery flavors and hints of licorice. This would be wonderful with lamb dishes, and roasted meats.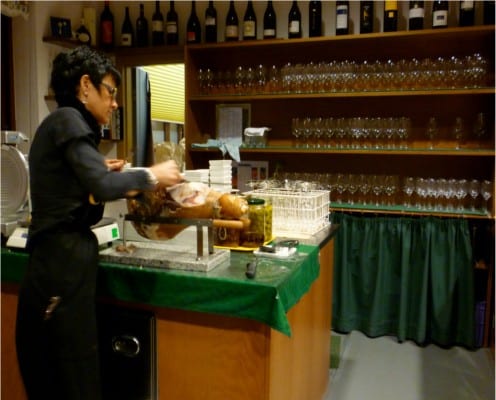 Next, a 2009 Cabernet Franc from Subida di Monte. The Antonuttii family began cultivating grapes in the Collio Goriziano region in 1972. At that point, Luigi was one of the premier wine producers in Friuli, and decided to move into the agricultural side of the business. Today, his sons carry on the tradition, personally managing the vineyards and winery, and using traditional, natural vinification processes. The wine is ruby red, with scents of vegetables, green peppers, dark fruits and currants. Smooth and velvety, a strong wine which will refine with age. It is noticeably less acidic than the Refoscos. Enjoy with cured meats, poultry, and red meats.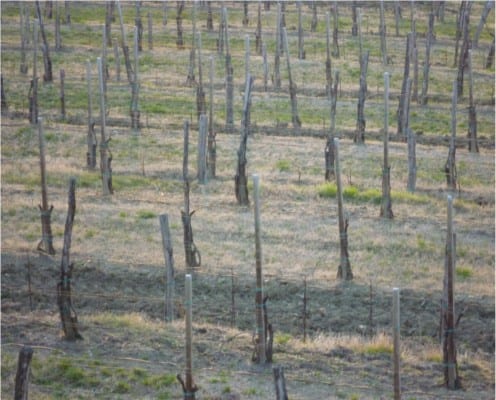 Lastly, I sampled a red from the Magnas winery, their 2009 Merlot. This wine is produced from grapes grown in an area of Cormons referred to as "Boatina". Intense ruby red color, with fragrances of dark fruits and berries, and vegetal notes. Dry, well-structured, with some persistent, slightly tannic finish. Pair it with roast meats, both red and white, as well as medium strength cheeses.
I purchased three bottles of wine, including a somewhat pricey Picolit, and the sampling was somehow 'included'. Now, off to dinner at Osteria La Subida – and more wines…