Wine Tip — Domaine du Tariquet Premières Grives 2014
Somewhere between strictly sweet and purely dry lies the Premières Grives of Gascony. Try the versatile and affordable wine with a unique harvest indicator.
Domaine du Tariquet's owner and fifth generation winemaker, Armin Grassa, describes this wine as being ideal for a first glass when one reaches the drinking age. Or, as a wine for "people who don't like wine". As a wine lover, that may initially be a turn off, but don't snub your nose at this bottle quite yet. Somewhere between a strictly sweet or a purely dry wine lies the Premières Grives. Armin accurately touts it as being an ideal aperitif pour and perfect with blue cheeses. Serve at the start of a meal paired with an appetizer of foie gras. Your palate will not be fatigued by the rich starter food and too sweet of wine, right off the bat. Instead, this slightly sweet wine will coincide beautifully with the foie gras and help you transition into the next course with a usual dry wine pairing. Its versatility lends itself to similarly sweet desserts like a poached pear with fresh cream and herbs, a fruit tart, or a crème brulée.

The wine's name comes from the region of Gascony where it is produced. At the beginning of winter and the first signs of cool weather, the birds, or Premières Grives, arrive in the area and the winery takes this as a sign to begin the late harvest of the Gros Manseng grapes.

Sticking true to the identity of the winery, this bottle, like all of Château du Tariquet's wines and armagnacs, provides great fruit notes and freshness to the drinker.

Wine: Domaine du Tariquet Premières Grives 2014
Region: Gascony, Bas-Armagnac, France
Grapes: Gros Manseng
Price: $10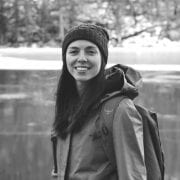 Annelise McAuliffe
Mandatory family outings to the Detroit farmers' market and nightly home-cooked meals cultivated Annelise's respect and curiosity for food. A graduate of The Culinary Institute of America, she spends her free time in New York City recipe testing, eating breakfast all day, and dreaming up international culinary adventures.