On the off chance that you were lucky enough to secure tickets for the tennis at Wimbledon this year, here are some of the best places to eat and drink in the vicinity of the grounds.
By Reena Pastakia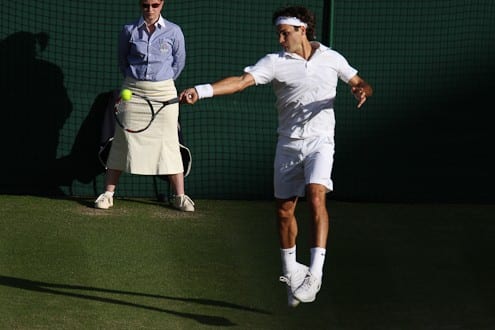 The All England Lawn Tennis and Croquet Club is situated a mile away from Wimbledon train station but happily there will be a rank of taxi cabs willing to take you to the tournament as well as buses dropping you outside the gates.  Alternatively, if you have the time, consider the thirty minute walk via Wimbledon village.  Simply turn right out of the station and head up Wimbledon Hill to enter the southern end of the pretty village.  
Here you can find numerous cafes and bistros including the delightful Lawn Bakery (9 High St, SW19 5DX) run by French chef Ollie Couillaud.  Open daily from 7 am it seats just fourteen so get there early if you want to eat in.  As well as serving the best coffee in the village, there are numerous breakfast options including excellent buttery pastries, scrambled eggs with smoked salmon on sourdough and boiled eggs with soldiers.  If you can't squeeze into the Lawn Café skip along to the newly opened Aubaine.  This chic, cavernous space not only offers freshly baked pastries and New York style brunches but also serves a strawberry inspired afternoon tea with champagne for a reasonable £15 per person.
Given that the tournament organizers permit spectators to take food and drink into the grounds consider picking up a few picnic items from Bayley and Sage.  This spacious delicatessen stocks a range of pre-prepared sandwiches (the well-seasoned hummus and bacon baguette is a great option) as well as a good selection of charcuterie, cheese and fresh breads.  Add a can of Pimms to your shopping basket and you are all set!
Opposite Bayley and Sage is the refurbished Dog and Fox pub where, after the day's play has ended, spectators and tennis stars alike can be found spilling out onto the street, eating from the barbecue and drinking one of the Young's brewery beers.  This year's seasonal brew is the light and summery Jubilee Ale which will undoubtedly go well with the chargrilled "Fox Dog".  If you are more of a cocktail drinker, hop over the road to Hemingways; The bloody Mary is truly excellent – especially if you ask for it to be served extra spicy.
If you have arrived by car or don't mind travelling a few miles, my top recommendations are Artisan in Putney for a perfectly pulled coffee, Mirch Masala in Tooting for superb Indian home cooking and Jee-Cee-Neh (74 Burlington Road, KT3 4NU) in New Malden for top quality Korean food.
I will be watching the action on the second Tuesday on Centre Court. If you spot me, do come and say hello!
Reena Pastakia
Reena grew up thinking Indian cooking was a dark art where the quantities of spices required in each dish were innately known to a chosen few. It was only after she married an Englishman with a voracious appetite for Indian food that she started phoning home for cooking tips. She started her blog (coconutraita.com) in an attempt to document her family's recipes and make Indian cooking accessible to all.