PARTNER POST: Get ready to feed a holiday crowd with appetizer recipes paired perfectly with food-friendly Cavit wines.
Serve a hearty winter appetizer of white beans, olive and capers presented on grilled and garlic-rubbed bread.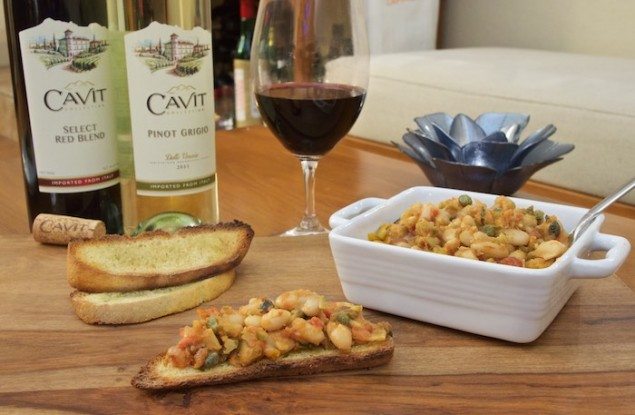 Once again, the holiday season is upon us, and with it comes get-togethers with family and friends. With so much going on this time of year, hosting a holiday party can be somewhat overwhelming. To keep things simple I will often serve appetizers and wine instead of a big meal.
Any good host/hostess knows when it comes to pairing appetizers with wine a well thought out menu is important. In order to keep guests happy I prepare bites that work well with both a red and white wine varieties. As a hearty appetizer, White Bean, Olive and Caper Crostini, is a great choice. A delicious combination of cannellini beans, capers, olives & tomato are served on grilled bread drizzled with olive oil and rubbed with garlic.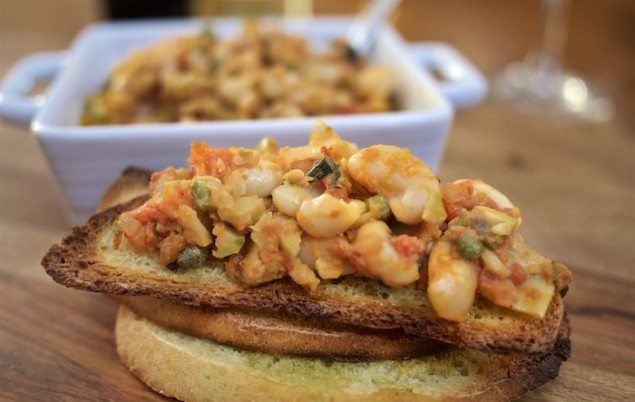 For the wine pairing, Cavit winery makes a Select Red Blend and a Pinot Grigio which both complimented this appetizer well. The citrus forward Pinot Grigio, which is light and refreshing, balances the saltiness of the olives & capers. My preference though is the Select Red Blend, it's diverse array of grapes makes it extremely food friendly. This red wine paired perfectly with the robust tomato flavor in the appetizer.
Cavit winery, which is located in Northern Italy, was founded in 1957, and has earned a reputation as a cutting-edge leader in wine-making. Cavit, is a large co-operative composed of a number of small wineries consistently producing affordably priced premium wines that have won hundreds of awards. You can taste the quality in every sip of Cavit wine.
If you are looking for a crowd-pleasing appetizer, that will appease both red & white wine drinkers, look no further.
For another easy holiday appetizer, try these lamb bites. Recipe here.
Print
1 tablespoon

extra virgin olive oil

1/4

medium onion (diced)

2

garlic cloves (minced)
crushed red pepper

8 ounces

chopped tomatoes (canned)

1

15- ounce can cannellini beans (rinsed and drained)

1/3 cup

kalamata olives (pitted & chopped)

1 tablespoon

salt packed capers (rinsed)

1/4 cup

fresh basil (minced)
Toasted Garlic Bread
1

baguette (cut into thick rounds)

1

garlic clove (peeled)
---
Instructions
Topping
Heat a large skillet with olive oil over medium heat. Add the onion and sauté, until just beginning to soften, 2 to 3 minutes. Add the garlic and crushed red pepper and sauté until fragrant. Pour in the canned tomatoes and bring to a simmer. Add the cannellini beans and cook 5 minutes.
Bread
Preheat oven to 450 degrees. Bake bread slices for 5-7 minutes or until lightly browned. Rub bread liberally with garlic clove and drizzle with extra virgin olive oil.
Theresa Greco
Theresa Greco is the creator of The Food Hunter's Guide to Cuisine, where she shares her passion for delicious food and a healthy lifestyle with recipes and reviews. She spends her days working as a Law Librarian, but her nights and weekends are spent as a home chef, avid food writer and social media expert. She enjoys motivating people to eat healthier both in and out of the kitchen with recipes and dining choices that are inspired by her love for home cooked/non-processed foods. Her adventures have led her around the United States reviewing restaurants, meeting chefs and working with new and innovative food products. You may have seen some of her restaurant and travel articles featured on Arizona Weddings Magazine website and Parade Magazine's Community Table. Theresa has created recipes for major brands including: Stonyfield Yogurt, The Meyer Corporation, Whole Foods Market, Bashas' Supermarket, Marx Foods, Idaho Potato Commission and Mt. State Rosen Meats. Recently, she's had original recipes featured on a local restaurant menu & in an Arizona Outdoors Magazine.