When Pigs Fly: A Vegetarian At Memphis' Bar-B-Que Fest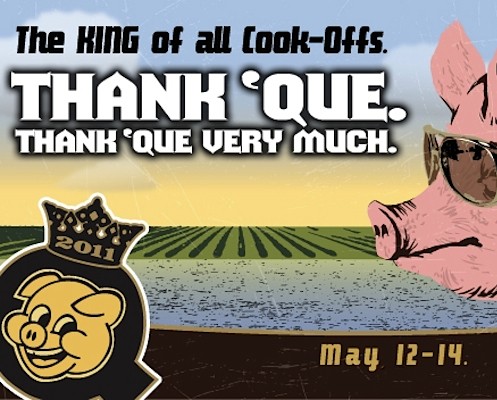 A vegetarian about an event that can only be described as pork heaven, but where you can find a few un-oinked things to eat as well.
By Jerri Green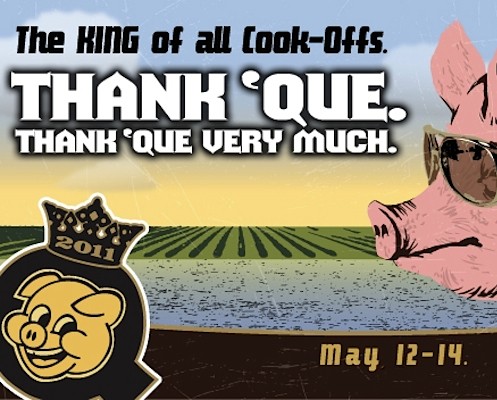 If you know anything about Memphis, you know that in May we have a huge bar-b-que fest right on the river. At this festival hundreds of teams from all around the world get together for a long weekend to cook pork, knock back a few alcoholic beverages, and generally enjoy the atmosphere. Oh, and it is a serious competition too.
Now, I know what you are thinking – of course my carnivore husband would love such a gathering, but what would a vegetarian like myself do there? Well, lots actually, including eat!
First off, meataholics and vegheads alike can enjoy strolling along the river while checking out the tents of teams, such as Serial Grillers, Contempt of Pork, Porkosaurus, Born in the Que-S-A, Slab yo' Mama, Here for the Beer, the list goes on… And when I say tents, I mean massive structures, sometimes two stories, lit up and decorated with every kind of pork themed item you can imagine. I have even seen one with an ice sculpture of a pig that people were doing shots from. Plus, the river is beautiful at sunset.
The people watching isn't bad either. Everyone there is having a good time. Many are dancing to the blaring music from the various tents. And some people dress in theme. When we went last, I saw a lady that had on shorts with piglets all over. I wasn't brave enough to ask her for a picture. I saw another person with a tee shirt that said "I have a culinary boner." Classy. Let's just say it is a fun crowd to observe if nothing else.
And there is live entertainment. When we were at the festival there was a great blue grass band playing on the main stage. (The stage by the way decorated with giant pig sculptures and had an enormous blow up bottle of cattleman's sauce on one side.) But at other times they have blues or hog calling contest or even a "Miss Piggy" competition where men dress as pigs in drag – if that makes any sense.
But honestly, people come to this thing for the food right? I mean when else can you eat ribs for days without guilt? Now, for those of you not from here I should note that you can't just walk from tent to tent eating all you want. You either have to know someone with a tent or participate in the people's choice competition (for a fee) to get a taste of several of the teams' bar-b-que. You can also buy directly from some of the vendors that have booths set up. My carnivore knew a few folks and was able to get his hands on some free bar-b-que. Happy husband…
See Also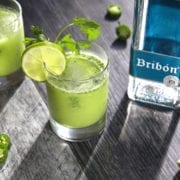 So, what is a vegetarian to eat in this pork paradise? Well, there are several other offerings available. You can get your hands on a veggie gyro, freshly grilled corn cobs, a bloomin' onion, fried sweet potatoes (we do love to fry things in the South) or everyone's favorite – funnel cake (also fried)! It's not exactly a well balanced meal, but you won't go hungry either.
And, if you do eat meat but are over bar-b-qued pork after a day or two of hedonism, you can try a turkey leg or a pronto-pup (Memphis' version of a corn dog that is dipped fully in mustard before being served). They also have lots of smoked sausages with all the trimmings if that's your thing. If you are really adventurous maybe you can try some fried gator on a stick (see my previous comment about southerners frying everything).
All in all it is a good time. So, I say to all of you vegetarians who live with carnivores out there, don't be discouraged at the prospects of attending a meat bash. It can be fun, and you can find something to eat. You won't even have to wait til pigs can fly.
You can get more info on this year's festival at http://www.memphisinmay.org/bbq
Jerri Green
Jerri Green is a vegetarian that lives with and loves a self-proclaimed carnivore. She makes meals work for everyone while juggling the mounting demands of motherhood. Nothing fancy but always fresh, she draws on her southern heritage to bring satisfying food to the table each and everyday.