Watermelon Cupcakes are a perfectly cool & fun way to turn fruit into dessert!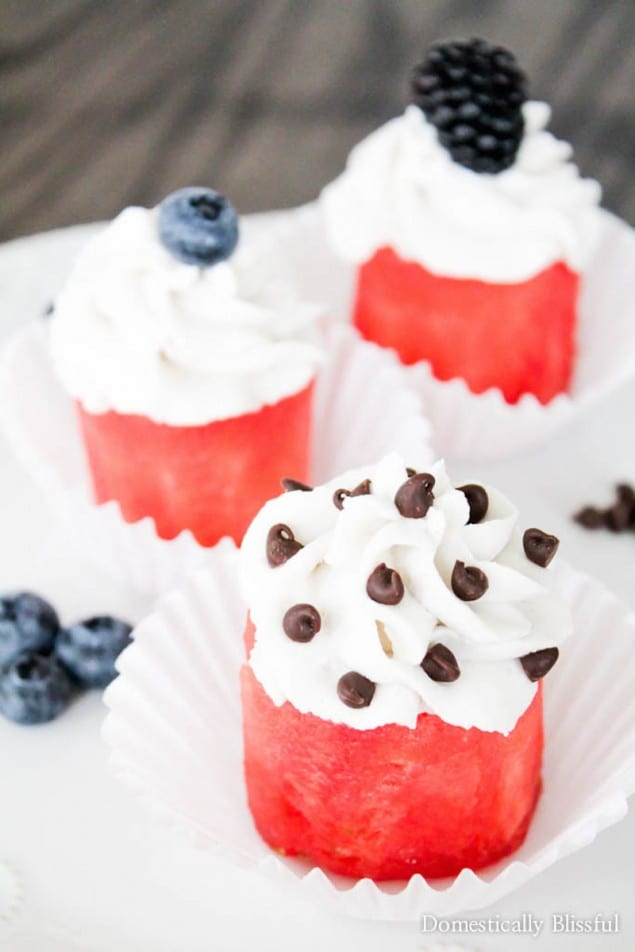 Have you ever felt like summer was so close you could almost taste it?
Yes, I know it's only spring, but I'm so ready for summer!!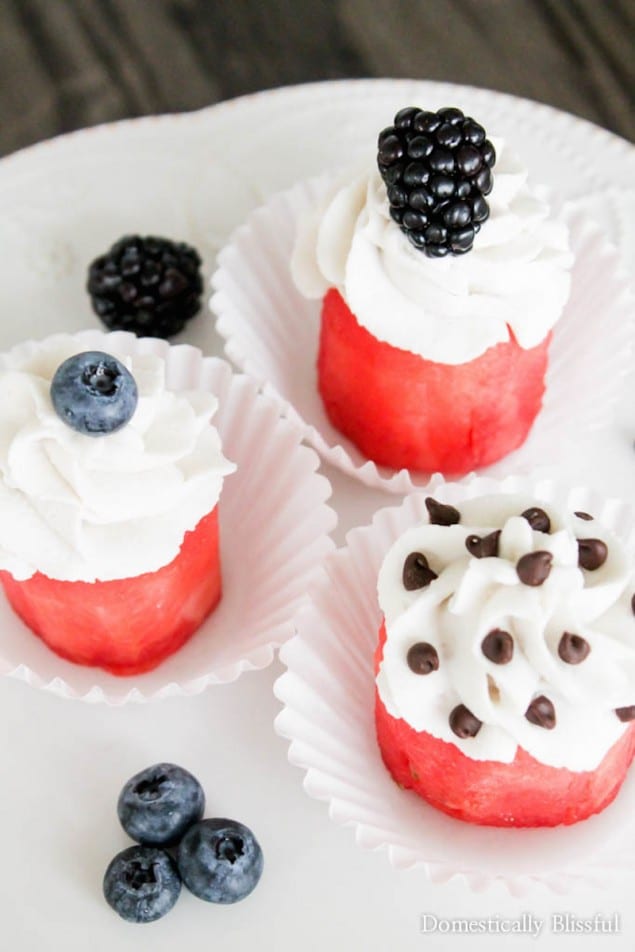 I love that these Watermelon Cupcakes can be enjoyed anytime! Breakfast, brunch, dinner, or dessert! They make adorable additions to wedding showers, a picnic, summer party, baby showers, or even tea time!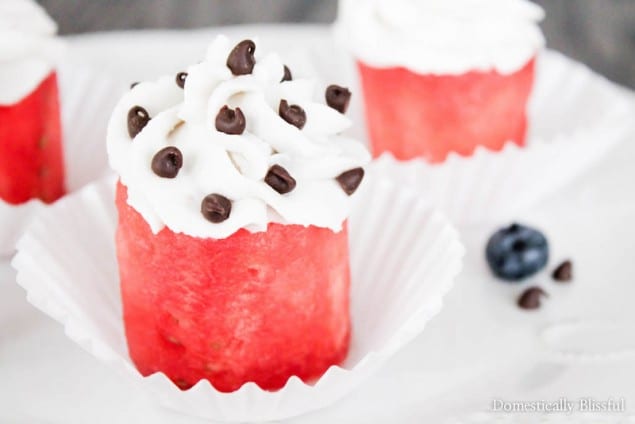 I'm thinking I might need to make these this summer as a special summertime treat to cool down during those extra hot southern summer days! In all reality making Fresh Watermelon Cupcakes will only be an excuse to eat them for myself.
Although I really don't need an excuse because this recipe is not only super easy to make, but it's a guilt free naturally sweet treat!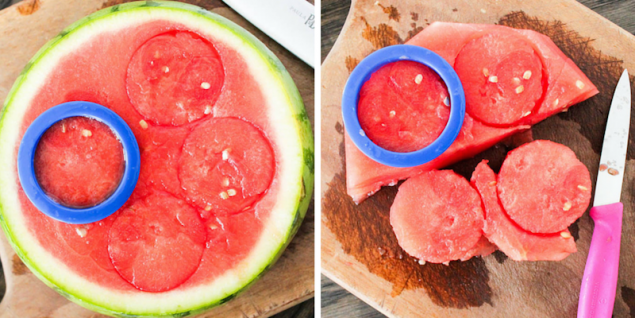 To create these Fresh Watermelon Cupcakes I used a normal cookie cutter & small knife to create the cupcake shape, but a biscuit cutter like this one would have worked a lot easier since it would create a deep cut & would eliminate the need for a small knife. Making these Fresh Watermelon Cupcakes even quicker & easier to make!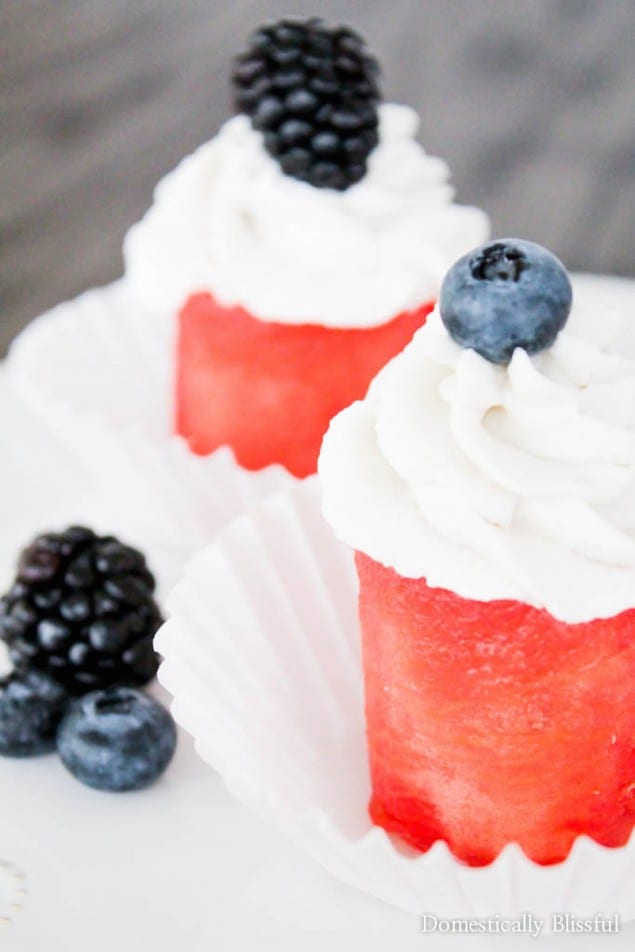 See Also
And the frosting is actually made out of canned coconut milk & can be created with no added sweetener (unless you so desire) making this recipe completely vegan & a healthy alternative to normal cupcakes loaded with sugar frosting.
ps. You can find the full recipe below!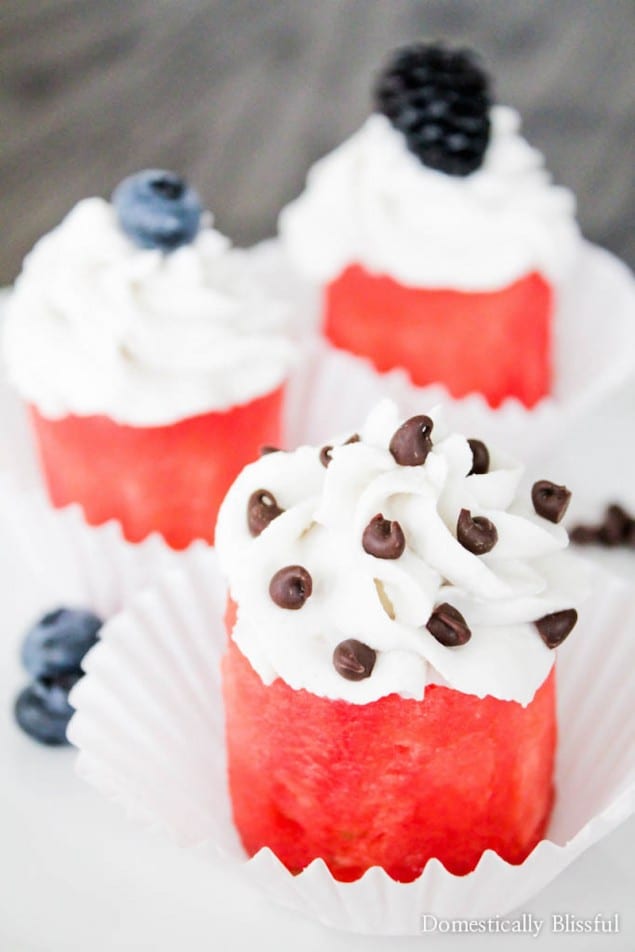 While fruit, on top of fruit, on top of fruit is delicious, I will admit that my favorite Fresh Watermelon Cupcakes are the ones topped with chocolate chips! But you can add any topping you like!
You could add berries, chocolate chips, nuts, mint, sprinkles, caramel bits, butterscotch chips, or even more watermelon.
Print
Author:

Giustina Miller

Category:

Dessert
Watermelon
Chilled Canned Coconut Milk (1)
Vanilla Extract
Sweeter (Sugar or Honey – Optional)
Toppings – Berries (Chocolate Chips, Nuts, ect.)
Instructions
First, cut your watermelon into thick slices & use a biscuit cutter to create the cupcake shape. Place your watermelon cupcakes in cupcake liners.
Next, open your can of chilled coconut milk & scoop out the solid section on top & place it in a bowl.
Whip the chilled solid coconut milk with a blender until fluffy, then add vanilla extract (I used about 1/4 teaspoon) & sweeter to taste.
Top your cupcakes with coconut whipped cream & your favorite toppings & enjoy.
Notes
Place the canned coconut milk in your fridge overnight before making this recipe.
Giustina Blissful
Hello! My name is Giustina and I'm a 20 something who is married to my best friend and love of my life. I think everything tastes better when made with love and a splash of lemon. Although love, life, and marriage is never easy I believe that it is always an adventure worth traveling!