Washington DC – Fuel Your Body at Chix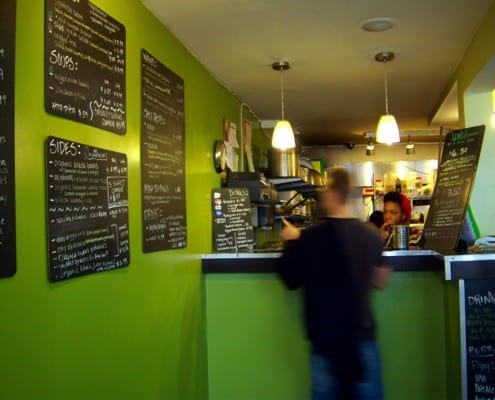 Chix is a fresh, eco-friendly place where you can get delicious food, relax with a glass of wine with friends and enjoy yourself.
By Carolyng Gomes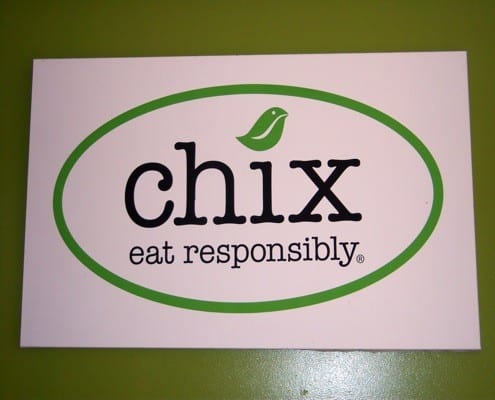 On the Record
Latin influence in American culinary fare is on the rise and there are plenty of spots big and small that offer authentic, traditional latin dishes, but sometimes you want something that is nicer to your waistline and doesn't land you in a deep food coma, with flavors that make those frijoles negros new while still tasting like the food you grew up with. When home is too far away, and you want a healthier version of your abuelitas favorites with a twist, and/or just love latin flavors without the guilt, head over to Chix nestled in the U Street Corridor for a visit that will leave your belly and your wallet glad you stopped by.
Once you pass the quaint outside dining area and step over the threshold of this white brick townhouse, you enter the world of Chix. The menus are written on chalkboards, brightened by the cool lime paint on the walls. The staff is neighborly, and helpful in making big decisions including which spicy sauce goes best with the Peruvian chicken. Upstairs you'll find seating which is cozy and simplistic, supported by a flat screen for full sport-of-the-season viewing and a nice big window for natural sunlight and covert people watching. Your meal is brought to you, steaming hot and fresh with additional sauces to choose from. Crunchy, crispy, sweet and spicy you can't go wrong with this family style setup.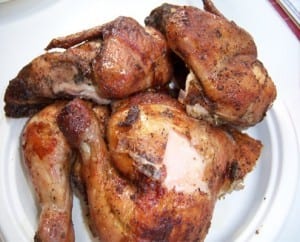 Chix originates from the culinary minds of Victoria García and Lukas Umana, who wanted to take the food they grew up with and make it accessible, quick and healthy. Both hail from Miami, with Lukas injecting the flavors of his native Colombia and Victoria bringing in a little bit of Spain and Cuba from her own heritage. Their passion for flavor is only rivaled by their love of nutrition, which is why their dishes are as delicious as they are nutritious. Their attention to health, as well as being attuned to providing a balanced meal gives customers a place where they can eat every day and not repeat a meal.
Authenticity is also a prime player is their spread. The Spanish Salad was created with manchego cheese and olives to bring a little bit of traditional Spain to U Street, and the Colombian chicken brings the flavors of coconut milk, coco powder, and Columbian coffee to life in a crispy on the outside, tender and juicy on the inside piece of 100% natural antibiotic free, hormone free slow roasted over natural charcoal chicken. You have your pick for a complete meal here, with options for protein, carbs and veggies galore. Vegetarians, Omnivores and Carnivores alike can sit down for a meal that is satisfying, full of flavor and leaves you feeling like you did good. As if that wasn't enough, Chix also composts roughly 90% of their waste, including the cups, sauce containers, plates, cutlery and all the other goodies we use to enjoy our Chix treats, and is kept running through clean power sources such as wind energy!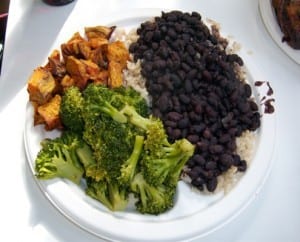 Assessment
Whole Peruvian Chicken – Crispy skin on the outside and tender and juicy meat on the inside, the meat falls right off the bone with a nice heat that doesn't overpower the chicken. It is home-style chicken without all of the fat and with all of the delicious.
Chickpea Salad – Chickpeas are perfectly tender, and the flavors of the onion and green pepper meld well with the sherry vinaigrette. Best way to end a meal and to cleanse the palate with its tartness.
Sweet Potato- Naked sweet potatoes roasted and slightly caramelized to perfection.
Greens of the day – Broccoli is cooked through but still has a nice crunch. The greens had a freshness you could taste.
Rice and Beans – Brown rice cooked perfectly. The beans are very flavorful, with a light taste of sweet citrus that is unexpected but bright.
Vegetarian Deluxe Wrap- With the addition of thick cut tomatoes and the incredible avocado vinaigrette, the wrap is filling and flavorful.
Tip: Vegetarians will get a better experience of the flavors of Chix by making a plate out of the vegetarian sides they offer for a more authentic, Chix experience. Coming soon to the sides menu is sweet, mashed plantains!
The Bottom Line
Chix is a fresh, eco-friendly place where you can get delicious food, relax with a glass of wine (or two) with friends and enjoy yourself. Get a home-made meal on the go, or dine in, and fuel your body the right way with healthy, scrumptious comida latina. Lukas rightly put it when he proclaimed "we are not serving chicken, we are serving a lifestyle. I want our customers to depend on us," and I must say I can definitely depend on Chix.
Are you fueled by Chix? I certainly am. Stop by the District and head over to Chix and experience what you've been missing.
Chix
2019 11th st NW
Washington, D.C
Carolyng Gomes
Carolyng loves to eat, loves to cook and loves to eat more. To her a recipe is more a list of suggestions, saving time doesn't mean sacrificing on flavor and when in doubt, a splash or two (well, a nice pour) of wine never hurts. Welcome to her Cocina Latina, where South American and Latin fusion dishes are always on the menu.