Vanilla and turmeric-flavored pannacotta with hibiscus syrup. A) A rich, creamy, colorful dessert, or B) a murder victim on a teaplate? You be the judge! (Hint: It's A.)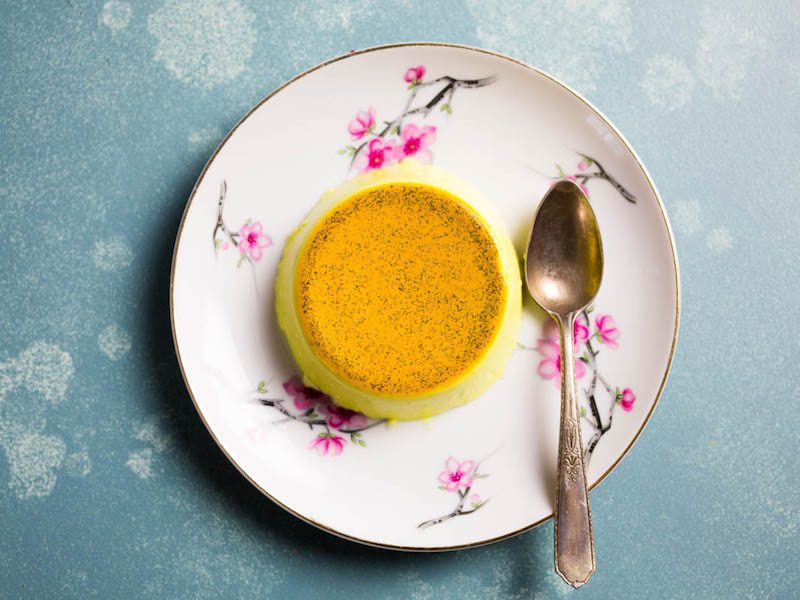 Every now and again with this blog, we create a recipe so unrepentantly weird that it seems a shame not to share it with the world. This week, we'd like to introduce to you a dish based on a gorse* pannacotta that we encountered a few years ago.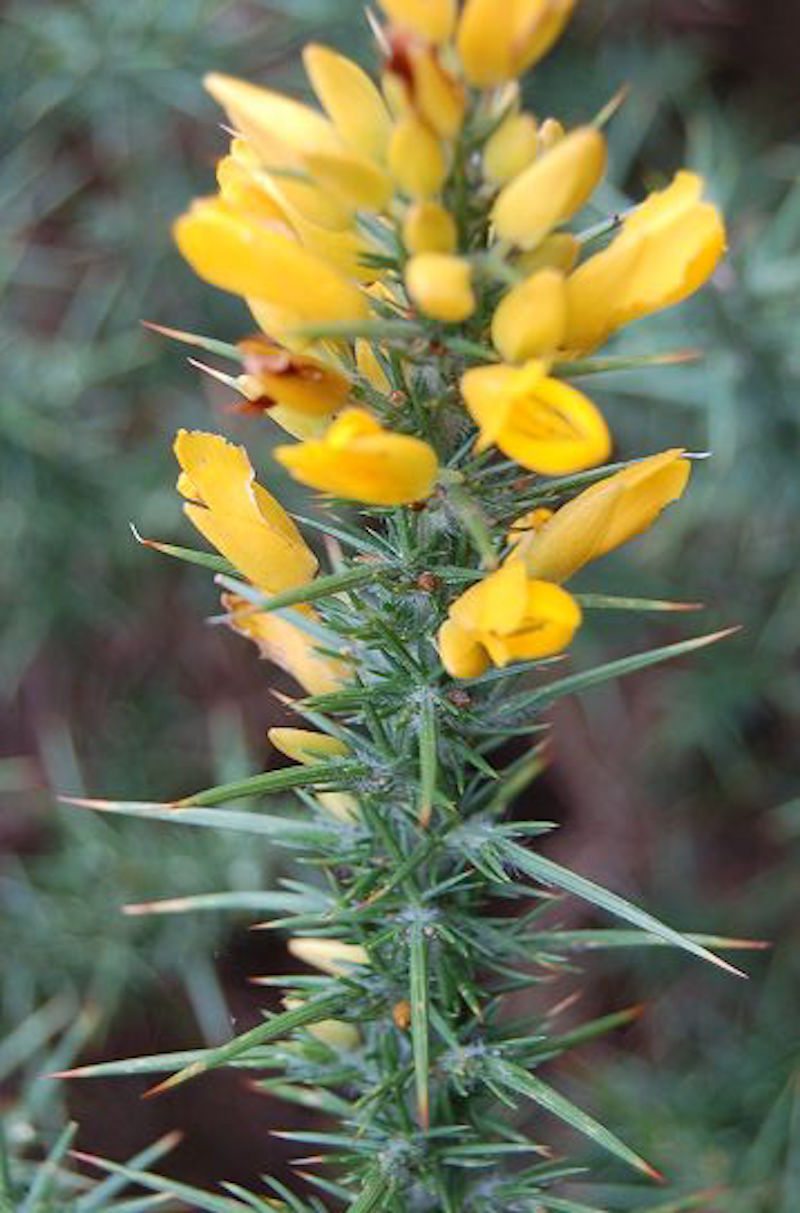 This is gorse, a broom-like shrub prevalent in parts of Europe. Its flowers, bright yellow and edible, are surrounded by a mass of prickles. Most often used in desserts, gorse flowers have a mild-vanilla like flavor. The whole plant creates a mass of color where it grows, and its hardy character serves it well in the wilds of Scotland and Ireland. At some point it was introduced into Oregon, where it quickly became invasive. I had half a mind at one point to squirrel some into the US so we could have our own stash of gorse flowers.
I quickly realized that illegally importing an invasive species of flora in order to create a slightly unusual pudding is something that, firstly, sounds like the sort of thing that would get you kicked out of Hogwarts, and secondly, would be a lot of unnecessary work. To recreate it without the gorse, I didn't want to use artificial food coloring – because it's not my 5th birthday party – and we didn't want to go to the expense of saffron, so we decided to make use of the bright yellow powder in the spice rack: turmeric. Turmeric adds not only a delicate coloration, but also a mild spice flavor – a little bitter, but balanced nicely by the sweetness of the pudding.
Hibiscus is delightfully tart, and cuts the creaminess of the pannacotta. You can find dried hibiscus flowers in many health food stores and on the internet. We use the syrup in cocktails all the time, so now you know what to do with any extra syrup you may find yourself with.
You can also skip the hibiscus syrup altogether and leave the custards plain, or top with shaved chocolate and a dollop of whipped cream.
When we originally made this, we opted to use both vanilla extract and seeds from a fresh bean. This resulted in the speckled appearance you will see in the pictures. You really don't need to use vanilla beans, but if you want to, scrape out the seeds of one bean and let it steep in the half and half while you heat it up. You may also find the turmeric tends to settle to the bottom of the dish – or the top, if you decide to turn the puddings out of the molds. It gives the top a striking yellow color that we loved.
See Also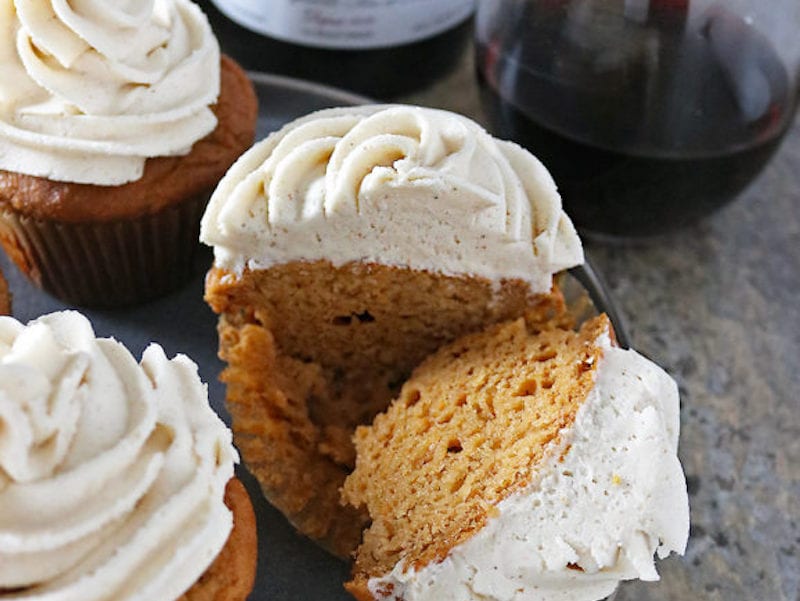 You can pour the the cream mixture into ramekins, little bowls, or even teacups but we used our beloved Weck Jars, which are the perfect shape and make turning them out a breeze.
Speaking of that, if you intend to turn them out and not eat them straight from the container, you might want to apply a little cooking spray, just enough to lightly coat the surface, before you pour the mixture into them. Once set, you can run a thin knife around the edge of the mold to encourage it out. You can also gently sit the dishes into a bath of hot water for 30 seconds or so, which will help them loosen.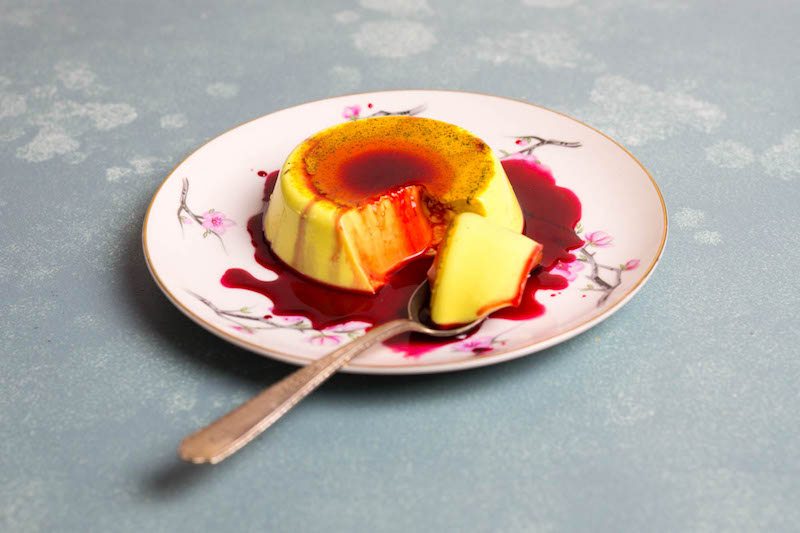 Print

Vanilla Turmeric Panna Cotta with Hibiscus Syrup
---
Author:

Emily Clifton

Yield:

0

Serves 4-6

1

x
3 cups

700ml half-and-half

1

packet powdered gelatin (

2½ teaspoons

,

7g

approx.)
? cup (65g sugar)

1 teaspoon

5ml vanilla extract

2 teaspoons

5g turmeric
For the Hibiscus Syrup:
2 cups

475 ml filtered water

1 cup

200 g granulated sugar

½ cup

1.25 ounces dried hibiscus flowers
---
Instructions
Add half and half to a medium saucepan, sprinkle the gelatin over the top and let sit for 5 minutes. The surface will wrinkle as the bloom develops. If using vanilla bean, add now as well.
Set the saucepan over low heat and warm, whisking occasionally, for about two minutes until the gelatin dissolves completely. The milk should not be simmering or even steaming yet.
Add the sugar and continue to warm the milk until sugar dissolves – again, do not let it come to a simmer.
Remove from the heat, whisk in the vanilla extract, salt, and turmeric.
Pour into serving dishes and chill for at least 3 hours, though overnight is best.
For the Hibiscus Syrup:
Combine water, sugar and hibiscus flowers in a medium saucepan. Bring to a boil, stirring occasionally until the sugar is melted. Remove from heat. Let the mixture steep for 30 minutes. Strain the mixture through a fine sieve into a clean glass jar and store in the refrigerator for several weeks.
Emily Clifton
I love to cook and learn about food. I was born and raised in New York City and I was exposed to a lot of different food cultures as a kid though I was weirdly picky. I hated mashed potatoes but I loved kim chee. Hated fish, loved escargot. I said I was weird, don't judge me. My mom is a great cook but I definitely don't have any "passed down from grandma" types of recipes. Both my grandmothers were horrible cooks. I mean really, truly bad. I give my mom a lot of credit for knowing that string beans are not actually supposed to be gray. In real life I'm a film/TV editor which just might be the most fun job in the world. Occasionally it can be the most annoying job in the world which is why I really appreciate it when I get to take a break and do my other favorite things which is cook, take photographs and write.