Up Your Apple I.Q. with Northern Spy
The staff at New York's Northern Spy Food Co. talks picking a name, sustainability, and apples.
ByCarly DeFilippo
When it comes to locavore restaurants in New York City, there are few that make a better argument for sustainable, seasonal eating than Northern Spy Food Co. For those of us less knowledgeable about the bounty of our surroundings, apple season is just another few months of the year. But for Northern Spy—incidentally named for a local apple variety—fall is a time for celebrating the delicious biodiversity of our North Eastern apple harvest.
How did you come up with the name Northern Spy?
As is often the case with names, we were (legally) denied our first choice, and while scrambling to find a name just a month before opening, we were scouring the Oxford Companion to Food and came upon a list of apple varieties; when the name "Northern Spy" was read aloud we knew. The name naturally connects to regional agriculture. For those who know what it is, its a great recognition and for those who don't know right away what it means, we think it has a good ring to it. — Chris Ronis, Owner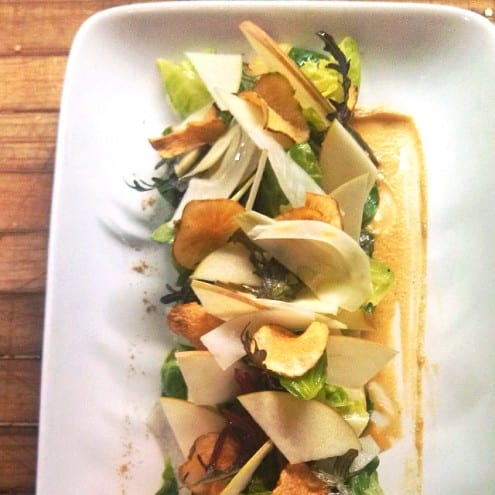 The flavor of apples, at least in the Northeast, tends to be linked to childhood nostalgia. Do you have any specific memories that influence how you cook with apples?
I grew up in Western New York, so my memories are of apple picking and warm cider in the fall. My mother always baked pies and crisps from September through Thanksgiving, and my family is of German decent so caraway was always a prominent flavor. She would top apple pies with caraway seed or include apples and caraway in the crockpot when making pork shoulder and sauerkraut. — Amy Hess, Pastry Chef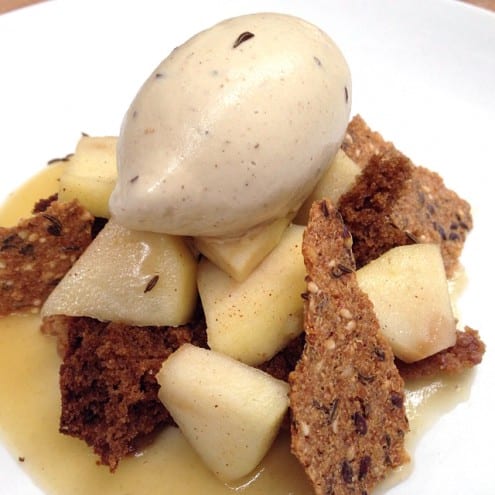 To what extent does your sustainable mission influence the farmers you work with and how do you usually discover new varieties?
Since apple trees take time to cultivate, we haven't really asked about growing extra Northern Spy appless or anything like that. Our new variety research really comes from  having our market forager grab a bunch of different varieties each year from  all different stands; we eat them and see which ones fit best with what new dishes we're working on. — Hadley Schmitt, Chef
Are there any new techniques or flavor pairings in your apple cookery that you are particularly excited about?
An old school technique of my aunt's that I'd love to fool around with is coring the apple, slicing into thick, half-inch rings and hanging them from a string for a few days until they shrivel a bit and turn into a chewy snack. But a flavor I've liked and used the past few years are malted grains, or simply 'malt', and apples.  — Hadley Schmitt, Chef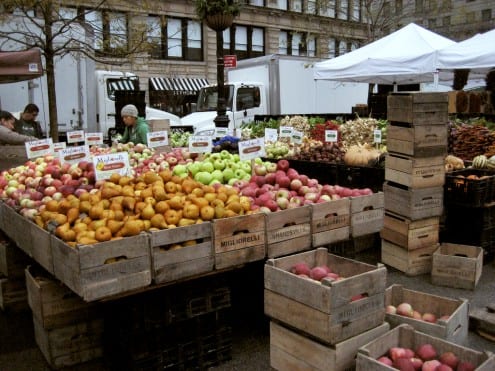 Northern Spy's Favorite Local Varieties
Granny Smith, Rhode Island Greenies
Use: ideal for baking
Why: low sugar content, don't break down as easily as other varieties
Recipe idea: apple fennel sorbet
Gala, Pink Lady
Use: compotes and sauces
Why: perfectly sweet, easy to puree
Northern Spy
Use: nearly everything
Why: good texture, perfect balance of sweet and tart
Winesap
Use: snacking
Why: they're on the sweet side
Crab apples
Use: apple sauce
Why: always nice and tart
Pairs well with: pork dishes
Mutsu/Crispin
Use: cooking
Why: they hold up very well
Recipe idea: braise in cider and pair with buckwheat waffles or pancakes
Golden Russet
Use: baking
Why: old fashioned apple flavor, almost maple undertones
Pairs well with: bacon
Carly DeFilippo
Carly is a Contributing Writer at Honest Cooking. Though the first line of her college application essay was "I love tunafish," it wasn't until she pursued graduate studies in Paris that she ever considered a future in food. Based in Manhattan, Carly is a freelance writer and the co-founder of Cognoscenti Creative, a boutique branding agency dedicated to establishing artisans as influencers.