Needing only four ingredients, Umbrian Flatbread comes together quickly and results in a crisp, hearty bread straight from the Italian countryside.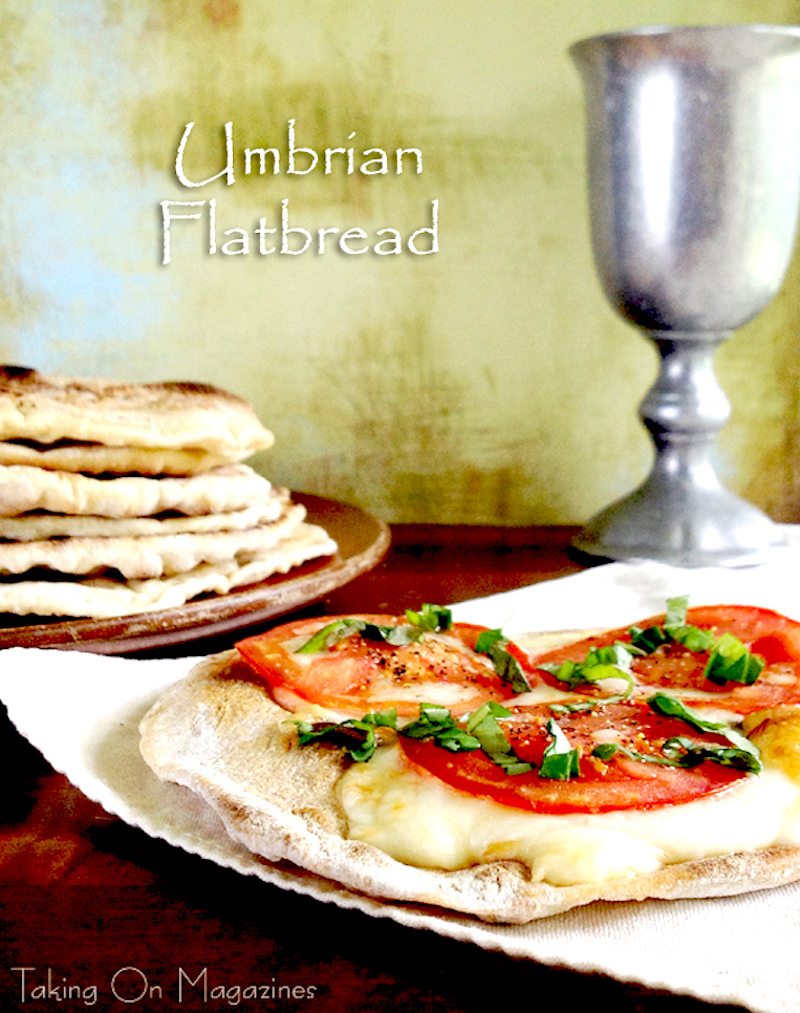 Because I didn't feel like dealing with doughy goop between my fingers, I used my food processor to mix together the flour, baking soda, salt, and water. In order to get the consistency needed, I did have to use an extra quarter cup of flour. Once ready, I made the separate balls, let them rise and then rolled them out into thin disks.
I cooked them in a hot skillet and, poof, they were done. I topped my first flatbread with mozzarella cheese and thinly sliced tomatoes. After broiling it for a minute or two, I added basil, salt, and pepper.
Oh, and I did do one other thing. Prior to adding the ingredients, I brushed the flatbread with olive oil, then rubbed the cut side of a garlic clove over the bread because, hey, everything's better with a little garlic.
While this is more time consuming than just buying a pack of flatbread, the results are so, so much better than anything purchased. When they first come off the skillet, the bread is somewhat crisp, but it softens up as it cools, especially if each one is piled on top of the next. Being so easy to make, they're definitely a fantastic option for quick meals like the pizza version I made with the mozzarella, tomatoes, and basil.
Print
Author:

Christiane Potts

Yield:

6

servings

1

x
Category:

Appetizer, Bread, Snack

Cuisine:

Italian
2¼ cups

unbleached bread flour (plus more as needed)

½ teaspoon

baking soda

½ teaspoon

sea salt

1 cup

warm water or milk (

100

–

110

degrees F, or as needed)
Instructions
In a bowl, mix together the flour, baking soda and salt. Add the liquid and mix well, first with a wooden spoon, then with your hands, to form a ball of dough. The dough should be soft and pliable, but firm. You may also use a food processor, pulsing to form a soft, uniform ball of dough.
Divide the dough into six equal portions and form each into a ball. Cover the balls with kitchen towels and let them rest for 15 to 30 minutes. This will permit the dough to relax.
Working with one ball at a time, flatten it into a disk and place on a floured work surface. Using a rolling pin, then your hands to stretch it more, roll each dough ball into a round, thin disk about ?-inch thick. Pierce the dough with a fork.
Heat a heavy non-stick skillet over high heat. Place the first disk in the skillet and after about 2 minutes, flip it over. Let cook about 2 minutes. Remove and repeat the process with the remaining disks.
Top with your choice of grated cheese, chopped cooked vegetables, seasoned meats, toasted pine nuts, herbs, or other ingredients. Serve immediately.
Christiane Potts
I'm a mom who loves to cook and I'm taking on the challenge of making magazine recipes at home; without a sous chef, without a test kitchen, without an endless food budget. The result is the truth about how well a recipe comes together, how good it tastes, and how accurate the ingredients and instructions are. For those who want to know before they try, this is for you.