PARTNER POST- Create the perfect fall cheese board spread with Castello's selection of expertly crafted cheeses. Find inspiration here.
From crunchy elements to sweet and savory bites, this is your guide to the ultimate vegetarian cheese board.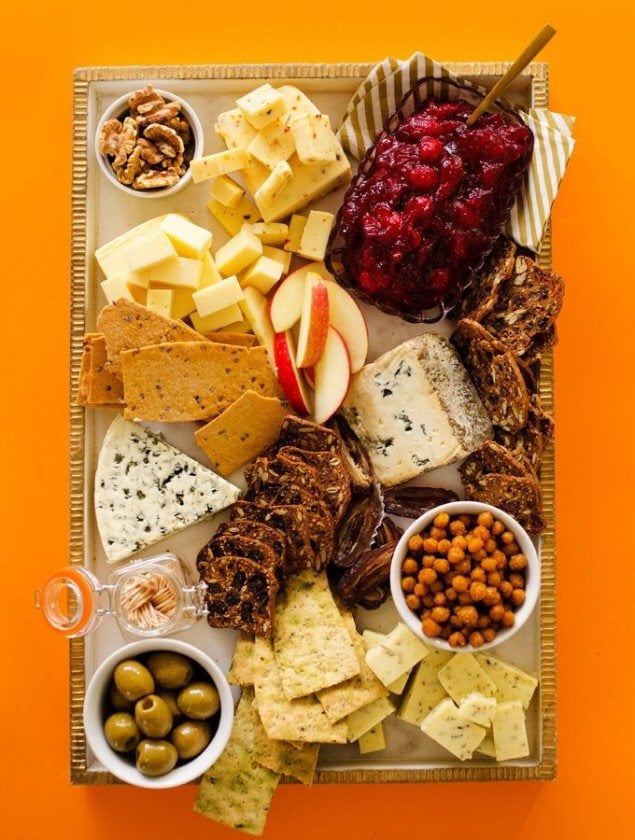 What better way to ring in the holidays than with cheese? (Trick question, answer: none).
I've always been a bit intimidated by cheese boards. There are just so many types, and how in the heavens are you supposed to just know which cheeses pair with which whats (you know?)
But I'm the type who does real well with a formula, so I thought today I'd share with you my formula for the ultimate vegetarian cheese board. It's as easy as 1-2-3-4-5!
One fruit compote
Two fruits
Three savory things
Four crackers/breads
Five cheeses
You can build your board depending on what flavors and cheese you like using Castello's super handy cheese board builder, or just follow along to see how I made mine!
One fruit compote: I made this cranberry sauce, it was so great, and I've been looking for a reason to make it again (besides the fact that it's cranberry week!)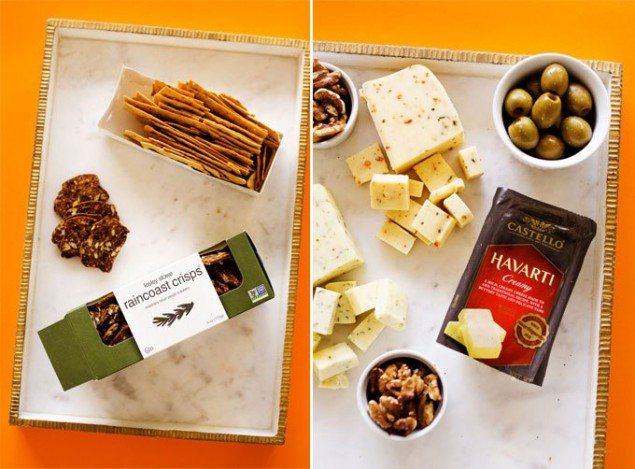 Two fruits: Medjool dates and apples, because dates are basically natures caramel and because the crisp, tartness of a good apple is perfect with cheese.
Three savories: Roasted chickpeas (because these are probably the most undervalued snack of all time), olives, and toasted walnuts.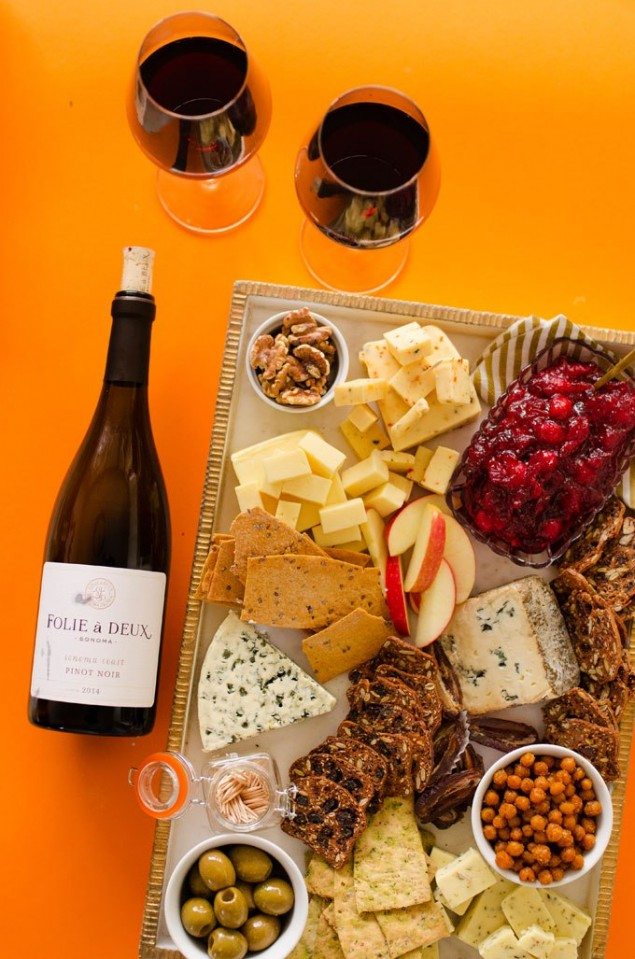 Four crackers/breads: Ample carbs are in high demand on any cheeseboard. I fell absolutely in love with Lesley Stowe Raincoast flatbreads and crisps after they sent me a few boxes. They have one that has beets and nuts and magic in it, which pairs well with just about anything.
Five cheeses: You may be thinking "that's a lot of cheese". You are correct. But too much cheese? Heck no. Traditionally you'll want to go with "something old, something new, something goat, and something blue" to get a lot of flavors and textures up in there. Today I went the non-traditional route and got my different flavors from a variety of Castello Havartis (jalapeño, wild garlic, and creamy original) and two blues (Danablue and black).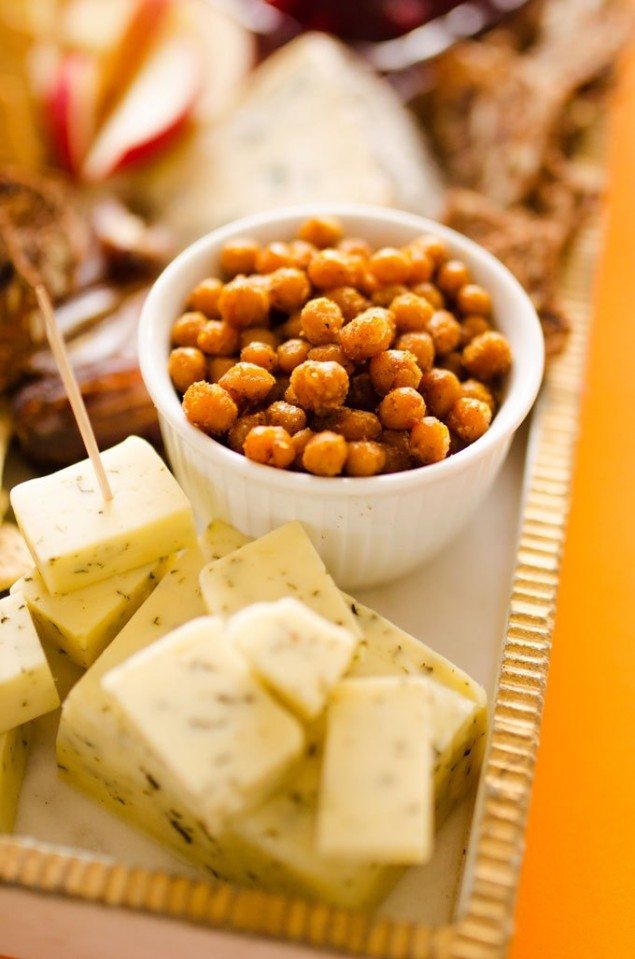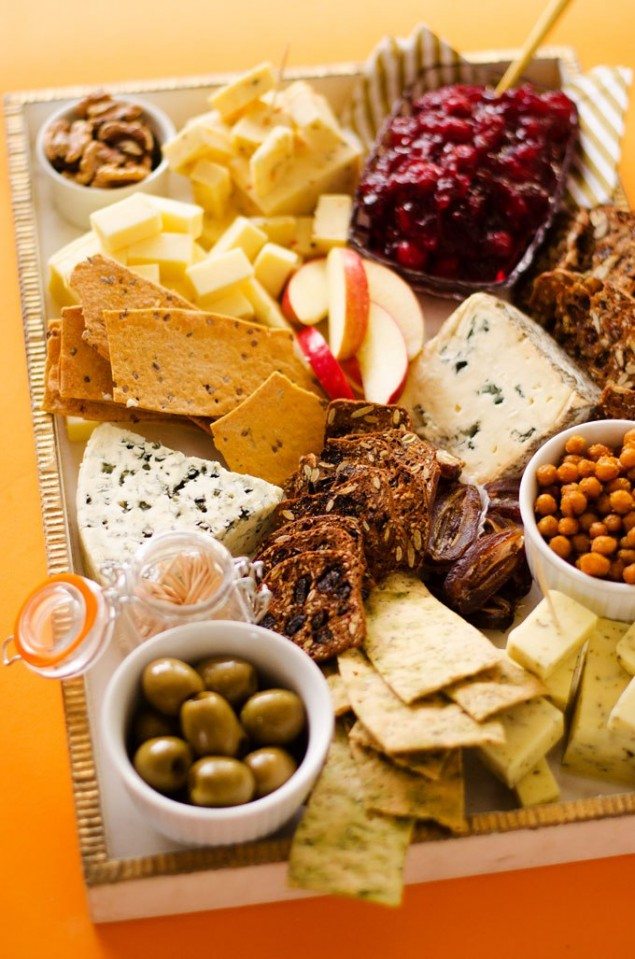 Looking for more great ideas for your cheeseboard? Check out the video below and follow this link for the written recipe!
Print
Author:

Sarah Bond

Prep Time:

10 minutes

Cook Time:

30 minutes

Total Time:

40 minutes

Category:

Appetizer
Cranberry Compote
12 oz

340 g bag fresh or frozen cranberries

1 cup

235 g sugar

½

mandarine orange (sliced)
Pinch of salt and pepper
Roasted Chickpeas
Click the link earlier in the post
The Rest
1

apple (sliced and spritzed with lemon to keep color)
Handful fresh medjool dates (pitted)

½ cup

olives

½ cup

walnuts (toasted)
Crackers (I used and loved Lesley Stowe Raincoast brand)
Cheese (I used a variety of Castello Havarti, Castello Danablu, and Castello Black)
Wine (I paired mine with Folie a Deux Pinot Noir)
Instructions
Cranberry Compote
Reserve a handful of the cranberries and combine the rest in a medium saucepan with the sugar and sliced mandarine orange (throw in the peel and all!) Heat over medium until the cranberries begin to soften, about 5 minutes, then increase the heat to medium/high and cook until the cranberries pop, about 5 more minutes. Remove the mandarine slices, mix in the reserved handful of cranberries, and season with salt and pepper to taste. Allow to cool to room temperature before serving.
Roasted Chickpeas
Combine chickpeas, oil, and seasonings and lay onto a parchment paper-lined baking tray. Roast at 425 degrees F (218 C) for about 25 to 30 minutes, or until crisp.
The Rest
Bring cheese close to room temperature before serving. For cleaner serving, slice the cheese before serving. For optimal "wow" factor" pile your tray high and enjoy with wine!
Sarah Bond
An Alaskan self-taught cook and nutritionist by trade, I love all things food and health. When I'm not exploring new ways to cook up healthy ingredients, I'm romping around the Netherlands, my new stomping grounds!