Starting the day with something full of green goodness, healthy fats and naturally sweetened is the perfect balance for Christine Curran.
By Christine Curran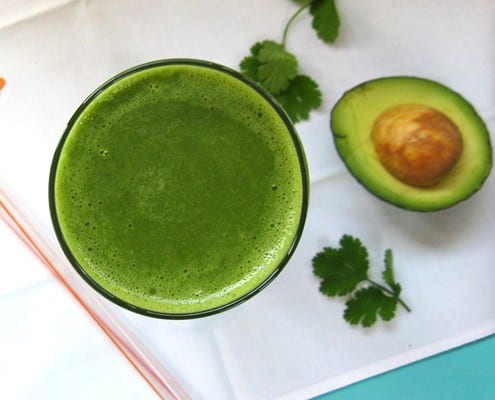 My body has been craving more smoothies since the New Year.  I don't know if it is part of a natural desire of the body to cleanse after the holidays, but I do know that it feels good.  Starting the day with something full of green goodness, healthy fats and naturally sweetened is the perfect balance for me. 
I consider cilantro to be the protagonist of this delicious drink.  When I read more about cilantro I am overwhelmed by its list of healing properties.  I knew it was good for me, but this gave me even more motivation to keep cilantro around at all times.  Cilantro is known to assist in removing heavy metals from the body, it aids in digestion, lowers blood sugar levels, is a good source of magnesium and iron, has anti-septic and anti-fungal properties, promotes healthy liver function, and more.  Adding a little cilantro to your smoothie can go a long way!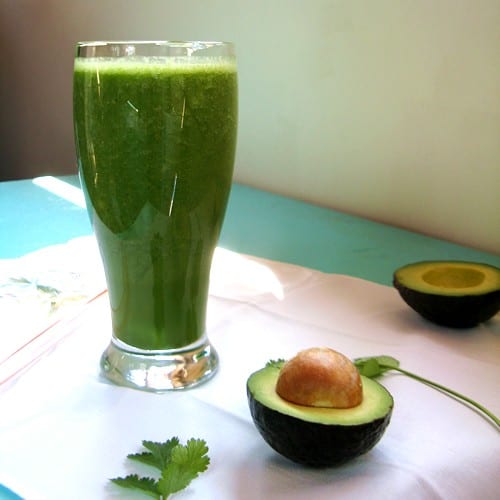 I know there are definitely people out there who are not big fans of cilantro though, and for those I would suggest substituting parsley for cilantro in this recipe.  Equally beneficial for its cleansing and antioxidant properties, the flavor of parsley will be more subtle in the recipe, but still a delicious tropical blend of greens and fruit.
Tropical Cilantro Smoothie
Ingredients
1.5 c Mango Passionfruit 100% Juice Blend (from Trader Joe's)
½ c water
1 c (loosly packed) raw swiss chard, chopped
2 T cilantro, chopped
½ banana
¼ avocado
5 chunks of chopped mango (fresh or frozen)
Instructions
In a blender pour 1 cup of the mango juice with the chopped cilantro and swiss chard. Blend on high until the green leaves are blended to a liquid. (Depending on your blender quality there could still be some little pieces, but it should be mostly blended.)
Turn off blender and add the banana, avocado and mango. Cover and blend again on high.
Once all the smoothie starts to thicken add the last ½ cup of juice and ½ cup of water to thin the beverage. Blend one last time to incorporate.
Enjoy!
Notes
Note: If you don't have Trader Joe's available to you, try another mango juice blend from your local grocer. It is 100% juice, but not concentrate mango which could be too rich.
Christine Curran
Christine Curran has been passionate about cooking since she was little and has become a self-taught Gluten-Free Baker and Vegetarian Cook. She has been sharing this passion on her successful food blog Nourish the Budding Lotus since 2008.