Bill Walsh tries out a Burundian coffee and clicks his proverbial heels at the outcomes.
By Bill Walsh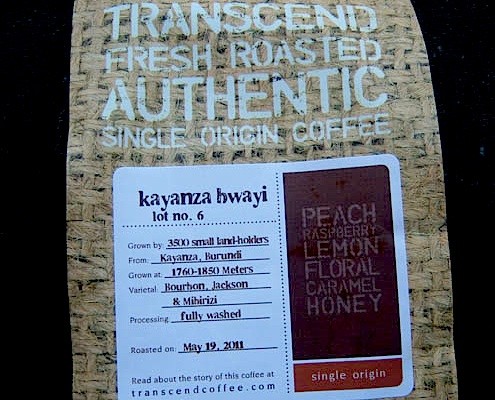 Subject: Transcend Coffee
Coffee Mugged: Kayanza Bwayi lot no. 6
Rating: 5+ [see key]
While traveling is limited for most people, obtaining an occasional food or drink from far away is sometimes the next best thing. One recent experience occurred for me when Transcend Coffee of Alberta, Canada sent me a pound of their Kayanza Bwayi to try out. I can't say I've been to Alberta (I was mere miles from it), this coffee from Burundi provided the next best thing from first waft, as it was bursting with bright and floral aromas.
I tested the coffee with the usual three brew methods of drip (filtered), siphon and french press.
The drip coffee rocketed out notes of blueberry, tame chocolate, oak barrel, mint, nuts, dandelion greens and buttery cracker. The brew was light to medium in body and held a delicious array of flavors with little drawback.
The french press held similar, with bright blueberry and nougat at first contact followed with subtleties of mint, cilantro, buttery cracker and yerba matte. Practically the same body and flavor potency as the drip.
The siphon held sweeter chocolate, blueberry, oak barrel, mint, buttered cracker and dandelion greens amidst a heavier, medium body.
While Edmonton, Alberta remains on my list of places to see, Transcend's Kayanza Bwayi did a nice job of holding me over for now. Give this Canadian-roasted Burundian a whirl if you're looking for a flavorful African coffee.
note: coffee was provided free of charge and the above review is objective feedback.
Bill Walsh
Bill Walsh is a contributing writer at Honest Cooking and the fanatic behind the acclaimed Pure Coffee Blog. He gains his inspiration from God, family and coffee, and loves to take each of them on the road as frequently as possible for a solid adventure.