October 26th is Champagne Day, and Honest Cooking has compiled a list of 10 excellent vintage Champagnes you should celebrate the day drinking.
By Kalle Bergman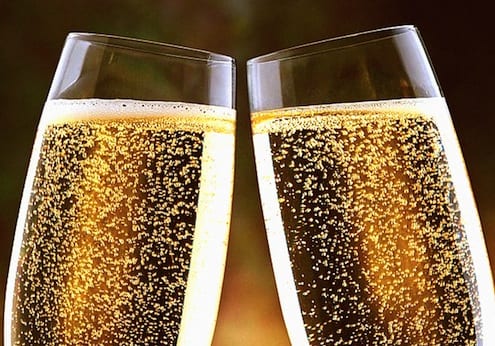 Mid October, Champagne producers gathered in New York, for what has been called the largest Champagne tasting in the US ever. Over 50 producers participated, and over 150 wines were on display. The Champagne lover that I am, I would not miss this event for the world. But even if I am ususally not backing down from a wine challenge, it was very clear that it would be absolutely impossible to try and taste even half of the Champagnes offered and be able to make any sense out of it. Or make it home in one piece.
So I did what any sensible person would have done. I went for the most expensive ones. The vintage tasting table, where over 60 amazing prestige year Champagnes were on display, was where I spent my afternoon, all in the service of good taste. After tasting, gurgling, slurping, sipping, sniffing, spitting and snoothing my way around the whole table, I had a shortlist of Honest Cooking's favorite 10 Vintage Champagnes to celebrate Champagne Day 2012 with.
(in random order)
1. Boizel Brut 2002
Boziel is a 5th generation Champagne house that produces some lovely wines. Their 2002 Brut is round and pleasant, with a nice effervesence. A delightful Champagne from a great Champagne year, and a good wine to pair with veal or seafood.
Price – 60 USD

2. Bollinger Grand Annee 2002
The Grand Annee is this legendary Champagne producer's prestige wine, only produced on high quality years like 2002. This wine is gorgeous, with a combined balance of power and purity that bares the signature of Bollinger. It is silky with lovely peachy notes and a present minerality. Plus, drinking Bollinger always makes you feel just a little bit like a spy.
Price – 100 USD

3. Pannier Vintage 2005
Serve this to your guests at your next party. It is a classic aperitif Champagne, crispy and cool with clear bread notes. This wine is still young for a vintage, but can absolutely be enjoyed now, and has a great price. Champagne Pannier was founded in 1899, and is currently owned by a group of Champagne growers.
Price – 55 USD

4. Colin Cuvee Roger Adnot 1985
A wine this old will inevitably taste differently from bottle to bottle, and this Champagne is deep, dark, golden and complex. It might turn some people off, as it is way heavier on a palate than a young crisp wine, but I loved it. With notes of raisin, bread and butter, this wine is pure sexiness. Serve it to someone who can appreciate it, your next foodie date perhaps?
Price – 210 USD
5. Perrier Jouet Belle Epoque 2004
Not only does this Champagne have one of the most gorgeous bottles in the industry, but the wine itself is pretty darn good aswell. This is the perfect date night Champagne, that both looks and tastes of romance.
Price – 175 USD

6. Gosset Millesime 2000
Another house with a lovely bottle design (I tend to fall for that stuff), and the contents aren't bad either. A hint of bread and hazelnut, with lot's of earthiness to the taste. This is a very good value wine for the price tag.
Price – 90 USD

7. Jacquesson Millesime 2002
The Jacquesson 2002 vintage has been hailed as one of the best of the year, and who are we to argue with the experts? If you can find this wine in your local wine shop, you should be happy, because it is absolutely delicious. A dry and balanced wine with a long, nutty finish.
Price – 130 USD

8. Nicolas Maillart Premier Cru 2005
This is a lovely Champagne from Nicolas Maillart. With floral notes and great minerality, it is already a good wine, but you could keep it in your growing Champagne cellar for a few years and it will become even better. A great value for a delicious vintage Champagne.
Price – 50 USD

9. Henri Giraud Fut de Chene Brut Millesime 2000
A complex wine from 2000, another great year for the region of Champagne, this delicious wine from Henri Giraud packs a lovely long after taste and massive butter notes. An elegant dinner party could be a good companion for this luxurious Champagne.
Price – 200 USD

10. Taittinger Brut Millesime 2005
I think Taittinger always deliver on the Non-vintage front, with some excellent wines. However, this 2005 vintage is stepping it up a little bit extra, with hints of plums and spices. It is rich, and aromatic, and just a very pleasant and well balanced wine that won't offent anyone.
Price – 90 USD