The First Annual Wailea Wine & Food Festival will be held December 6-9 2012 in the Wailea Resort, Maui. Finally, says Michelle M. Winner.
By Michelle M. Winner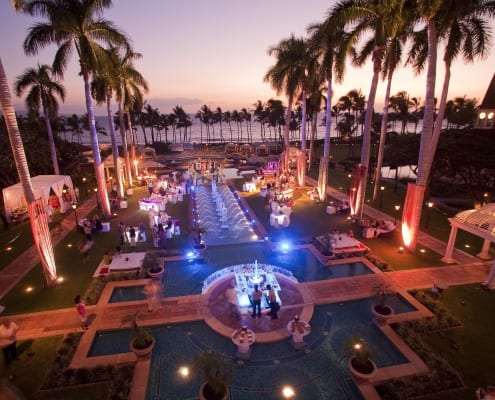 The First Annual Wailea Wine & Food Festival will be held December 6-9 2012 in the Wailea Resort, Maui. Events will be held at the Four Seasons Resort Maui, The Fairmont Kea Lani, Wailea Beach Marriott Resort and the Grand Wailea, all ocean front hotels in the tree-lined enclave of Wailea. The four day and evening event is hosted by world-renowned Master Sommelier Fred Dame, and as you might expect will showcase exceptional wines from around the world paired with the award-winning cuisine of many Wailea Resort chefs. Your great good luck is that some of the Hawaii Regional Cuisine Founding Chefs; Peter Merriman, Alan Wong, Bev Gannon and Marc Ellman will be there too.
Maui has a rich bounty of ranch, ocean and farm products to supply its celebrated kitchens, so this pairing, in this location, with this much talent is a natural to celebrate. Although this is the inaugural event it looks to become the Wailea Resort area's new signature event. Such an alignment of provisional riches, superb vintages and cookery stars here on this loveliest of Hawaiian Islands begs one to ask, "What took you guys so long ?"
Tickets for the inaugural Wailea Wine & Food Festival are now available for purchase at www.waileawineandfoodfestival.com along with the list of events that include interactive wine encounters with enticing monikers like "Pinot Passion", "Three Decades of Cabernet" and "Escape To Italy in Eight Glasses" to temp you. "Wine & Cheese – The Perfect Pairing" – will be an exceptional pairing lead by Wailea's own Ann Tuomela of Guava, Gouda & Caviar. Another event that  will be a stand-out is  "DaVine Experience Under The Stars" at the Grand Wailea Resort's expansive Reflection Pools Lawn, and promises a memorable evening of cutting edge cuisine paired with selections from 75 wineries from around the world.  Likewise "Grillin' & Chillin' – Where There's Smoke, There's Wine"  wil be a  laid back Sunday barbecue  with musical entertainment at at one of my favorite oceanside venues on the lawn at the Wailea Beach Marriott and  feature Wailea's top chefs  chillin' and grillin'  with a glass in hand no doubt.
As proud planner papa Bud Pikrone, General Manager for the Wailea Resort Association tells me, "We are thrilled to bring this experience to residents and guests of Wailea Resort. With legendary winemakers and chefs, and eight master sommeliers ready to share exciting new trends in food and wine- we can't wait to kick off this fantastic new event!" To that again we ask, " What took you so long?"