PARTNER POST — Discover how to take your recipes to the next level with Maille mustard.
Take your dips and appetizers to a new level of delicious with these tips to makes easy dips with just a few ingredeints.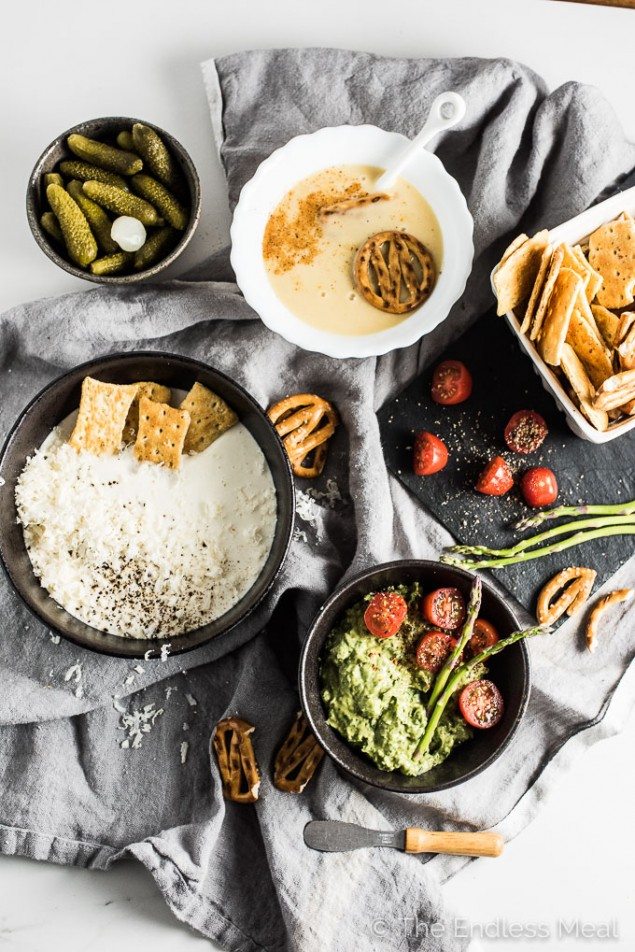 Knowing how to make a few simple and easy party dips can save you when company stops by. These three have only 5 ingredients each and take less than 5 minutes to make. So easy!
I think it's important to add a few non-recipe recipes to your cooking game. You know what I mean, right? The kinds of recipes that are super versatile, don't need to be measured, and handle substitutions and varying uses easily. These three easy party dips can also be used to drizzle, sauce, dunk, and enhance your dinner recipes.
I've got lots of suggestions about how to make these three party dips using different ingredients you have on hand and how to transform them into more than simply dips.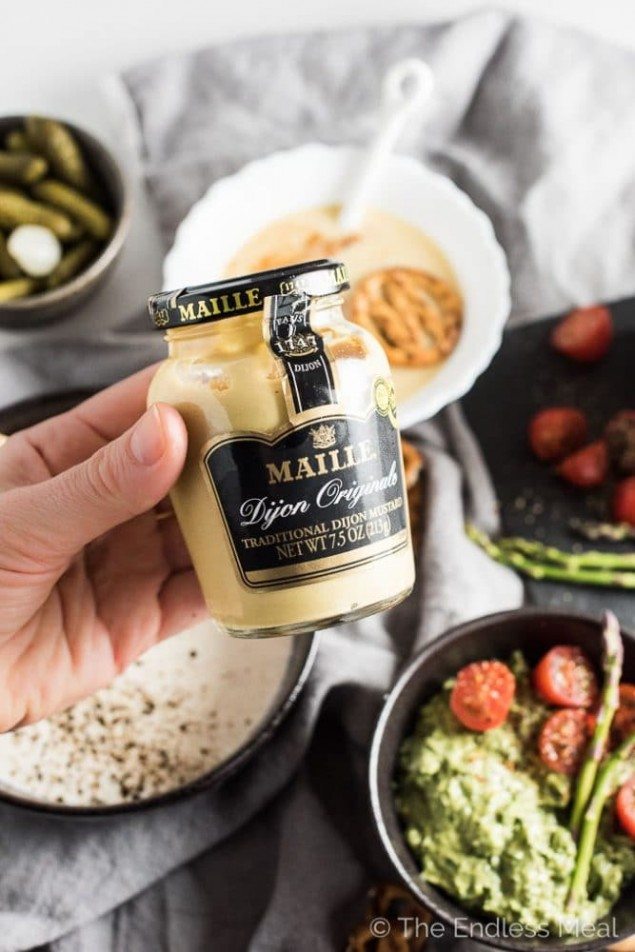 CREAMY PARMESAN DIP
This baby is what grown up cheese dip dreams are made of. Scoop with a cracker, dunk some broccoli, or slurp by the spoonful and watch a big smile spread across your face.
Eat it ? Spooned over asparagus, steamed broccoli, or your favorite green veg. Drizzled over chicken. Tossed with crunchy romaine for a Caesar salad like dressing. Poured over noodles for a side pasta salad.
Change it ? Swap sour cream for the yogurt. Crumble in some feta. Add a pinch of cayenne. Try swapping the Dijon with one of Maille's signature mustards. I think their Parmesan Cheese, Basil, and White Wine Mustard or their Walnut and White Wine would be delish. Ps. remember when I used the Walnuts and White Wine Mustard in this recipe?
HONEY MUSTARD DIP
This classic couldn't be any easier to make or more versatile to use. Serve it at a party with a bowl of crunchy pretzels, soft mini pretzels, or in the center of a veggie tray.
Eat it ? Poured over salmon before you bake it in the oven. As a dip for chicken thighs or (classic!) chicken fingers. Spread in a ham and cheese sandwich.
Change it ? Use plain Greek yogurt instead of mayo. Swap some of the Dijon for Maille's Old-Style Mustard or spicy Horseradish Mustard. Use lemon juice instead of the vinegar.
GREEN GODDESS DIP
This healthy, creamy green dip is best served with crunchy veggies like carrot sticks, broccoli, cauliflower or cucumber. It looks a lot like guacamole so you might even be able to convince veggiephobes (your kids, maybe?) to dig in.
Eat it Spread it on a sandwich piled high with thinly sliced turkey meat and veggies. Pile it on your tacos instead of guac. Add some diced tomatoes and call it avocado salsa. Spoon that avocado salsa over your roast or grilled salmon.
Change it ? Use parsley instead of cilantro. Swap spinach for the kale. Throw in some broccoli, Swiss chard, arugula, whatever greens you find in your fridge. Add extra lemon juice. Use lime juice. Or orange. Up the creamy factor with some plain yogurt. Try Maille's Lemon, Garlic, and White Wine Mustard or their Rich Country Mustard instead of the Dijon.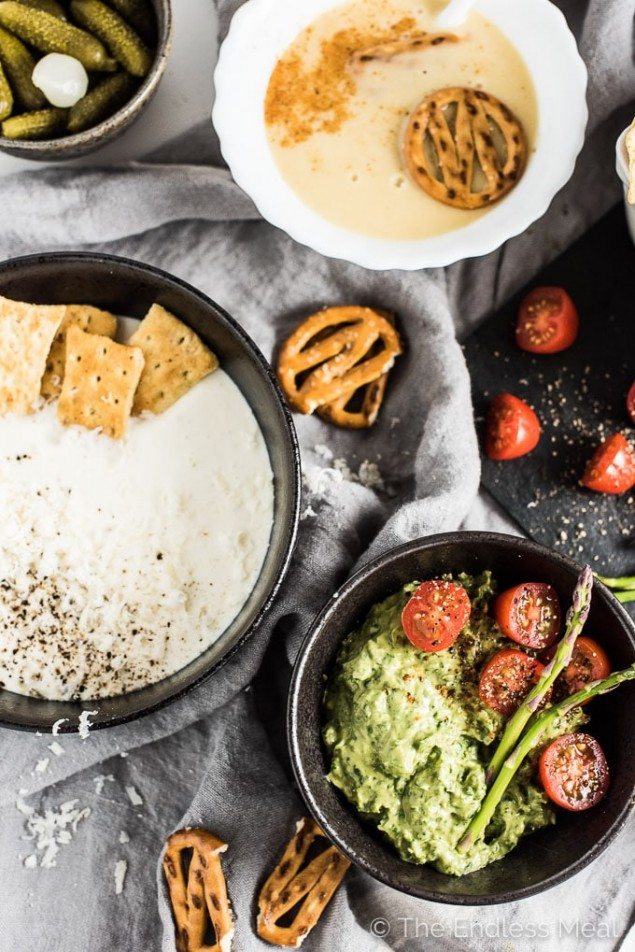 Did you notice that Dijon mustard plays a key role in each of the three easy party dips? That's because Dijon is my go-to, absolutely must have ingredient in my kitchen. Not having Dijon in my fridge would be like not having salt in my pantry.
I've tried lots of different brands of Dijon, but Maille is the one I always come back to. I love its spicy kick and sharp flavor.
You know when you wing a recipe and it needs something but you're not quite sure what it needs? Try adding Dijon. (Unless it's a chocolate chip cookie recipe; please don't do that.) But if you're making fish, tofu, chicken, a juicy steak, a salad dressing, or a pasta sauce, try adding a spoonful of Dijon.
Maille is running a contest called Flavor Heroes and they are asking mustard fans to share their best tip for using one of their products. Winners will be featured as #FlavorHeroes in a video shoot event, and receive a special prize. #prizesruletheworld
What's your special tip? Let me know in the comments so I can learn from you. And make sure to let Maille know, too. See that last hashtag.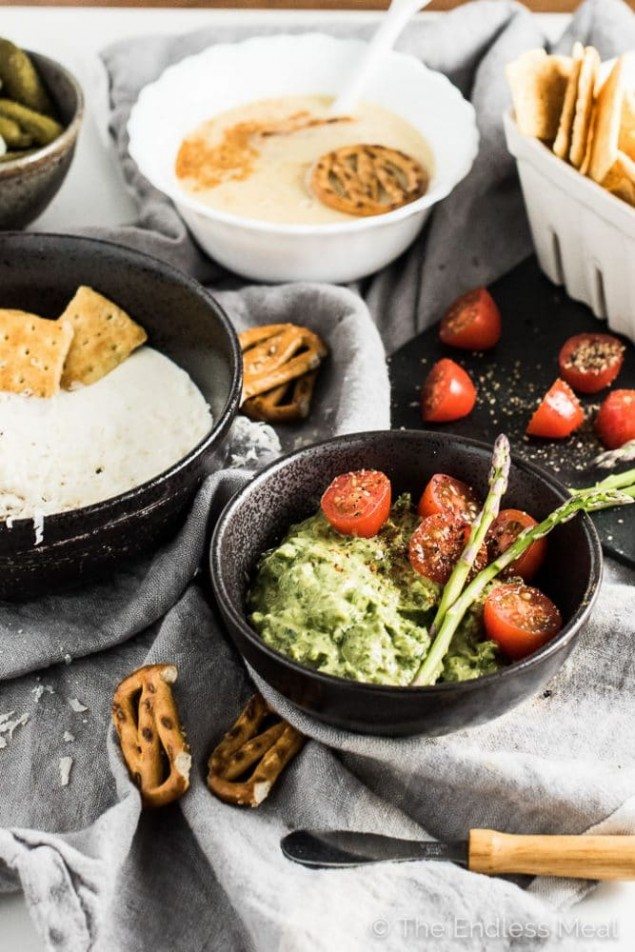 Click the banner below to enter the Maille Flavor Heroes contest!
.

Three Easy Party Dips in Five Ingredients or Less
Take your dips and appetizers to a new level of delicious with these tips to makes easy dips with just a few ingredeints.
Ingredients
Creamy Parmesan Dip:
1 cup thick, plain yogurt
½ cup grated parmesan cheese
1 tablespoon Maille Dijon Mustard
Juice from 1 lemon
1 garlic clove, minced
Garnish: black pepper
Honey Mustard Dip:
⅓ cup real mayonnaise
¼ cup liquid honey
¼ cup Maille Dijon Mustard
1 tablespoon white vinegar
1 garlic clove, minced
Garnish: cayenne or sweet paprika
Green Goddess Dip:
1 cup kale
½ cup cilantro
1 avocado
1 garlic clove, minced
1 tablespoon Maille Dijon Mustard
Optional (but recommended): ¼ cup lemon juice or water to thin
Instructions
Prepare each of the dips the same way. Place all of the ingredients for the dip into your food processor and blend on high until smooth. The green goddess dip will take the longest to blend and may need up to ¼ cup of lemon juice or water to make it smooth. Taste the dip and salt to your taste.
Serve the dips with chips, crackers, or veggies. See the blog post for more ideas about how to use the dips.
Notes
Both the Creamy Parmesan Dip and the Honey Mustard Dip can be made either using a food processor or by whisking the ingredients in a medium-sized bowl.