The Perfect Sour Cherry Pie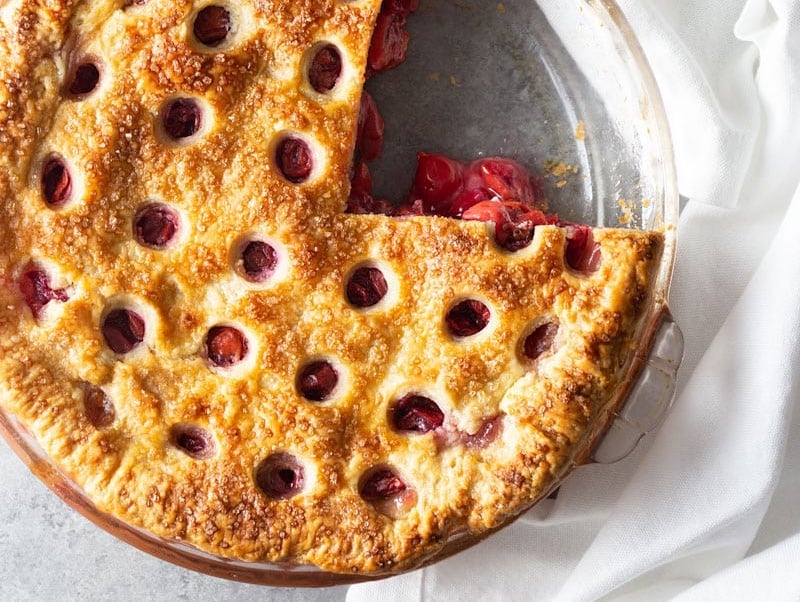 Summer might be nearing an end, but there's still time for one more pie. Let's make it sour cherry.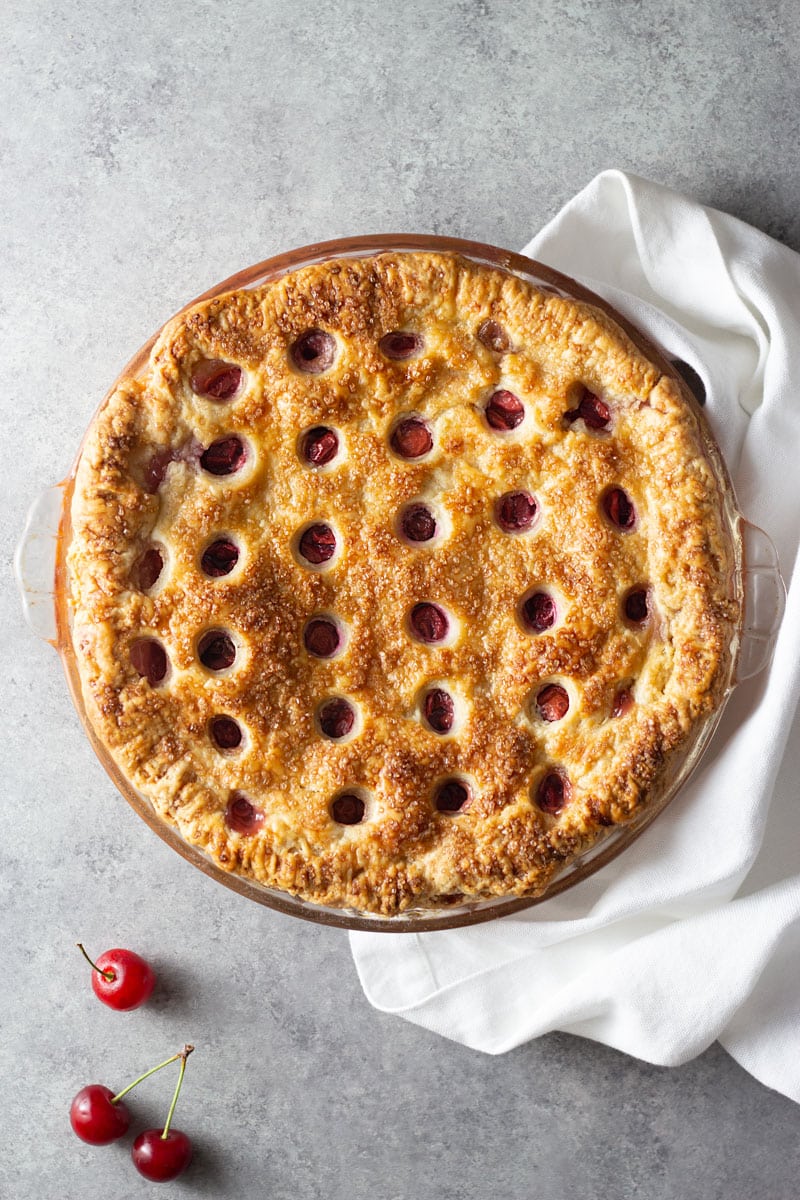 Realistically, sour cherries are a bit difficult to find, especially late into the summer. Don't fret! You can definitely go the frozen route here. Just make sure to defrost the cherries first, separate the juices, and thicken them up before adding the juice back to the filling. Although I feel sour cherries are best, you can substitute with a sweeter varietal. Just make sure to cut back on the sugar by a few tablespoons and perhaps add a little lemon juice for some zing.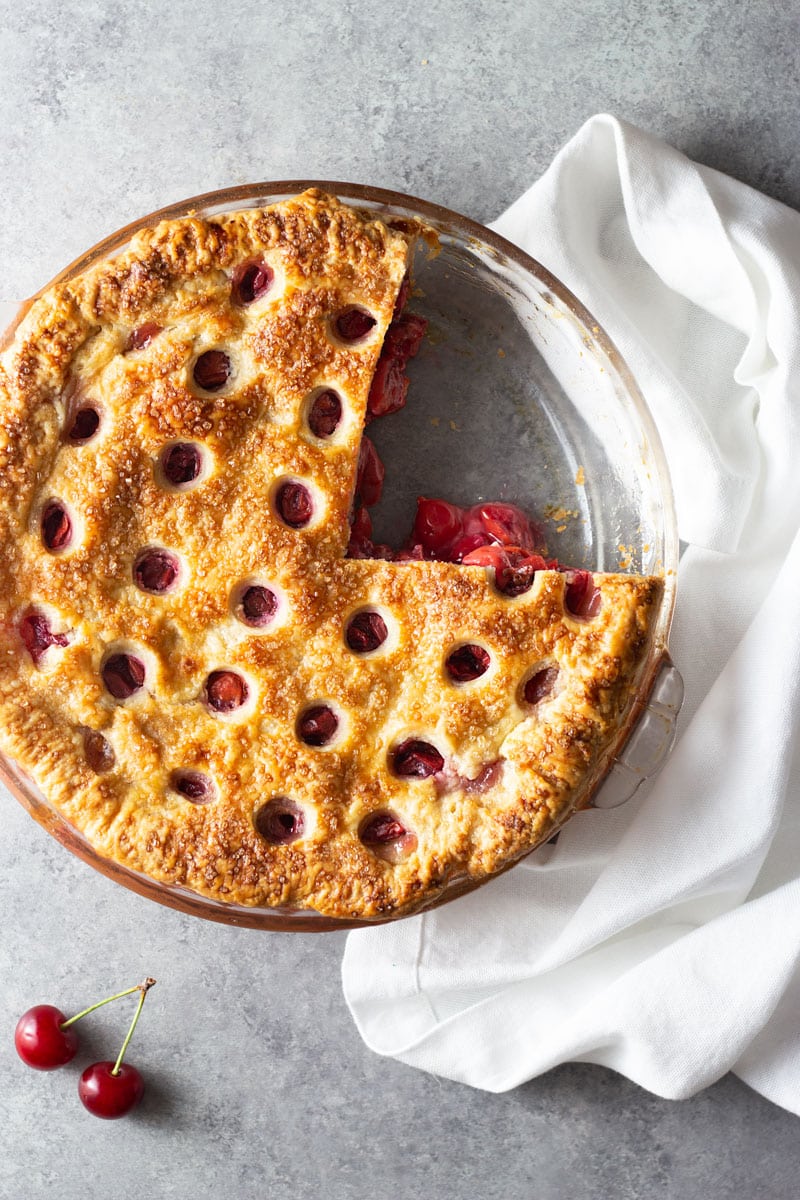 Whether it's this year or next, whether you're planning to make a pie or not, PLEASE attempt to taste sour cherries at some point in your life. If you can find them, get them. It's a completely different cherry experience compared to the basic bings. They have this nice sweet tart balance going on and a very different texture. They're actually quite grape-like. Thin skinned with juicy, fleshy centers. Yummo.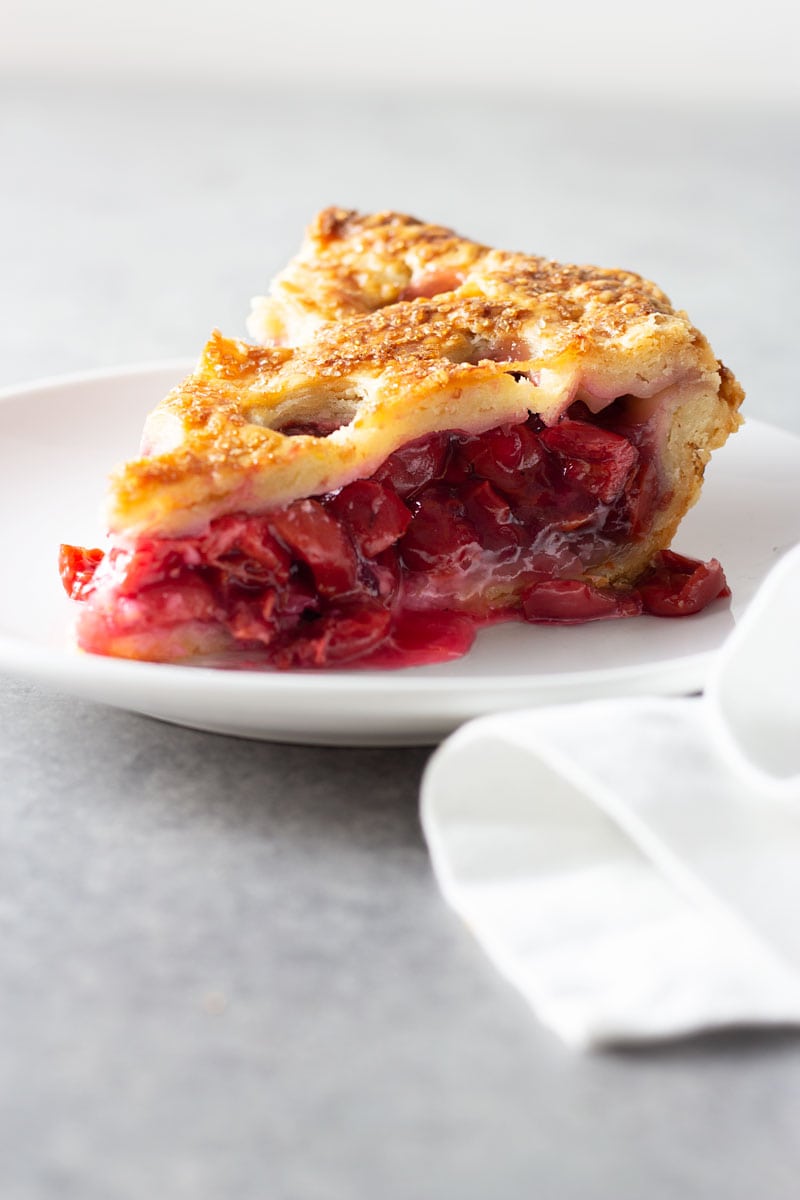 While testing this recipe, I definitely expanded my pie crust knowledge. I stuck with all time favorite pie dough for this recipe, which contains a couple key ingredients. Vodka and apple cider vinegar both act in different ways to inhibit gluten formation while hydrating the crust,  leading to a more tender end product. Check out more tips and tricks below.
STEPS TO A CRISPIER CRUST: 
Reduce the juice. When I was cutting up these sour cherries, I got a substantial amount of extra juice floating around. Maybe it would help to have a cherry pitter, rather than halving and pitting the cherries with a knife, but in either case we want to minimize the juice. I separated the extra liquids, cooked them down a bit and thickened them with some sugar and cornstarch. After the mixture cools, it's the perfect consistency to stir into your cherry pie filling. This step is essential in my opinion, otherwise, that poor dough is going to soak up a lot of unwanted juices.
Create a barrier. Just as I did in my Strawberry Rhubarb Pie, I sprinkled over a portion of the cornstarch directly on the bottom crust to help create a bit more of a divide between the juicy filling and buttery bottom.
Start high, than lower. For the first fraction of my baking time, I started the oven hotter and then took it down a few notches. The pie dough benefits from a quicker heat up, which causes the butter to melt and become one with the flour before the filling has a chance to leak through.
Preheat that sheet tray. Same logic as #3. Preheating the sheet tray that the pie will bake on gives us a head start on the cooking and browning of the crust.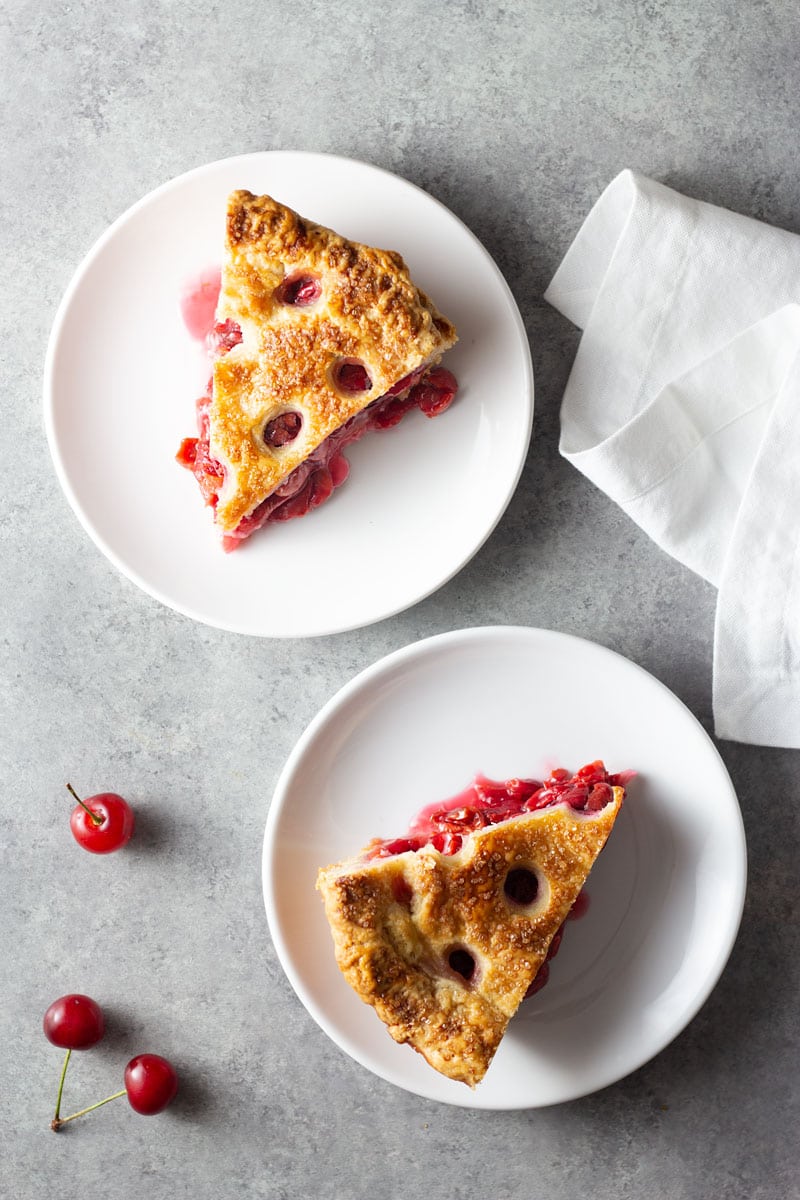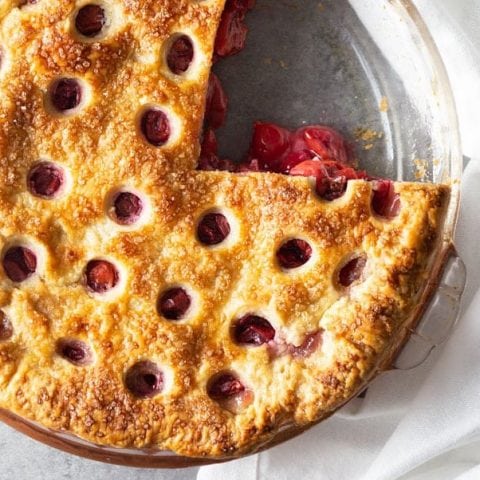 The Perfect Sour Cherry Pie
Sabrina Russo
This is the perfect sour cherry pie. Fresh, tart cherries and all the tips and tricks you need for the best, flaky, buttery crust.
Ingredients
2 2/3

cup

all-purpose flour

plus more for dusting

1 ½

tbsp

granulated sugar

1

tsp

kosher salt

18

tbsp

unsalted butter

cut into ½ inch cubes

3

tbsp

vodka

chilled

1 ½

tbsp

apple cider vinegar

chilled

3

tbsp

+ 2 tsp ice water

2

lbs

sour cherries

halved & pitted (4 cups)

1

cup

granulated sugar

divided

4

tbsp

cornstarch

divided

½

tsp

finely grated lemon zest

½

tsp

vanilla extract

Large pinch salt

2

tbsp

unsalted butter

cut into ½ inch cubes, chilled*

Egg beaten with 1 tbsp water

for brushing

Demerara sugar

for sprinkling
Instructions
Mix dry ingredients: Combine flour, sugar and salt in a large bowl.

Work in butter: Toss in butter to coat. Rub butter into flour using fingertips to create some large, irregular pieces and some thin, flat pieces. Work quickly to avoid overheating butter. Place in fridge for several minutes if butter gets too warm.

Add liquids: Mix together vodka, vinegar and 3 tablespoons of ice water in a measuring cup. Drizzle over flour/butter mixture. Mix with fork to create a shaggy mixture. Knead to form a dough. It should look dry and rough. Drizzle over remaining 2 teaspoons of ice water and knead together. Do not overwork.

Laminate dough: Divide the dough in half. Shape one half into a ¾ inch block. Divide into 4 equal pieces. Stack pieces on top of each other and press down to shape into a ¾ inch disc. This will create layers of butter that become flakey when baking. Repeat with remaining half of dough. Wrap in plastic wrap. Refrigerate at least 2 hours or up to 5 days.

Roll out dough: Remove dough from fridge and sit on counter for 5-15 minutes or until warm enough to work with. On a lightly floured surface, roll dough 1/8 of an inch thick into a 13-inch round. Transfer to a 9-inch pie plate and chill in fridge. Repeat with second half of dough, and transfer to a parchment-lined baking sheet. Chill in fridge.

Create "circular lattice": When dough on baking sheet is chilled, transfer to a lightly floured surface. Punch out circles spaced 1 inch apart using an Ateco 808 round tip, leaving a 2 inch border, or manipulate as desired. Return to baking sheet and chill.

Separate and thicken juices: After cutting the cherries, place cherries in a sieve to separate any juices. I was left with a ½ cup of juice. Add juice and ¼ cup of the sugar (adjust according to the amount of juice released by your cherries) to a small saucepan. Bring to a boil, reduce to a simmer and cook about 8 minutes or until reduced by half. Whisk 2 tsp cornstarch with 1 tbsp of cherry liquid and add to pan. Whisk to combine and boil for 2 minutes or until syrupy. Cool completely in fridge. Mixture will continue to thicken upon cooling.

Heat oven & fill pies: Place a baking sheet in the oven. Preheat oven to 425°F. Remove both pieces of dough from fridge. In a large bowl, stir together cherries, remaining ¾ cup of sugar, 2 tbsp + 2 tsp cornstarch, zest, vanilla, salt and cooled, thickened juices. Sprinkle remaining 2 tsp of cornstarch directly on bottom dough. Pour in fruit mixture. Lightly brush rim of dough with egg wash, reserving remaining egg wash for later. Gently cover with top dough. Trim any overhang in excess of 1 inch from top and bottom dough. Pinch edges of dough together and tuck under into pan. Mark rim of pie with tines of fork or crimp, as desired. Place in freezer for 10-15 minutes or until dough is firm.

Top & bake: Remove pie from freezer and brush top with reserved egg wash. Sprinkle generously with demerara sugar. Bake in center of oven on preheated baking sheet for 20 minutes. Reduce oven to 375°F and continue to bake for 60-70 minutes or until bottom and top crust are well browned and filling is bubbling rapidly. Tent when needed to avoid overbrowning crust. Place on cooling rack and cool completely uncovered at room temperature. Slice and enjoy.
Sabrina Russo
My Three Seasons represents the 3 key factors that are most important to me in cooking. #1 Seasonal ingredients #2 Proper Seasoning (don't skimp on that salt!) #3 Cooking like a Seasoned chef (technique is everything). My name's Sabrina. I live in NYC. I'm a registered dietitian with professional cooking and food styling experience. Come cook with me.