Looking for the ultimate fried chicken sandwich? This is it. Top it off with a basil-loaded green goddess sauce and a good slaw and you're in sandwich heaven.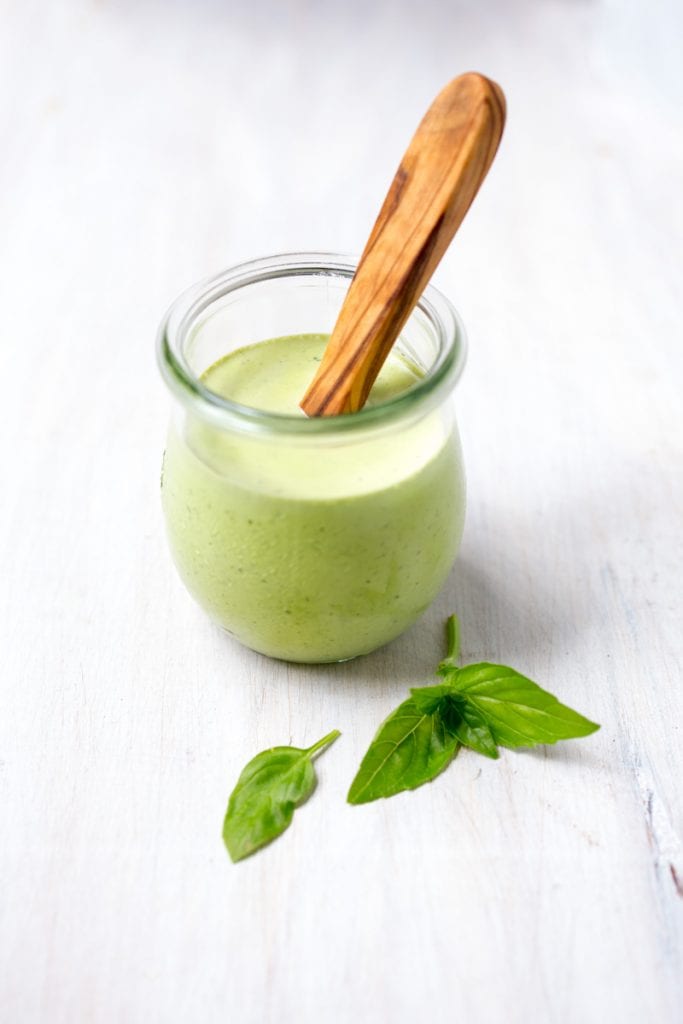 This is our version of the ultimate, best-ever fried chicken sandwich: crisp, craggy crust, juicy, tender meat topped with a fresh Basil Green Goddess slaw. It's unbelievably good.
If ever a sandwich deserved some un-ironic enthusiasm, it's this one. It's crispy! It's spicy! It's tender and juicy and slathered with basil mayo! I know I sound completely, utterly ridiculous but I don't care! It's that good.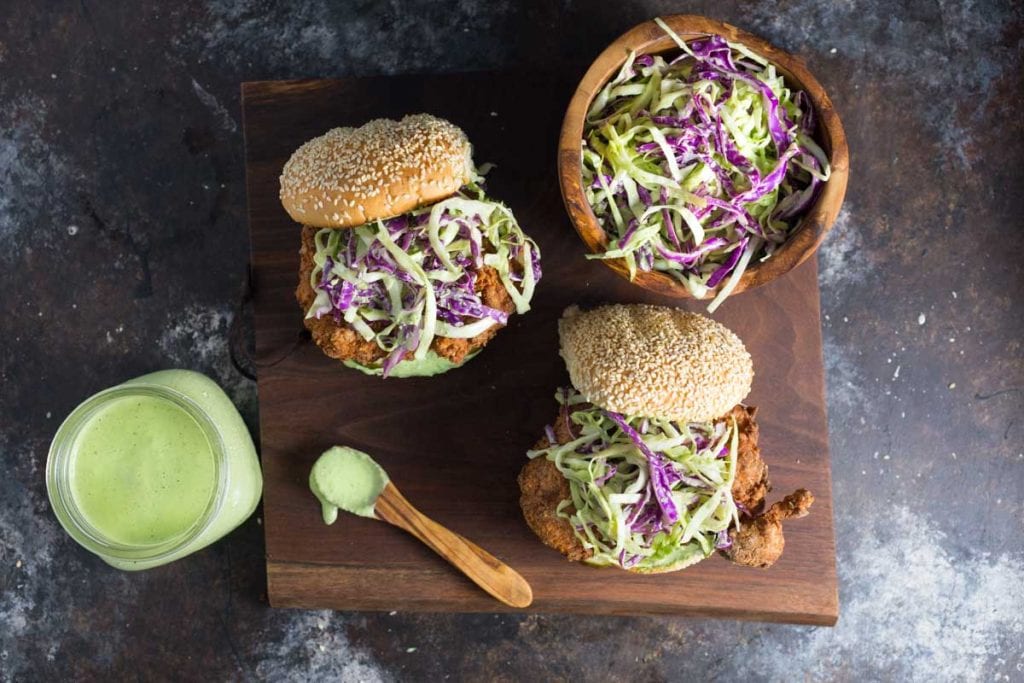 A little background on how we came to make this beautiful specimen of edible glory … the last week has been very hot and very stormy. So what do two knifey nerds do when stuck in the house all weekend? If you said "watch the entire season of Stranger Things and make fried chicken sandwiches", you'd be right! And oddly prescient.
In order to ensure it would be amazing, I researched a few of my favorite sources (Bon Appetit, Serious Eats, Saveur) and combined a few elements, as well as adding my own Nerd with Knives spin.
I understand you might be thinking that this seems like a whole lot of hoopla for a fried chicken sandwich, but often the simplest things are the hardest to get right. Sure, you could just fry up a bit of chicken and throw that sucker on a bun but you'll likely wind up with tough, rubbery meat and greasy, tasteless breading. No thank you, sir.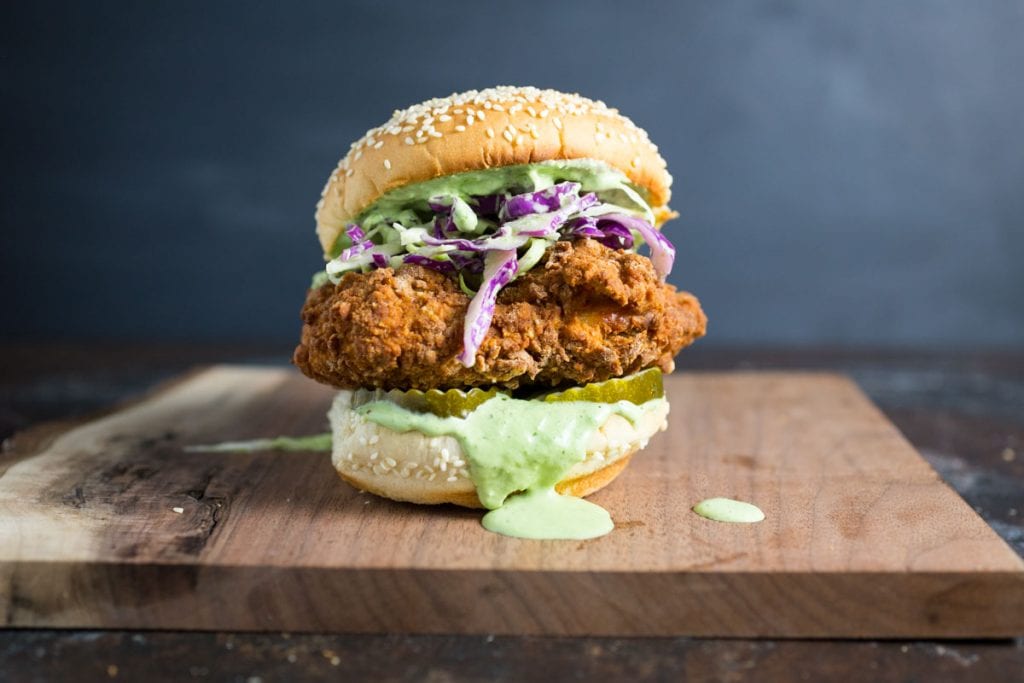 Tip #1: Brine
Brining chicken (or any protein) adds moisture and flavor by hydrating the cells of muscle tissue. Often it's done in a salt water solution (pickle juice is a popular fried chicken brine) but can also be done without any liquid at all. I decided to go with a dry brine. This keeps the chicken from exuding excess moisture when it cooks which can make the breading fall off. We use a combination of coarse kosher salt (don't use table salt, it will taste too salty), brown sugar and a little baking soda.
The baking soda might seem odd but it's the secret weapon in getting extra crispy, deep brown chicken skin because it breaks down skin proteins. In this case we're using skinless chicken but it also helps dry the surface of the meat so the crust sticks better and forms tiny bubbles that add extra crunch.
See Also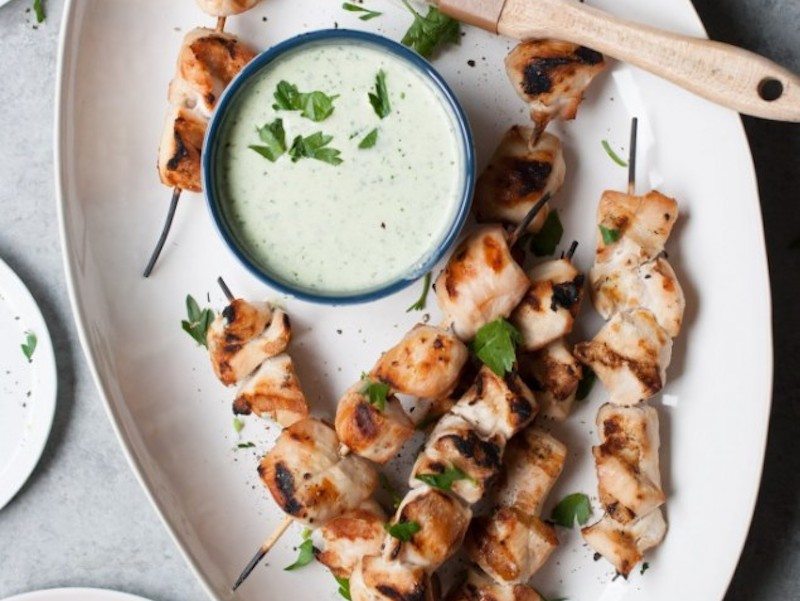 Tip #2: Dredge
Adding some corn starch to the flour helps the crust stay extra crispy and light. Your mixture should be seasoned well, but not overwhelmingly so. We use a mix of spices but just a few heavy grinds of black pepper would do in a pinch. The most important trick when it comes to dredging is to drizzle some of the buttermilk mixture into the flour mixture and work it with your fingers to form little clumps that become craggy, crunchy little jewels when fried.
Tip #3: Fry
You can either use a deep cast iron skillet or a dutch oven. If you use the skillet, make sure the oil comes up over the side of the chicken or the edges won't brown (but don't overfill it either). In a dutch oven, 3-4 inches of oil is fine. We like using peanut oil because it has a high smoking point and a clean taste. Temperature is key. You want to fry the chicken in 350ºF oil, so heat it to 365º so when you add the chicken, the temperature will be about right. Use a thermometer and adjust the heat as needed.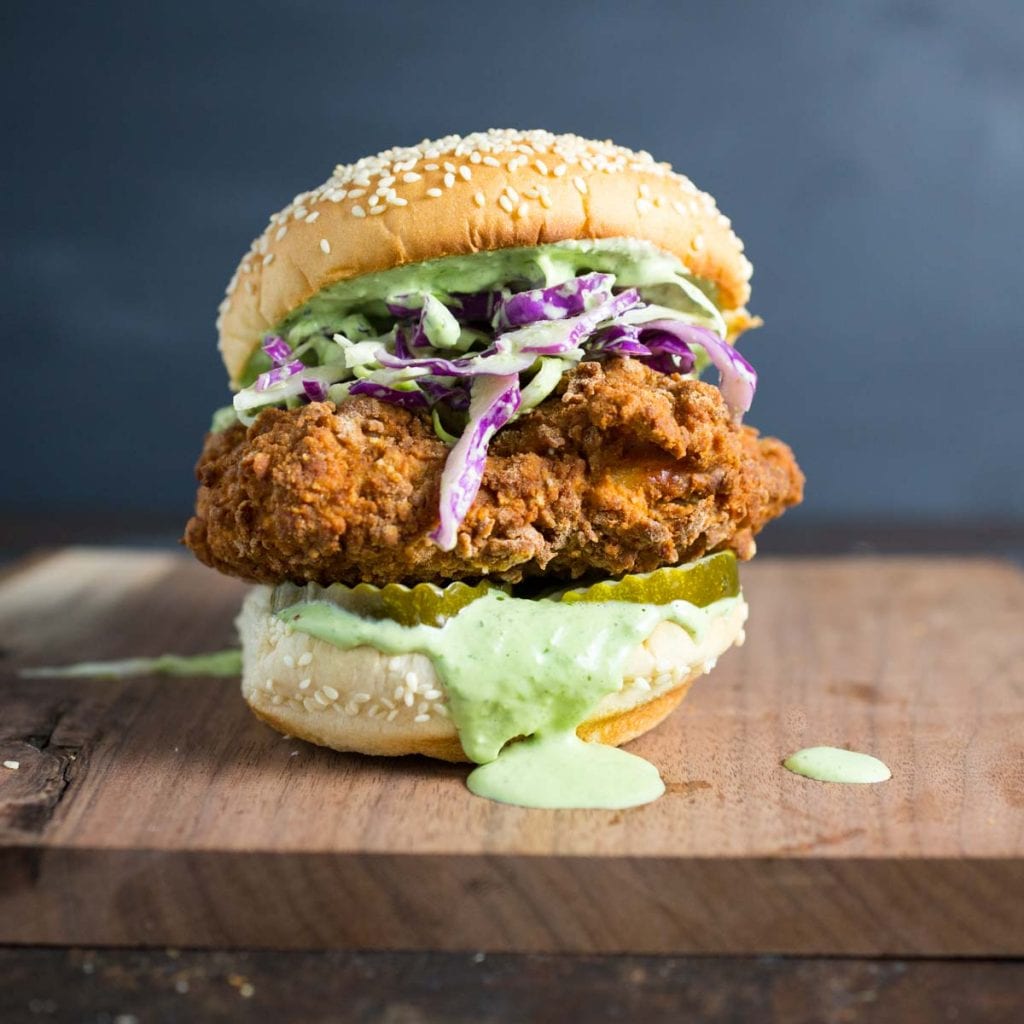 Last but not least, we wanted to top our fried chicken sandwich off with something fresh and full of flavor. Our herb garden is bursting so we went with a crunchy slaw made with the most delicious dressing ever, Basil Green Goddess. It's creamy and tart and goes perfectly with the spicy chicken. A few bread and butter pickles, some extra hot sauce and a good potato bun and you have yourself the Ultimate Fried Chicken Sandwich.
Click here for the green goddess recipe.
Print

---
Author:

Emily Clifton

Total Time:

2 hours 20 minutes

Yield:

6

sandwiches

1

x
Dry brine for chicken:
2 teaspoons

coarse kosher salt

1 teaspoon

light brown sugar

1 teaspoon

baking powder

4

–

6

skinless (boneless chicken thighs)
Chicken coating:
1¼ cups

150g all-purpose flour
? cup (40g cornstarch)

2 teaspoons

garlic powder

2 teaspoons

onion powder

2 teaspoons

paprika

1 teaspoon

mustard powder

1 teaspoon

cayenne pepper

2 teaspoons

coarse kosher salt

1

large egg (bea

ten

to blend)

1 cup

8 fl.oz. buttermilk

2 tablespoons

bourbon (optional)

3 tablespoons

hot sauce (recommended: Frank's; plus more for serving (optional))
Peanut or vegetable oil (for frying; about 6 cups or 50 fl.oz.)
Toppings:
Basil Green Goddess Slaw
¼ cup

2 fl. oz. Basil Green Goddess Dressing (click the link above for the recipe)

2 cups

200g green cabbage, thinly sliced

2 cups

200g red cabbage, thinly sliced
Hamburger buns (recommended, Martin's potato buns, lightly toasted)
Bread-and-Butter Pickles (for serving)
---
Instructions
Dry brine chicken:
Mix salt, sugar, and baking powder in a small bowl. Season chicken all over with mixture. Chill uncovered on a wire rack set inside a rimmed baking sheet, at least 2 hours and up to 1 day.
Coat Chicken:
Whisk flour, cornstarch, garlic powder, onion powder, paprika, mustard powder, cayenne, and 2 teaspoons coarse kosher salt in a medium bowl. Whisk egg, buttermilk, bourbon (if using), and hot sauce in another medium bowl. Working with one piece at a time, dredge chicken in flour mixture, making sure to work into crevices. Shake to remove excess; return to rack. Drizzle 3-4 tablespoons buttermilk mixture into seasoned flour and work in with your fingers until small clumps form. Dip chicken into remaining buttermilk mixture, allow excess to drip off, then dredge in flour mixture. Using fingers, press some flour clumps onto chicken so they adhere. Gently shake off excess; return to rack. Chill at least 10 minutes and up to 12 hours.
Fry Chicken:
Pour enough oil into a large heavy pot to come a little less than halfway up sides. Heat over medium-high until thermometer registers 365°F / 185ºC. Working in batches, fry chicken, turning every so often and adjusting heat to maintain a temperature of 350ºF /175ºC, until deep golden brown, 5–7 minutes per batch. Transfer to a wire rack set over paper towels to drain.
Make Slaw and assemble sandwiches:
Add cabbage to a large bowl and toss with 3-4 tbsp. Basil Green Goddess Dressing until lightly coated. Taste for seasoning. Best if allowed to sit for at least 30 minutes.
Spread some basil green goddess dressing over cut sides of lightly toasted buns buns. Build sandwiches with pickles, fried chicken, slaw, and a few shakes of hot sauce, if desired.
Prep Time:

2 hours

Cook Time:

20 minutes

Category:

Main
Emily Clifton
I love to cook and learn about food. I was born and raised in New York City and I was exposed to a lot of different food cultures as a kid though I was weirdly picky. I hated mashed potatoes but I loved kim chee. Hated fish, loved escargot. I said I was weird, don't judge me. My mom is a great cook but I definitely don't have any "passed down from grandma" types of recipes. Both my grandmothers were horrible cooks. I mean really, truly bad. I give my mom a lot of credit for knowing that string beans are not actually supposed to be gray. In real life I'm a film/TV editor which just might be the most fun job in the world. Occasionally it can be the most annoying job in the world which is why I really appreciate it when I get to take a break and do my other favorite things which is cook, take photographs and write.