The FourCoursemen: A Creative Approach to Local Eating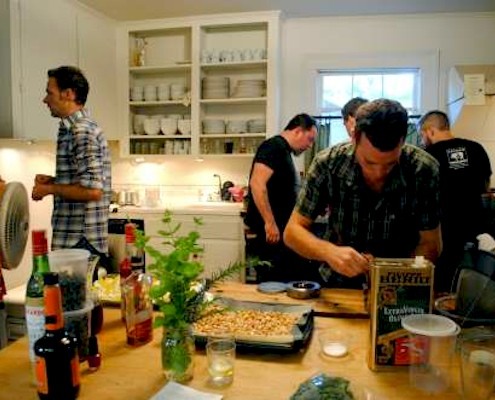 The culinary group of close friends, better known as the Fourcoursemen, are chefs, artists, and connoisseurs of all things delicious, living and working in Athens, Georgia. Katherine Ingui sat down at their table.
By Katherine Ingui
A few hot and humid Saturdays ago, I found myself consumed by the Georgia heat and the rich aroma of roasted duck, fried capers, and eggplant puree. It wasn't the most typical of afternoons, to say the least. I found myself pleasantly placed in the kitchen of a shotgun-style home, watching a group of local chefs and creatives make culinary art. The heat gave way to my more honest love for food, and after a while, I began to indulge in all that was happening around me.
The group of close friends, better known as the Fourcoursemen, are chefs, artists, and connoisseurs of all things delicious, living and working in Athens, Georgia. While  chopping vegetables, preparing meat, and mixing cake batter, this group of Athenians carried with them good  spirits and hilarious stories, some from years ago, some from the night before. You wouldn't think that these friends, brought together by a simple love for food, would be preparing a dinner for over 30 guests, delivering to each a gourmet culinary experience, based simply on the goal of spreading a love for slow, local food.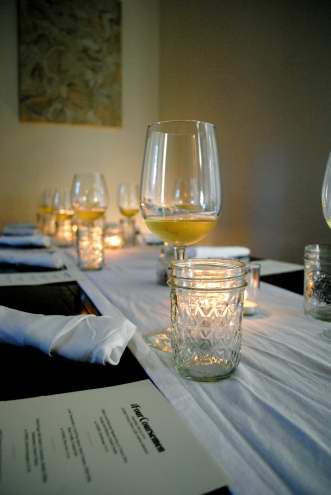 The Fourcoursemen are a big deal here in Athens. They are known best for hosting dinners, pairing food with wine, experimenting with local produce and proteins, and creating a comforting atmosphere in a fun, family setting. Ask someone on the streets of Athens about the group and chances are they've never heard of them. This is not because of their exclusiveness, for they welcome any and all to join them, but because of what they cook up at the dinners they host.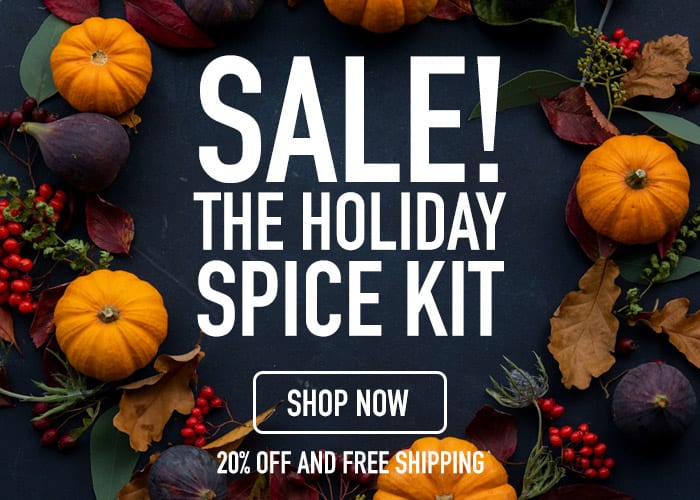 They're notorious for trying new things, breaking rules, and doing it all so well. So yes, they are very popular. It really is an enigma as to how these dinners have remained underground. I think that adds to the personality of the dinners; their guest list, usually made up of fans, devout supporters, or simple lovers of good food, is based on an online lottery, resulting in a first-come, first-serve basis. They're that big of a deal.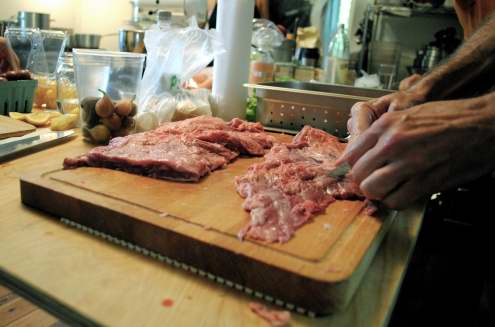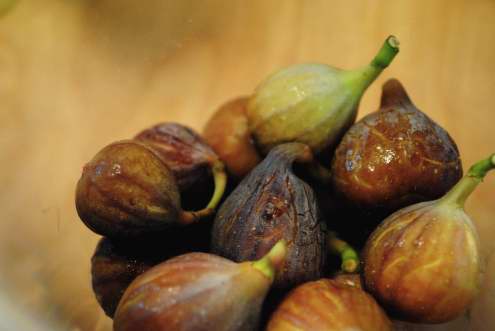 Defined as an underground supper club by many, the FourCoursemen are a group of food and wine connoisseurs who essentially came together over time based on a unique friendship and a love for creating culinary art. They may not describe their incentives or accomplishments this way, but I wouldn't hesitate to give them the credit. The reason they are so popular, and their dinners sell out in minutes, is because of what they are doing, how they are doing it, and why.
The group has come together to create a setting in which one can eat, drink, and share in the fellowship of local and sustainable foods that are one-of-a-kind. This collaborative effort of utilizing and sharing quality food, of trying new things and pairing new ingredients, has brought the group to a place where they have complete creative freedom. They have made it a goal to share and make more accessible their ideas, experiments, and accomplishments in the kitchen and on the dinner table. They highlight sustainable food, local farms, individual initiatives, and their own love and appreciation for good, authentic food.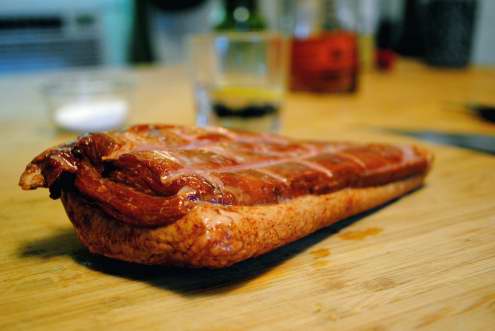 The Fourcoursemen consists of Damien Schaefer, Randolph Dudley, Matt Palmerlee, Patrick Stubbers, Eddie Russell, Nancy Lind, Noah Brindle, and Chrissy Reed. Each have their specialty, but expect their hands to be in everything- every idea, every plan, every dish. They do have a few rules; they never make the same thing twice, agree to never take recipes or dish ideas to their respective restaurants (three of the eight are chefs in town), wait until the night of the dinner to announce the menu, and work together. Simple? Yes. But trust me, the food created is not.
The group began with Damien and Randolph many years ago as they were living in Athens and brainstorming futures around food. As I sat with Damien, he explained that selfishly, he wanted to learn how to both cook and be a well-rounded person. In order to accomplish the latter, he believed he needed to learn how to cook first, but not just cook, cook well. Cooking to him was both foreign and intimidating, and somewhat a measure of being a man.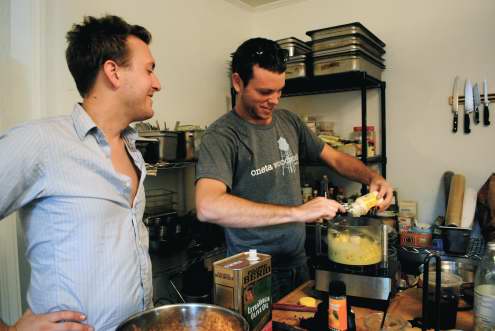 What better a way to learn how to cook then from from your good friends? Well Damien took to this, invited them over, and start collaborating. "It made sense to include others, to share and learn from the experience, while embracing friends who cook-it's a good excuse to spend time together and try new things" says Damien. And they did just that: tried new things. Eventually the group grew to what it is today, and they haven't once looked back.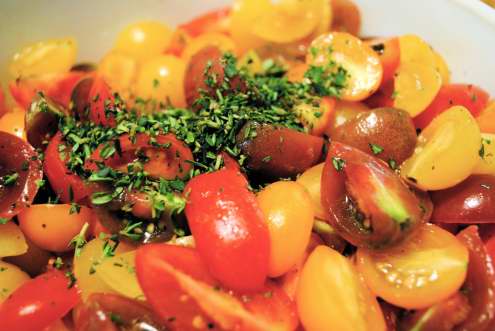 Damien stated that it is his goal for guests to embrace the concept of culinary exploration. He essentially wants them to know where their food comes from, to challenge themselves to try new things, to be aware of the benefits of eating better quality foods, and to essentially become passionate about food. "It is about delivering a message in a fun, successful way," says Damien. "At the end of the day, you have to eat, so why not make it fun, sexy, rewarding, and of quality? You should step back and say it doesn't have to be fast or convenient."
So how do they create the menu? Where does their inspiration come from? They look to fresh, local ingredients to promote those individuals within the community who care about delivering to others authentic food, just as the Fourcoursemen do. "We find a badass simple ingredient and highlight it" says Eddie as he waits for his yogurt cake to finish in the oven, which he later paired with local figs that were simply gorgeous. As the seasons dictate the portions, flavors, and ingredients, the group decided to base the dinner on a Mediterranean profile, inspired by wine from the Scribe Winery in Sonoma, California. Patrick recalled the day when they sampled Scribe's chardonnay, saying "It was cold and rainy, but it made me think of how perfectly it would pair with a hot, Georgia summer."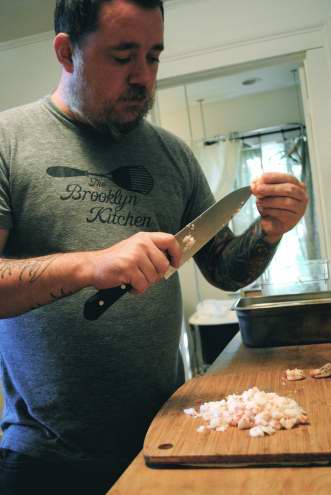 The owner of Scribe, Andrew Mariani, made a special appearance for the dinner, bringing with him wines that would pair with each dish. In the welcoming address, signaled by Damien's ringing of the dinner bell, Andrew shared with the guests his appreciation of meeting people who are passionate about food. He said, "It's so important to recognize what's special about the place you live in and celebrate it." His thoughts on being in Athens? "It's been nothing but Southern hospitality… but we in California call it alcohol."
What the Fourcoursemen have accomplished is essentially this: they have found within themselves and others a great potential to share new and original products through the production of meals and a family-style environment. Eddie calls it "humanistic networking," in that they attempt to promote the initiatives of others, where everyone can benefit. Each individual has so much to offer to the group, to the guests, and to the greater cause of slowing down, creating new and fun dishes, using local and accessible ingredients, and sharing it with loved ones.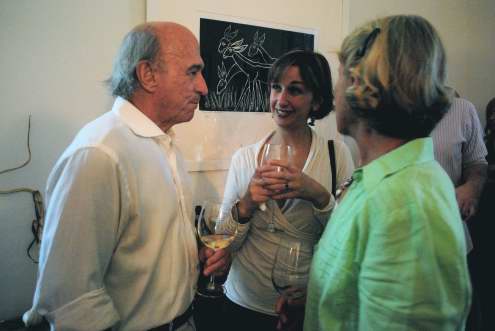 It is my advice to you to embrace their initiative towards good, honest food that supports local initiatives and challenges personal creativity in the kitchen. If this sounds like too much of a challenge for you to tackle in your own kitchen, see it done first hand at the home of the Fourcoursemen. Maybe you'll believe their claim that good, sustainable food is accessible and possible to create. If you're a lover of food looking for an amazing, original dinner experience, get on their email list and RSVP to the next dinner. You won't regret it.
For more information and reservation details, check the Fourcoursemen out at their website,  www.thefourcoursemen.com. For information about the Scribe Winery, check out their website, http://scribewinery.com/.
Katherine Ingui
Katherine Ingui is a photographer, an art educator, and a lover of healthy and adventurous food, in her home or on the road. A devout supporter of creativity in the everyday, she appreciates the glorification of what we all essentially crave: food.