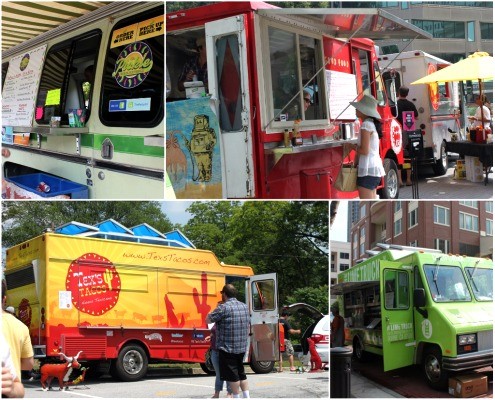 Food trucks are everywhere, and they're getting harder and harder to miss. So if you hear about a food truck in your area, chase it down and check it out! You might be pleasantly surprised at what you find or who you meet.
By Amrita Rawat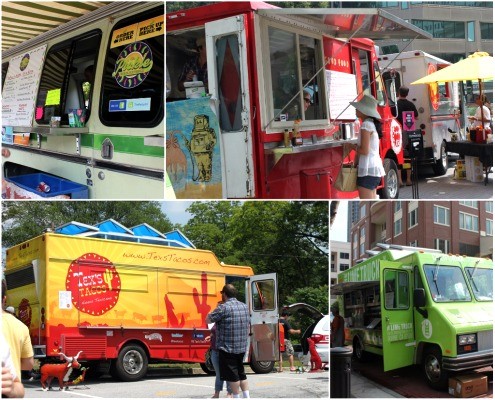 In the developing world, food trucks are the closest things you can find to street food. When I visit China and India, I'm used to eating many delicious and satisfying meals on the street, from a stall with questionable food sanitation. But in America? I'm more used to grabbing food to go from the sanctity of my car, or sitting in an air-conditioned restaurant. But now they have food trucks. Trucks that move from place to place daily and sell food out of a little window. The prices aren't cheap…more expensive than fast food but cheaper than a sit-down place. And you have to eat your food standing among friends and strangers waiting for theirs. But all this is part of the atmosphere of eating at a food truck—and it's unlike anything I've ever experienced before in America.
From my first encounter (which involved a lot of sweating in the sun while patiently waiting) to my most recent, I've fallen in love with food trucks. There's a sense of community that is more palpable than simply eating out. It's easy to feel isolated or separated by others when you take food home or go to a drive-thru, but with food trucks, there are often benches or makeshift seating around the area to enjoy your food, since you don't get a car-friendly container, and I've noticed many strangers chatting up one another while noshing on their meals.
In St Louis, the monthly food truck gathering is held in a local park. People bring chairs and blankets and lay out with their pets and children running around. Sauce magazine, which sponsors the event, provides free beer kegs for everyone. It's a happy, positive environment and a fun way to meet new people and be a part of the community. Although I'm a native Atlantan, I couldn't help but feel a sense of closeness with all the St. Louis foodies in the park.
Indeed, word of mouth between friends and family has been a big driver for the success of food trucks. With the advent of social media, people have been able to create excitement and a sense of anticipation whenever a food truck is spotted. For instance, tweets and Facebook status updates are often the ways I first hear about local food trucks. As a result of the popularity of food trucks, there is now even a popular reality show competition, The Great Food Truck Race, which highlights the growing number of food trucks across the US.
Atlanta, for example, is also caught up in the food truck buzz, despite all the random limitations. Food trucks aren't allowed to cook food on location and are limited to merely heating and serving cooked food. This limits some of their options, although many food trucks on the scene are getting more creative with their menus.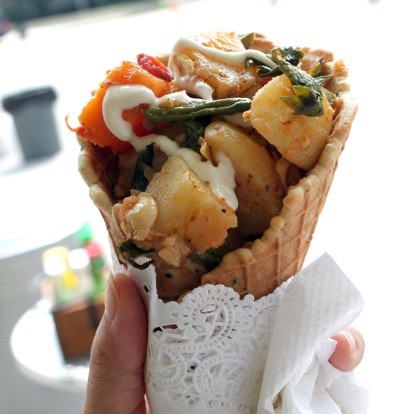 The Good Food truck makes savory waffle cones with different themed fillings inside, like Thai or Italian veggies. The Pickle is known for their delicious fish tacos and other Tex-Mex cuisine, while Hankook Taqueria serves Korean-style tacos. SlidersU is a food truck run by college students from PennState and specializes in small burgers, while the local Westside Creamery makes delicious homemade natural ice cream with unique flavors like milk and honey or burnt orange caramel. These are among the few of many food trucks up and coming in the peach state.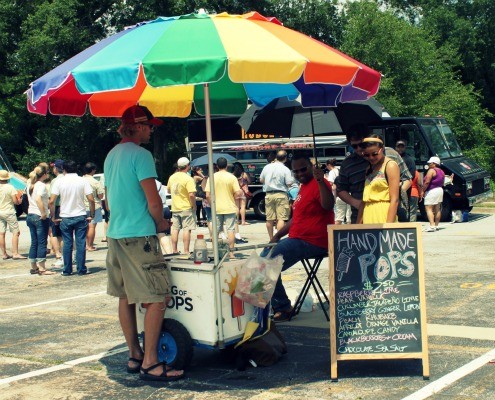 And of course, alongside these trucks in Atlanta, the King of Pops cart is sure to be found. His cart sells homemade natural popsicles with unique flavors such as jalapeno ginger lime, pineapple habanero, chocolate sea salt, and coconut lemongrass, among many others. One can always tell he's nearby due to the volume of people walking with popsicles; the frozen treats more than hit the spot while waiting in the sun for your order or a just an afternoon snack before heading back to the office.
Food trucks are everywhere, and they're getting harder and harder to miss. So if you hear about a food truck in your area, chase it down and check it out! You might be pleasantly surprised at what you find or who you meet.
Amrita Song
Amrita Rawat is the author of the blog Chai and Dumplings. Born in India and a lifelong resident of Atlanta, she recently moved to Saint Louis. Her love for food stems in part from its ability to bring cultures together and in part from how darn good it feels to eat a delicious meal. She loves traveling and has eaten her way through cities like Hong Kong, Paris, Budapest, Mumbai, and Shangri-la. Amrita is also a contributor to Sauce Magazine in St Louis.