Along with Chef Andrew Gruel of Slapfish, Priscilla Willis shoves her healthy eating habits to the side to dive into tasting the many fried, grilled, smoked, sweet, savory, decadent, heart-stopping, mega-sized munchies affectionately known as fair food.
By Priscilla Willis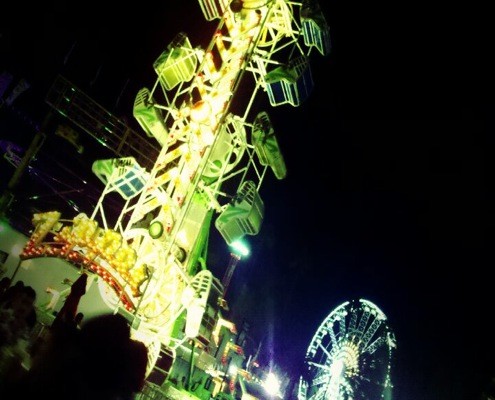 Hooray, it's that time of year again! Growing up in a small southern town, the annual county fair was a highlight during the dog days of summer. When I relocated to the sprawling environs of southern California, I was pleasantly surprised to find that, even in this county of 3 million, I could go country and get a major dose of Americana at the month-long Orange County Fair, which compared to the carnival of my childhood, is mammoth in size, attendance, and breadth of entertainment. This year the local paper reported an astounding total attendance of 70,000 for the first day  – the biggest opening day in fair history!
When you're talking about the Orange County Fair there's two things you can count on: a dizzying array of crazy, artery-clogging fried foods and the bright lights of the Midway beckoning crowds to the  stomach-turning carnival rides set to a rock n'roll soundtrack.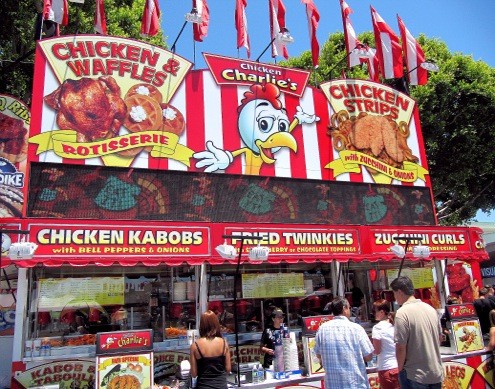 For the past two years I've had the pleasure of serving as a judge for one of the many culinary competitions – last year it was pies and tarts and this year I was asked to be one of the judges for the Concessionaires Cup Awards. The Concessionaires Cup is where the concessionaires "strut their stuff"and compete for awards and bragging rights in this annual competition.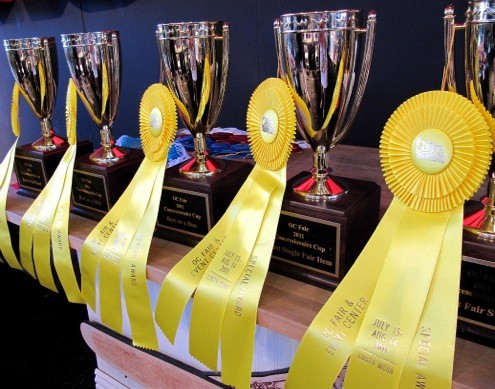 The theme for this year's OC Fair is very simply, "Let's Eat!", and that's just what I did last week when,  along with Chef Andrew Gruel of Slapfish, we shoved our healthy eating habits to the side to dive into tasting the many fried, grilled, smoked, sweet, savory, decadent, heart-stopping, mega-sized munchies affectionately known as fair food.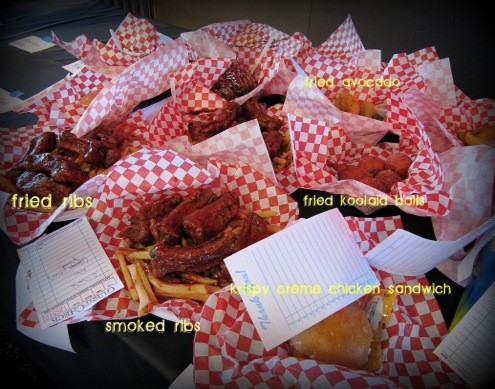 Andrew and I were seated on the Promenade stage as entries for fried sides, snacks, sweets, grilled foods, and single item "mains" were placed before us. We weren't shy ( no forks and knives here) … some of the entries are major league massive and require practically unhinging your jaw to take a bite: e.g. Chicken Charlie's grilled chicken sandwich and the Burger Joint's Belly Buster Burger. What concessionaires choose to enter varies each year, we didn't have any of the chocolate covered bacon, fried zucchini, or funnel cakes but I know they're out there!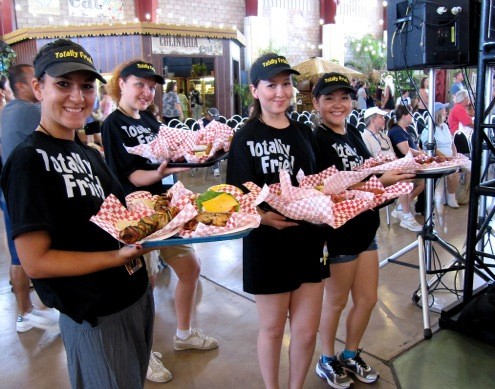 Chicken Charlie's team delivering their entries.
So join in on the fun! You can throw caution to the wind and get an eyeful instead of a bellyful of some of the Concessionaire's Cup fair food winners:
Trophy for Best Single Item was awarded to Burger Joint's Belly Buster Burger (below).  A very juicy burger with a unique focaccia-like sesame seed bun, the photo doesn't do it justice – I should have put my hand next to it so you could see that it's the size of a Chicago deep-dish pizza and could feed a family of 6!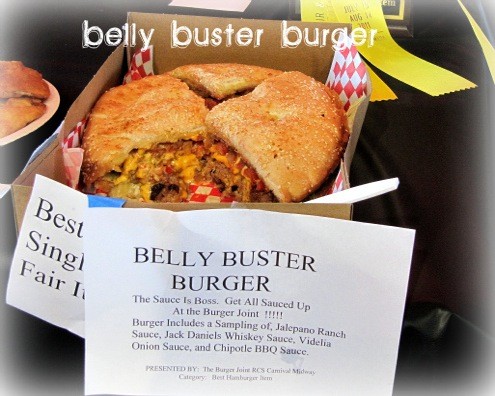 Fried Sweets: Chicken Charlie's Deep-Fried Klondike Bar – to get the full fair experience you should take a bite of this baby so the cool, creamy vanilla ice cream drips down your chin and you can lick the chocolate drizzled pastry crumbs off your fingers! Sorry I didn't get a photo of this – but as judges we were there to taste and only had a chance to take a few shots before and after. Second prize went to the giant Texas Donut's Maple/Bacon Donut that's as big as your head!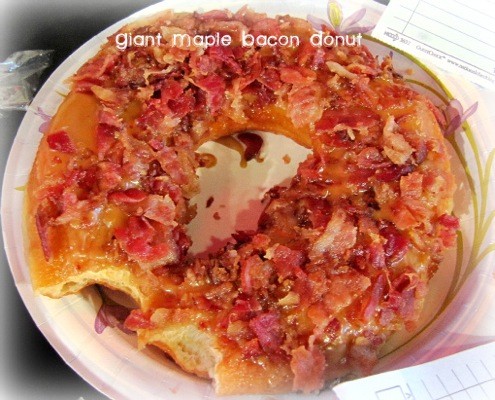 Hot dogs/sausages: Pink's Royal Dog, created when Prince William and Princess Kate visited LA in June; two hot dogs in one bun,  topped with mustard, cheese, onions, pickle relish with two slices of bacon and a spoonful of Pink's famous chili. All the flavors you love and that all-important snap you get when biting into Pink's world-famous hot dogs. Awarded the Concessionaires Cup for Best in a Bun.
Fresh Sweets: Terri's Berri's Chocolate Madness – lots of fresh berries gives this decadent dessert a healthy component along with chocolate dipped red vines, chocolate dipped marshmallows on a stick, and white chocolate rice krispie bars on a stick! Awarded the Concessionaire's Cup for Best on a Stick, too.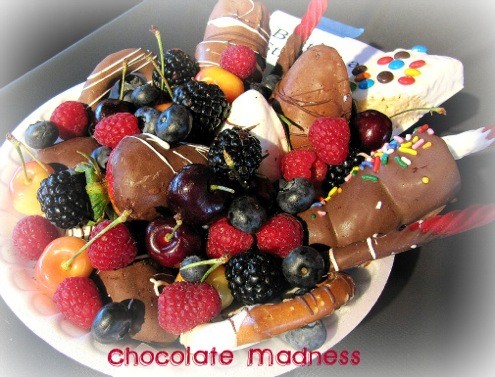 Other winners included these popular carnival staples that can probably be found at your county fair:
Fried Entrees: Chicken Charlie's Fried Beef Ribs– frying adds a surprising, delicious crispy crust to the tender meat swathed in a tangy, not too spicy BBQ sauce.
Grilled Entrees: Chuck Wagon Pork Ribs – the real deal: smoky, tender meat that yields when teeth meet bone – that's the joy of eating ribs! 2nd prize went to the Monte Cristo Sandwich – grilled cinnamon french toast with turkey, ham, and swiss cheese offers a delicious sweet/savory combination.
Fried Sides: Australian Battered Potatoes – perfectly cooked sliced potatoes with a crispy batter and your choice of sauces. Andrew liked dipping them first in cool, creamy sour cream and then the sweet, spicy chili for a delicious contrast of flavors, I liked the kick of the jalapeno cheese sauce.
What's your favorite guilty treat at the fair?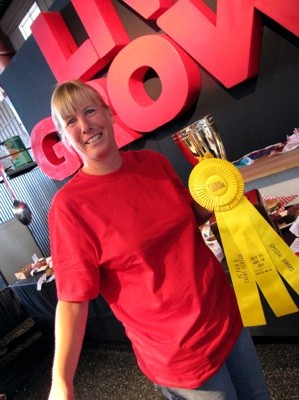 Priscilla Willis
Intrepid food writer, drinker, and culinary traveler, Priscilla is the publisher of the popular Orange County, CA food and cooking blog She's Cookin' which features deliciously healthy, low sodium recipes, Southern California restaurants and foodie events, cocktails, spirits, and culinary travel.