Summer is officially Rosé-season, and there has been an absolute explosion of delicious rose colored libations to hit the market the last decade. Here is a guide to our 26 favorite rosés to drink and serve this summer.
By Honest Cooking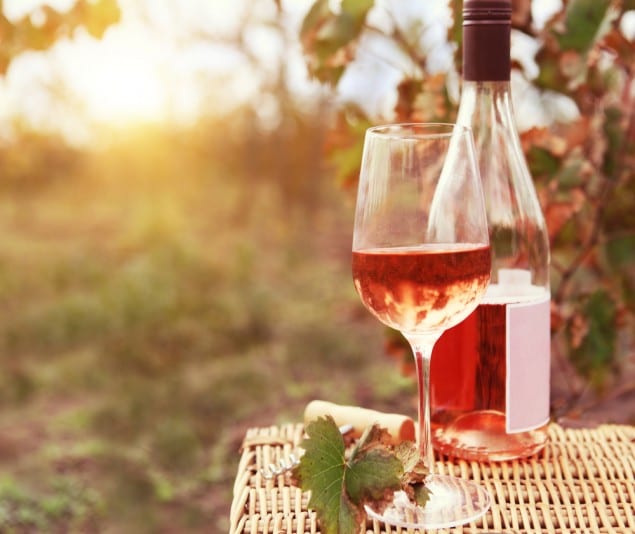 Summer is officially Rosé-season, and there has been an absolute explosion of delicious rose colored libations to hit the market the last decade. From deep almost red wines to wines so lightly pink that they are almost white – there really is something for every palate out there today. Here is a guide to our favorite rosés to drink and serve for cocktail parties, picnics, backyard barbecues and no special occasion at all this summer.
For the Perfect Welcome

Champagne Nicolas Feuillatte Non-Vintage Brut Rosé – $53.00
The nose shows Red fruit aromas. Intense, developing notes of blueberry, black currant and raspberry. Elegant palate, fluid. Extremely delicate mousse with a fruity finish. A great value Rosé Champagne.
Quivira 2015 Rosé – $22.00
This wine is one of the few New World Rosés intentionally made using traditional Southern French varieties all grown on the estate. The flavors are fruit-focused, concentrated and long. Grenache-driven strawberry and raspberry are complemented by notes of grapefruit, cranberry and watermelon.

Gustave Lorentz Crémant d'Alsace Brut Rosé – $18.00
The Cremant d'Alsace Rose is made from Pinot Noir, which is full of charm and elegance. It makes a refined aperitif and an ideal cocktail or reception drink. Fresh and discreetly fruity, it inspires a host of gastronomic matches.
Michelle NV Brut Rosé Columbia Valley – $13.00
The Michelle Brut Rosé is a beautiful blush sparkling wine, with impressions of berries in the nose and on the palate. The initial impression is dry,
with a soft and fruity aftertaste.
Sokol Blosser 2015 Estate Rosé of Pinot Noir – $22.00
The extended slow, cool fermentation of this pale pink wine preserved the lively fruit flavors and delicate oral aromas. This rosé exhibits avors of pink lady apple, hints of watermelon and balanced minerality.
Vista Hill 2012 Treehouse Orange Wine – $20.00
This is technically not a rosé – it is classified as an orange wine – but it fits the bill here perfectly anyway. This skin fermented Pinot Gris offers apple cider, strawberry, rhubarb and citrus notes.
For the Picnic

Portlandia Oregon Pinot Noir Rosé – $17.00
Generous aromas of strawberry, watermelon and fresh spring flowers lead to a refreshing bite of orange zest. Clean balanced and approachable with firm acidity.
Villa Gemma Cerasuolo d'Abruzzo DOC – $14.99
A rosé made with 100% Montepulciano d'Abruzzo grapes, the appellation "Cerasuolo d'Abruzzo" is the newest DOC of Abruzzo. A wonderful wine to celebrate the spring season, this rose displays the unique characters of its native varietal with fresh aromas of pomegranate, thyme and walnuts, and a clean, balanced palate with subtle tannins.
De Morgenzon DMZ Cabernet Rosé 2013 – $12.00
100% Cabernet Sauvignon, this rosé has more structure and backbone than your typical pink juice. The grapes are grown specifically for rosé production and harvested younger to retain more natural acidity. This is truly a fruit forward rosé, with juicy flavors of strawberry and watermelon.
J Scott 2014 Dry Rosé – $19.00
This pretty pink wine is elegant and rich. mineral notes balance the tangy strawberry flavors. A wine perfect for picnic food such as salumi and cheeses.
Adelsheim 2015 Willamette Valley Rosé -$25.00
This delicious wine offers aromas of fresh Oregon strawberries and raspberries, apricot and rose petal which follow through on a rich, well textured palate that offers juicy ripe fruit. Bring it on your next picnic!
For the BBQ Party

Hanson Vineyards Rosé 2014 – $16.00
Half of this wine was fermented in oak barrels rather than stainless steel, which gives the wine a rich smokey note that makes it the almost perfect pairing for grilling and BBQ.
Korbel Brut Rose – $11.99
Korbel Brut Rosé is pleasant and crisp, featuring bright flavors of strawberry, cherry and melon. Its medium-dry, slightly sweet style is meant to be savored with friends on warm nights.
Domaine Bousquet Premium Rosé – $12.99
With an elegant salmon color, this wine's nose shows aromas of red fruits, with hints of plums and fresh cherries. In mouth, the Malbec fruit gives it a light and pleasant sweetness and the Cabernet the structure, with an amazing youth and freshness.
Domaine du Tariquet Rosé de Pressée – $11.99
Typically known as a lighter style wine, a Rosé from a rustic French brown spirit producer might seem counter intuitive, yet Gascon producer Domaine du Tariquet has a long history of making unique, innovative wines alongside its heralded Armagnacs. Bolder in style with a touch of spice on the finish to stand up to a hearty burger off the grill, the fleshy yet delicate wine is still light enough to be refreshing on a hot summer's day, making it the perfect pink for a backyard BBQ.
SIMI Sonoma County Dry Rosé – $18.00
With a vivid pink rose-petal hue, the SIMI Sonoma County Dry Rosé offers fresh and delicate aromas of strawberry, tart cherry, fresh tarragon, and a hint of white pepper; a fruitful and flavorful bottle that pairs beautifully with food.
Cana's Feast 2015 Rosato – $18.00
A wine that pairs well with grilled seafood and raw oysters. This wine is fresh, bright and juicy with flavors and aromas of watermelon, rhubarb, strawberries and cherry Jolly Rancher.
Yamhill Valley 2015 Rosé of Pinots
A co-fermentation of 20% Pinot Blanc and 80% Pinot Noir highlights the best of both varietals; a round vibrant texture with hints of minerality from the Pinot Blanc, compliment the Pinot Noir's rich floral notes of violet and rose petal. The wine displays a beautiful coral hue, and shows flavors of passion fruit, pomegranate, and strawberry. According to the wine maker, it pairs well with shades and a sunhat, for a restful and refreshing experience – but we think it is excellent with grilled meats and seafood as well.
2015 Hazelfern Cellars Rosé of Pinot Noir – $24.00
Serve with grilled chicken and spicy bbq. This wine shows salted strawberry and old fashioned hard candy on the nose, with a juicy and refreshing palate. The wine maker even suggests serving it on the rocks, and who are we to complain about that?!
Just Because

Bisol Jeio Cuvée Rosé – $16.00
A brilliant and delicately pink sparkling wine made from a combination of Merlot and Pinot Noir grapes from vineyards on the steep hills of the Veneto. This rosé has excellent balance and a unique personality with intense notes of roses accompanied by an elegant bouquet of fresh citrus and lychee that compliments the light acidity, dry finish and prolonged after effect on the nose.
Tormaresca 2015 Calafuria Rosato Salento IGT – $20.00
Peach petal pink in color, this wine shows intense and delicate fragrances of pink grapefruit, peaches and floral notes of violets. The flavor is fresh and balanced with highly savory notes and much aromatic persistence.
A-Z Oregon Rosé 2015 – $14.00
The beautiful 2015 A to Z Rosé leads with aromas of strawberry, raspberry, watermelon, pomegranate and hibiscus along with citrus notes. In the mouth, the attack is juicy, bright and loaded with red fruit flavors. The mid-palate is mouthwatering with the richness of the 2015 vintage adding a creamy texture and some seriousness to the flavors, even some spicy flavors. The A to Z Rosé is fresh and compelling, finishing lively and long with lingering flavors of strawberries and cherries.
Argyle 2012 Brut Rosé – $50.00
The color is bright, pale salmon pink, while its bouquet is full of rose petal, cherry kernel, and pomegranate. The barrel aging of the red wine component contributes to its savory complexity, while its delicate, creamy bead leads to a long textural finish.
Vitiano Rosato Umbria IGT 2015 – $12.00
Deep coral-pink in color, Vitiano Rosato delivers clean, juicy aromas of strawberries, plums, and cranberries, along with scents of roses and gardenias. Vitiano Rosato is the perfect wine for summer; dry, medium-bodied, and refreshing.
2015 de Coelo Pinot Noir Rosé – $45.00
Bright fruit armoas introduce the wine, rem-instinct of freshly picked strawberries. Notes of Bing cherry, pomegranate and cranberry are layered throughout this Rosé with just a touch of tea on the finish.
Imagery 2015 Aleatico Rosé – $27.00
The 2015 Aleatico Rosé is off-dry and perfumed by notes of strawberries, roses and anis. This Rosé leaves a floral impression on the palate with a hint of spice that's long and memorable. Its perfectly balanced structure and impressive crispness on the finish is perfect for a warm summer day!