Texas Style Beef Chili with Cocoa and Stout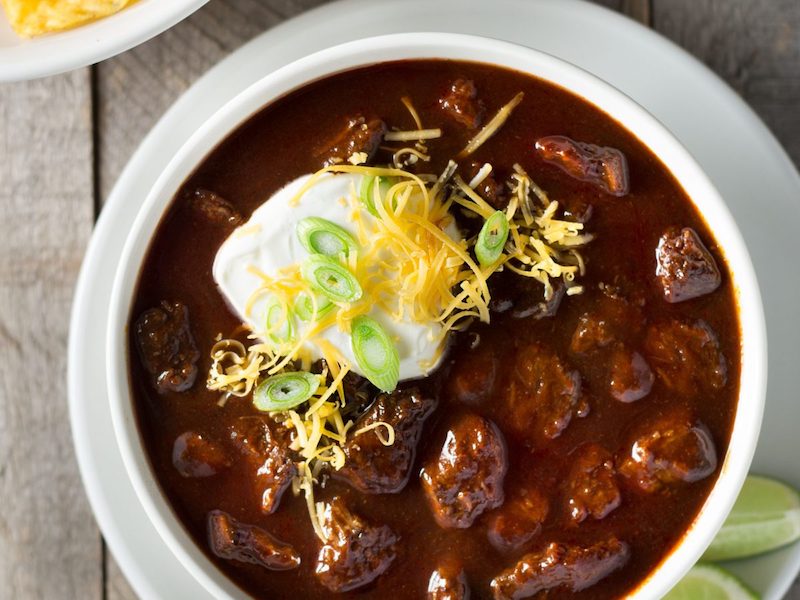 This Texas Style Beef Chili is warming and complex in flavor with a good kick to it. It's definitely not for the faint of heart.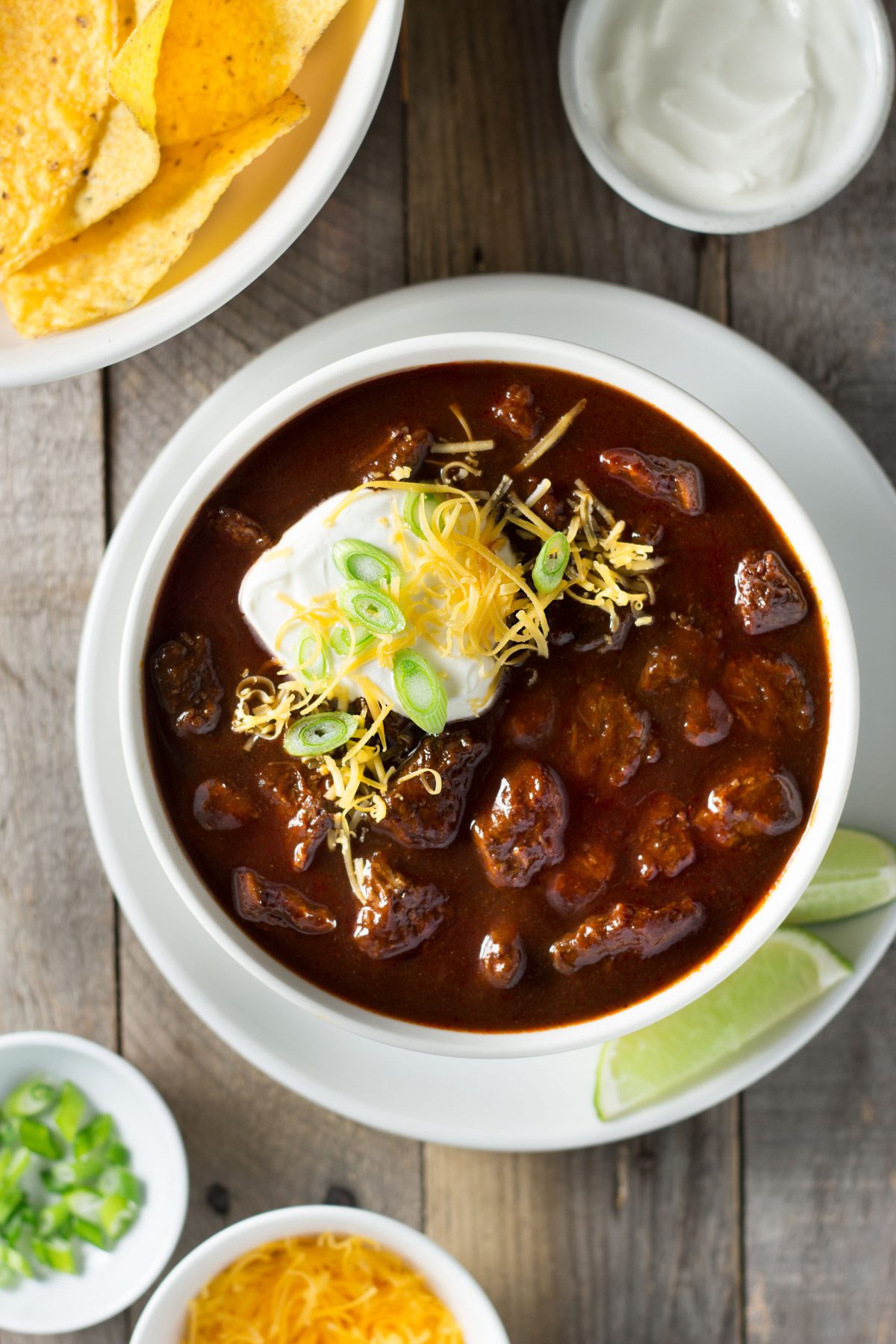 This Texas Style Beef Chili is made of stew meat, onions and dried hot peppers. No tomatoes. No bell peppers. No beans. None of that. But it's so so good, and my new favorite chili without a doubt.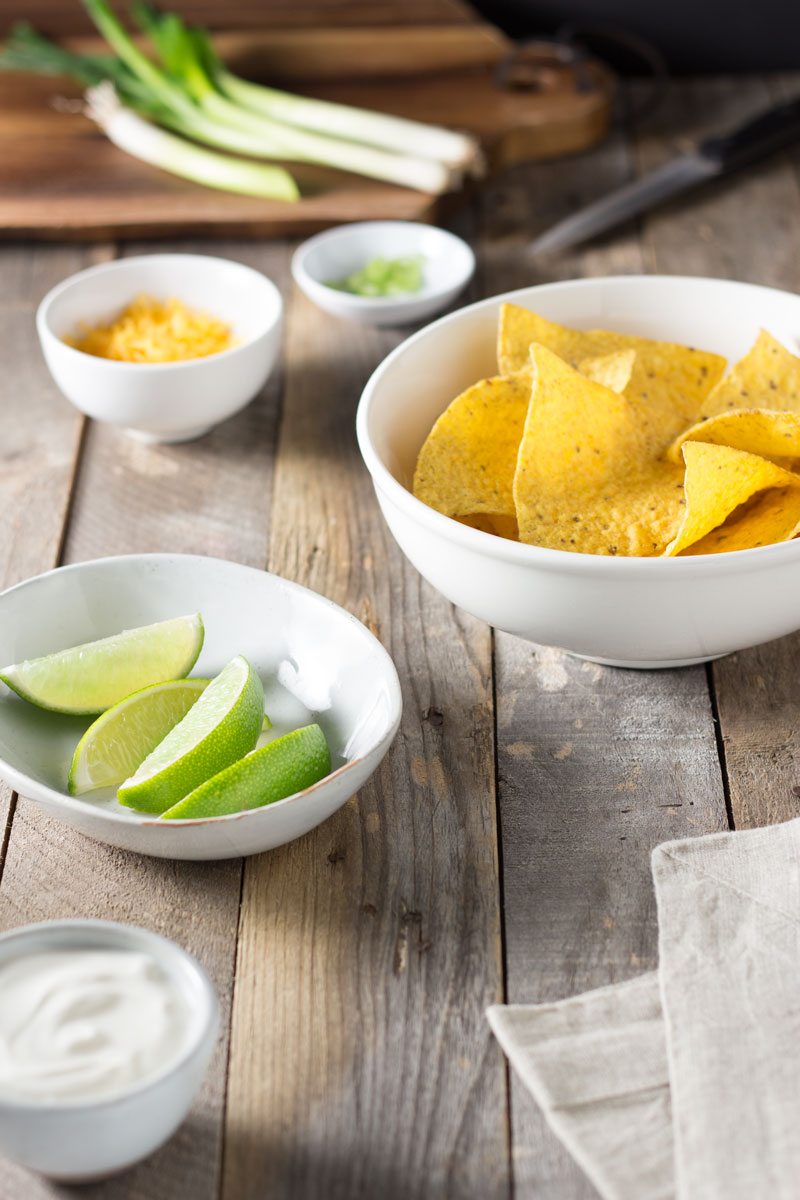 Okay, let's talk about the chiles I used. I decided to go with a combination of dried guajillo chiles, dried chiles de arbol and chipotle chiles in adobo. Guajillo chiles are very popular in Mexican cuisine and have a mild to medium heat level. These chiles are slightly sweet and fruity. Chiles de arbol, on the other hand, are much smaller and much hotter. Use one or two less of these if you're not really feeling the heat. The last chili I chose was a canned chipotle in adobo sauce. I absolutely love this product. Chipotles are dried, smoke jalapenos. They're smokey, spicy and slightly sweet, and come packed in really flavorful sauce.
If you can't find all of these chilies, you can certainly make some substitutions. Ancho chiles are a good substitute for guajillos and are actually the original chili I wanted to use! Sometimes you have to use what you can find. Or just buy everything on Amazon. That works too. Ancho chiles are actually poblano chiles that are left to ripen until red and then dried. They're sweet and smokey, and kind of the raisins of dried chiles. They have a mild to medium heat.
As far as substituting the chiles de arbol, you can use another small, hot dried chili or even cayenne pepper. Dried ancho chili pepper can also be used to keep things simple too. I can't tell you the exact amounts, but the chili pepper and cayenne can be toasted in the oil along with the other spices, and you can bypass the chili soaking and pureeing process all together. There are always ways to adjust a recipe and still come up with something delicious.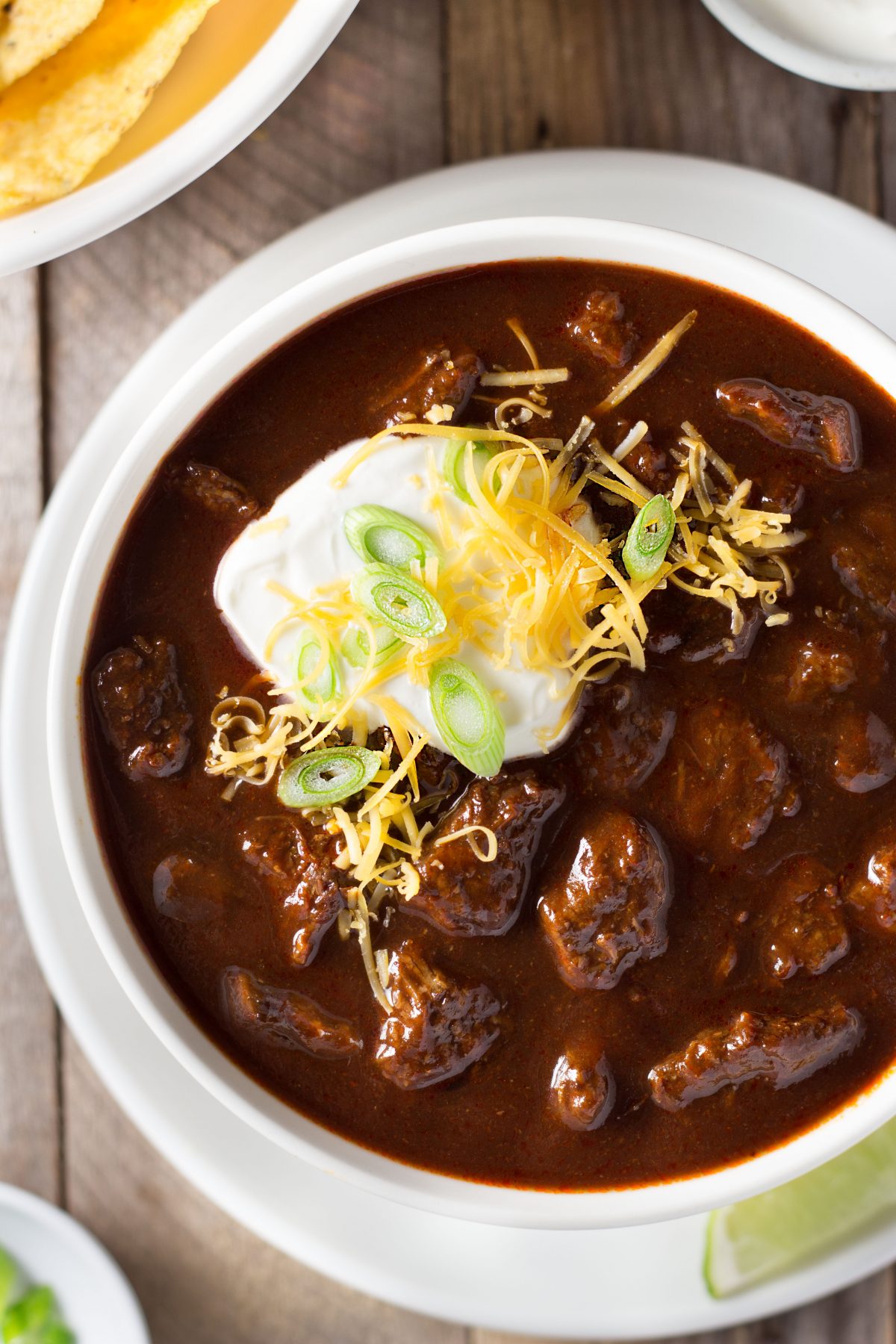 In addition to the chiles, I used cumin and oregano, which are your typical players in a chili bowl. Not so typical, were the cocoa powder and cinnamon. Just a touch of these ingredients provide a nice depth of flavor, but no one would ever know they were in there. The stout also gives this chili some rich, deep flavor and a bit of acidity. At the end of the cooking process, I like to add a little brown sugar or honey to round out the heat, and a little vinegar for balance.
The toppings are up to you, but here I went with sour cream, yellow cheddar and sliced scallions. I also really love white cheddar. Red onions or shallots would be a good alternative to scallions. Cilantro would also be another great added touch, especially if you already have some one hand. Oh and you gotta have the limes! The extra squeeze of lime juice on top makes all the difference to this hearty, flavorful chili.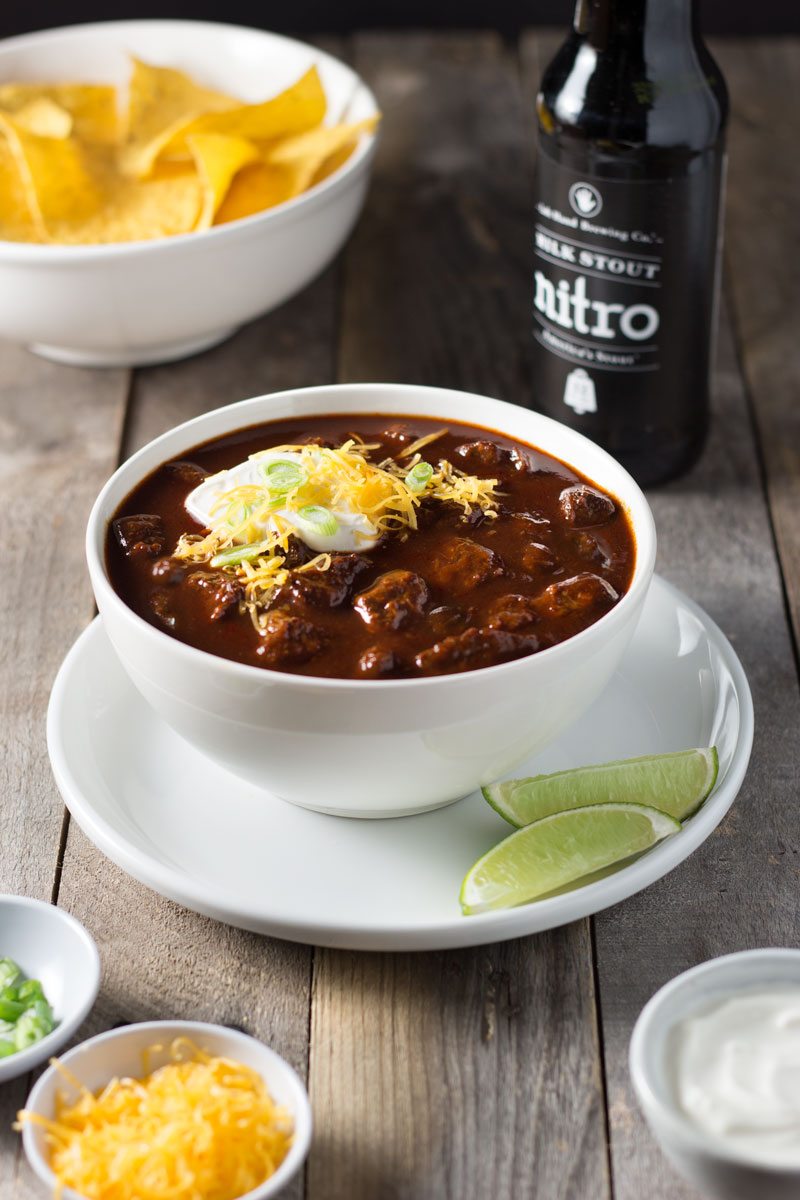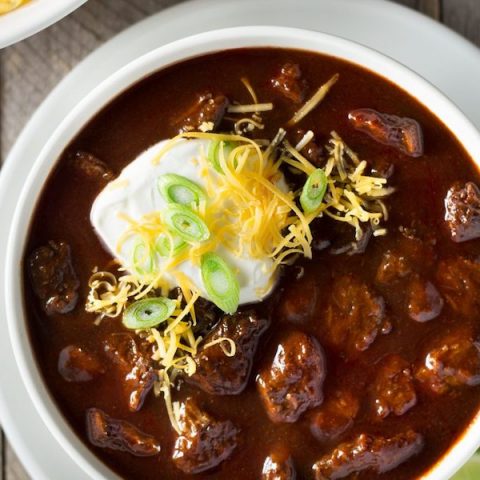 Texas Style Beef Chili with Cocoa & Stout
Sabrina Russo
This Texas style beef chili is spicy, hearty and full of unexpected flavors. Just like any good chili, sour cream, scallions and cheese make it even better.
Ingredients
1 ½

lb

beef chuck

cut into 1-inch cubes

3

dried guajillo chiles

0.7oz

4

dried chiles de arbol

0.15oz, or less if desired

1-2

chipotle chiles in adobo sauce

3

tbsp

vegetable oil

divided

1

medium onion

finely chopped

2

cloves

garlic

minced

1

tsp

ground cumin

1

tsp

cocoa powder

½

tsp

oregano

1/8

tsp

cinnamon

8

oz

stout beer

1 ½

cups

beef broth

plus more if needed

½

tsp

brown sugar or honey

or to taste

½

tsp

cider or red wine vinegar

or to taste

Kosher salt and fresh cracked pepper

Scallions

thinly sliced

Cheddar cheese

grated

Sour cream

Lime

cut into wedges

Tortilla chips
Instructions
Toast and soak chiles: Add guajillo chiles and chiles de arbol to a cold, medium nonstick pan. Warm over medium heat. Toast, flipping occasionally, until fragrant, about 4-6 minutes. Remove from pan. Remove and discard stem and seeds. Add chiles to a bowl, pour over boiling water to just cover peppers. Cover bowl with foil and allow peppers to soften for 45 minutes. Transfer chiles and chipotle in adobo to a food processor or blender with ¼ cup of the chili soaking liquid. Blend until smooth. Pass through a fine mesh sieve, discarding any solids. Set chili puree aside. Reserve chili soaking liquid.

Brown beef: While peppers soften, brown the beef. Heat a Dutch oven or medium pot over medium-high heat. Pat beef dry and season with salt and pepper, tossing to evenly coat. Add 1 tablespoon of oil to the pot. Add beef to the pot in a single layer, cooking in batches as needed. Cook 6-8 minutes total, turning occasionally, or until browned on all sides. Use an additional tablespoon of oil, as needed, while batch cooking beef. Set beef aside.

Make chili base: Reduce heat to medium to medium-low. Add the remaining tablespoon of oil to the pot. Add in onions. Sauté for 7-10 minutes or until well-softened but not burnt. Season with salt. Stir in garlic and cook 10 seconds. Stir in cumin, oregano, cocoa and cinnamon, and cook 10-15 seconds. Stir in chili puree. Add beer, increase heat and reduce volume by half. Add beef back to pot. Add 1 ½ cups stock or enough to cover the beef by 1 inch. Bring chili to a boil, reduce to a simmer and partially cover.

Cook chili: Simmer chili, stirring occasionally, for approximately 2 1/2 to 3 hours or until meat is very tender but not falling apart, and broth is thickened. Add more liquid to chili as it cooks to maintain desired consistency. I added water during cooking. If your stew would benefit from more flavor and is not at risk of becoming too salty, feel free to add more broth. If you prefer a spicier chili, add reserved chili soaking liquid. But be careful! The flavors will concentrate as it thickens. During the last couple minutes of cooking, add sugar and vinegar, to taste. Start with ¼ teaspoon of each, and add up to 1 teaspoon, if desired.

Serve: Scoop chili into bowls and top with sour cream, sliced scallions and grated cheddar. Serve with lime wedges for squeezing and chips for dipping! Enjoy.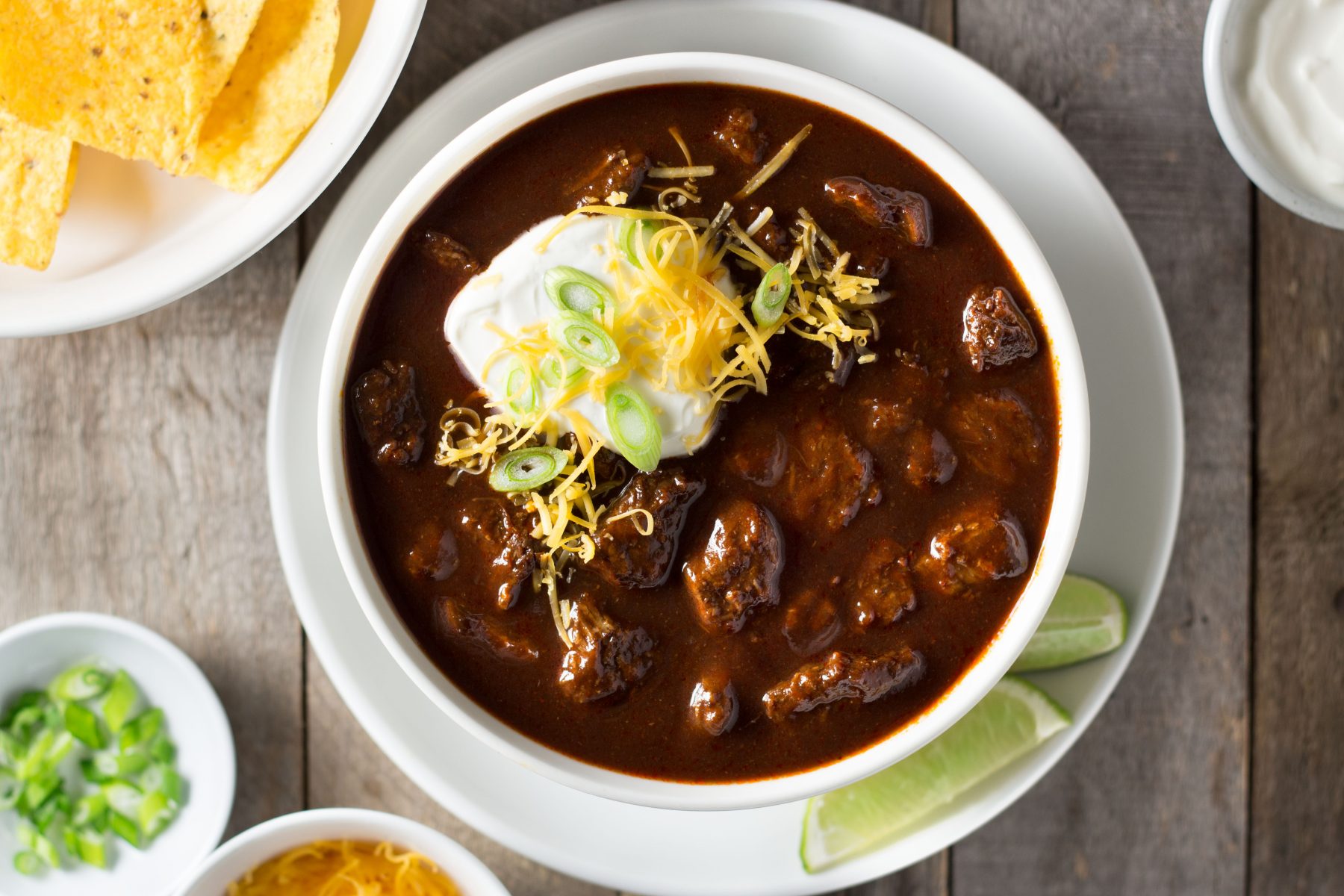 Sabrina Russo
My Three Seasons represents the 3 key factors that are most important to me in cooking. #1 Seasonal ingredients #2 Proper Seasoning (don't skimp on that salt!) #3 Cooking like a Seasoned chef (technique is everything). My name's Sabrina. I live in NYC. I'm a registered dietitian with professional cooking and food styling experience. Come cook with me.