Tender Chicken and Rice Skillet with Mushrooms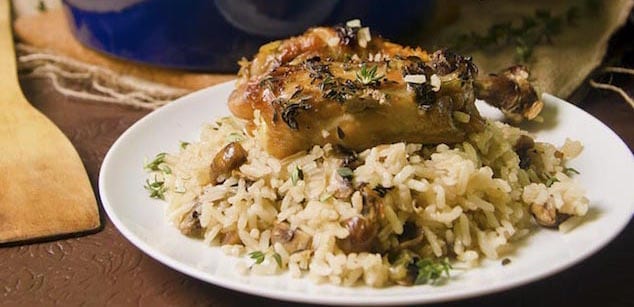 Let tender chicken, mushrooms, and herbs bake together in the oven to create an aromatic dish complete with rice.
By Audrey Ling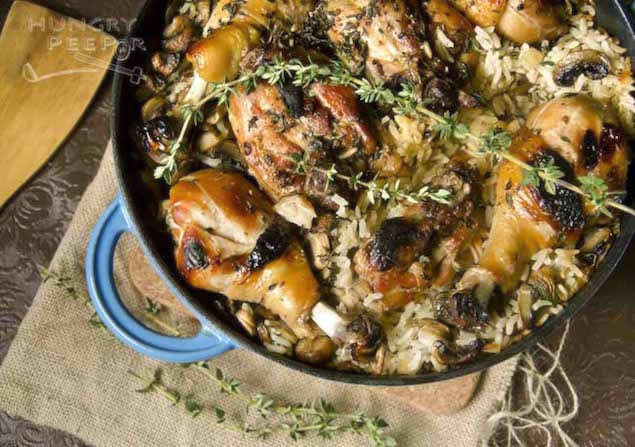 Having a cast iron pot at home has its advantages. On the stovetop or in the oven, the cast iron skillet is perfect for cooking meats and rice. It allows rice to be cooked evenly without burning on the sides or bottom of the pot.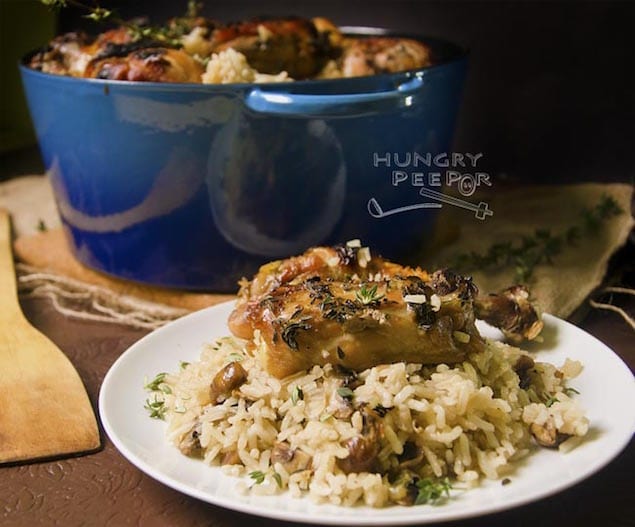 Let the chicken, mushrooms, and herbs bake together in the oven to create an aromatic dish complete with rice.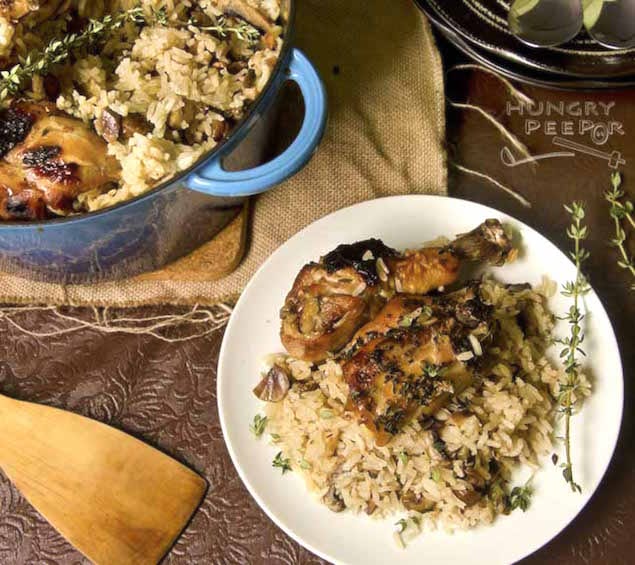 Tender Chicken and Rice Skillet with Mushrooms
Let tender chicken, mushrooms, and herbs bake together in the oven to create an aromatic dish complete with rice. This recipe was kindly adapted from Supergolden Bakes' 'One Pot Chicken and Mushroom Casserole'.
Ingredients
Chicken thigh: 4 pieces
Chicken breast: 4 fillets
Honey: 2 tbsp + 2 tbsp
Light soy sauce: 6 tbsp
Unsalted butter: 3 tbsp
White onion: 1, diced
Rice: 6 cups, washed
Cooked chestnut: 300g, (10.5 ounces) roughly chopped
White mushroom: 400g, (14 ounces) sliced
Chicken stock: about 6.5 cups
Thyme: leaves from a few stalks
Ground blackpepper: to taste
Instructions
Marinate chicken thighs and breasts with honey & light soy sauce.
Leave overnight in fridge.
Preheat oven at 180 degrees Celsius.
Heat wok. Add chicken into wok, together with the sauces.
Brown chicken for a few min on both sides. Remove from wok and set aside.
Heat butter in cast iron pot. Fry onion till browned and translucent.
Add rice. Stir to mix in with onion.
Add chestnuts, mushrooms and chicken stock. Bring to a simmer.
Place chicken thighs and breasts on top of rice, pressing down to level with rice.
Drizzle 2 tbsp honey onto chicken. Sprinkle with thyme and black pepper.
Cover pot with lid and place in oven. Bake for 45min.
Serve immediately while the chicken sizzles on!
Notes
Marinating the chicken pieces would allow them to be more flavoursome. I tried this dish once before without marinating them; the chicken turned out a bit tasteless as the honey and sauces flowed right down into the pot to flavour the rice mixture instead.
Use cooked chestnuts instead of the raw ones. They are able to blend in better with the rice since they are softer and hence faster and easier to cook too.
Audrey Ling
The whole process of toiling in the kitchen and later taking pictures of what comes of it is a symbiosis of my hobbies – a perfectly crafted deal for me. All of these hobbies allow me to learn something new every day. When it comes to food and cooking, I love trying out a bit of everything (that's my style) – from learning how to cook and plate in Michelin style to attempting local Singaporean dishes at home; from replicating remote flavours and delights to retaining family legacies and traditional essences. I hope to share my passion and joy with the larger community of food and photography bloggers and enthusiasts out there.