Easy is my middle name when it comes to mid-week meals, and when it comes to dinner this easy taco recipe with a Moroccan twist can't get simpler. No cooking involved and make your family assemble their own tacos!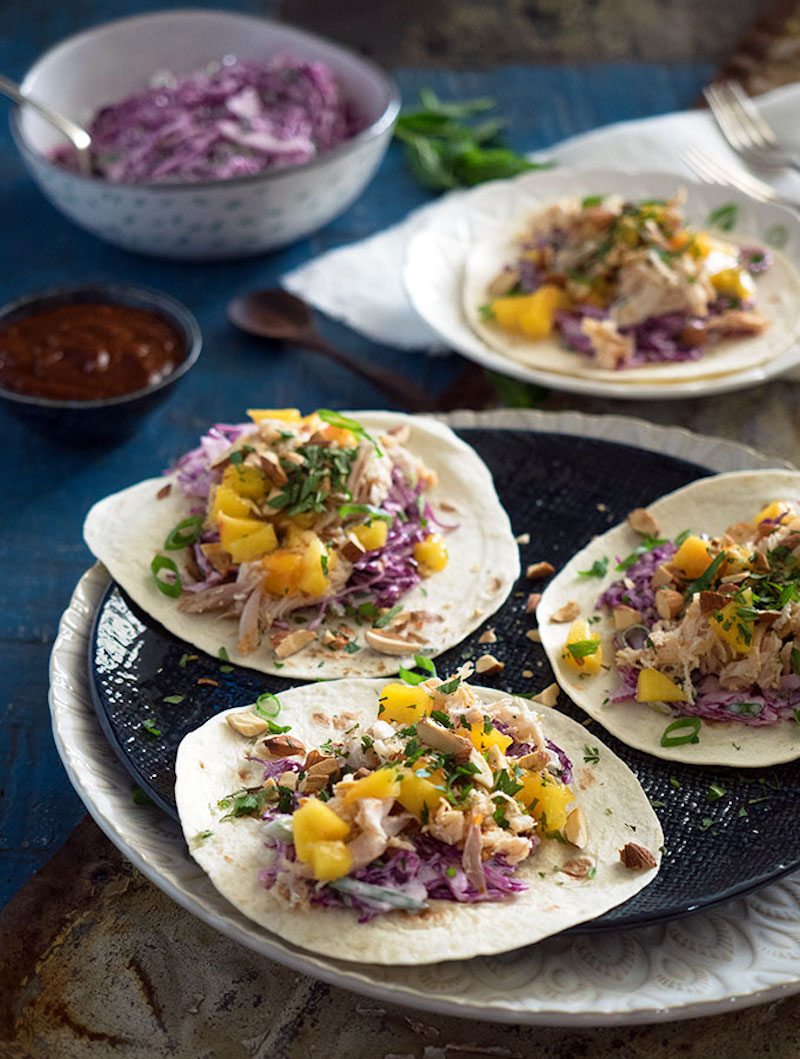 A delicious easy taco recipe with finely sliced red cabbage coleslaw, mounds of juicy roast chicken, crunchy almonds, fresh mint, green onions, and peaches.
You would probably be amused to know that I am just like you. Some nights, I just don't want to cook dinner. I simply couldn't be bothered. After a long hard day the thought of spending time in the kitchen, while my family wind down, depresses me.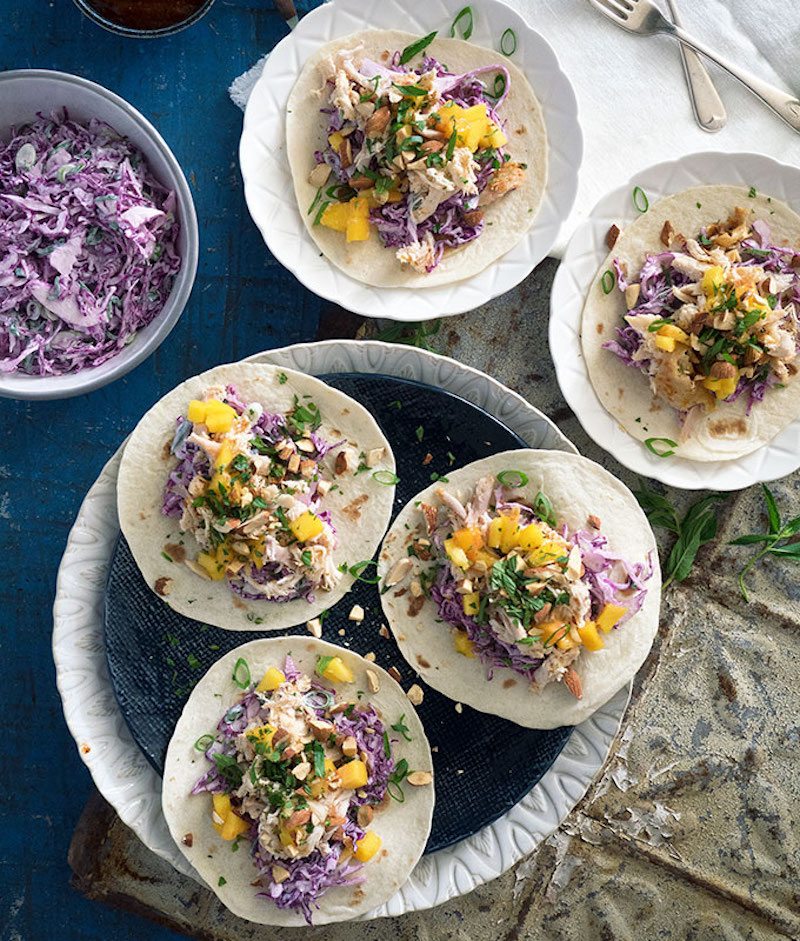 This is why I am the queen of corner cutting wherever possible regarding weeknight meals. Meals like this easy taco recipe with a Moroccan twist, where dinner will be on the table in no time.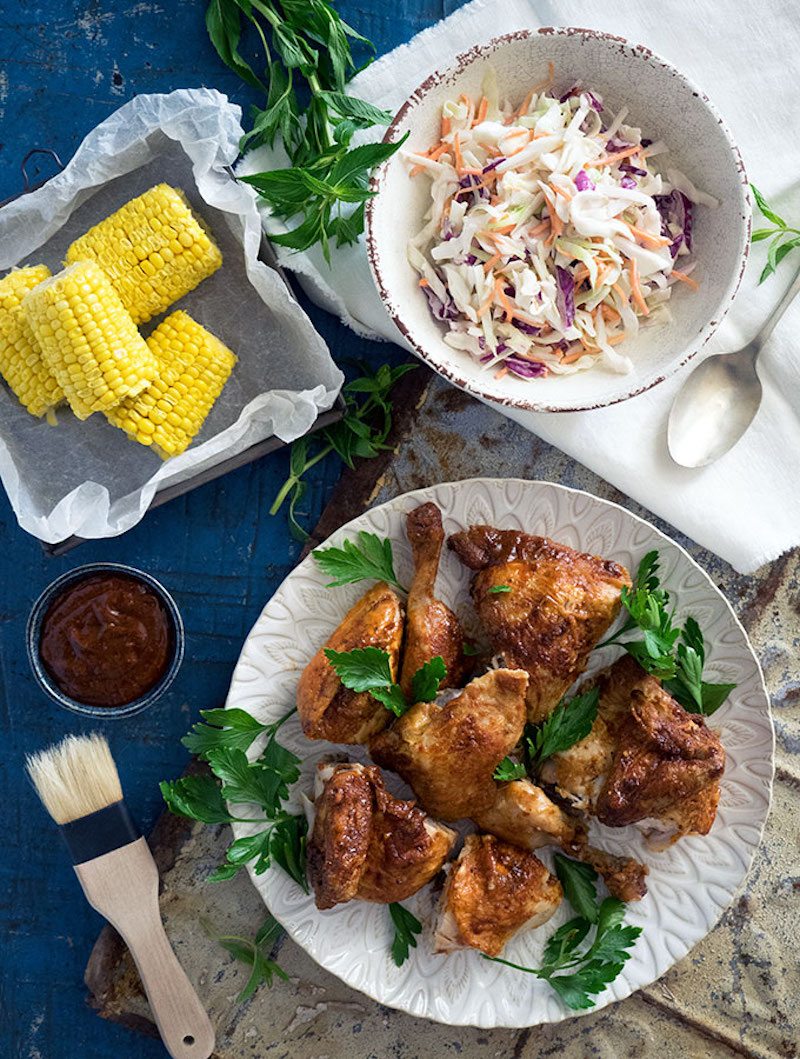 An easy taco recipe made from common pantry and fridge staples, with the addition of seasonal peaches. I did make my own coleslaw as I wanted a very fine slaw made from red cabbage and green onions. Of course, if you couldn't be bothered making coleslaw then Red Rooster have you covered. I also grabbed some corn on the cob as corn is a great side dish with tacos.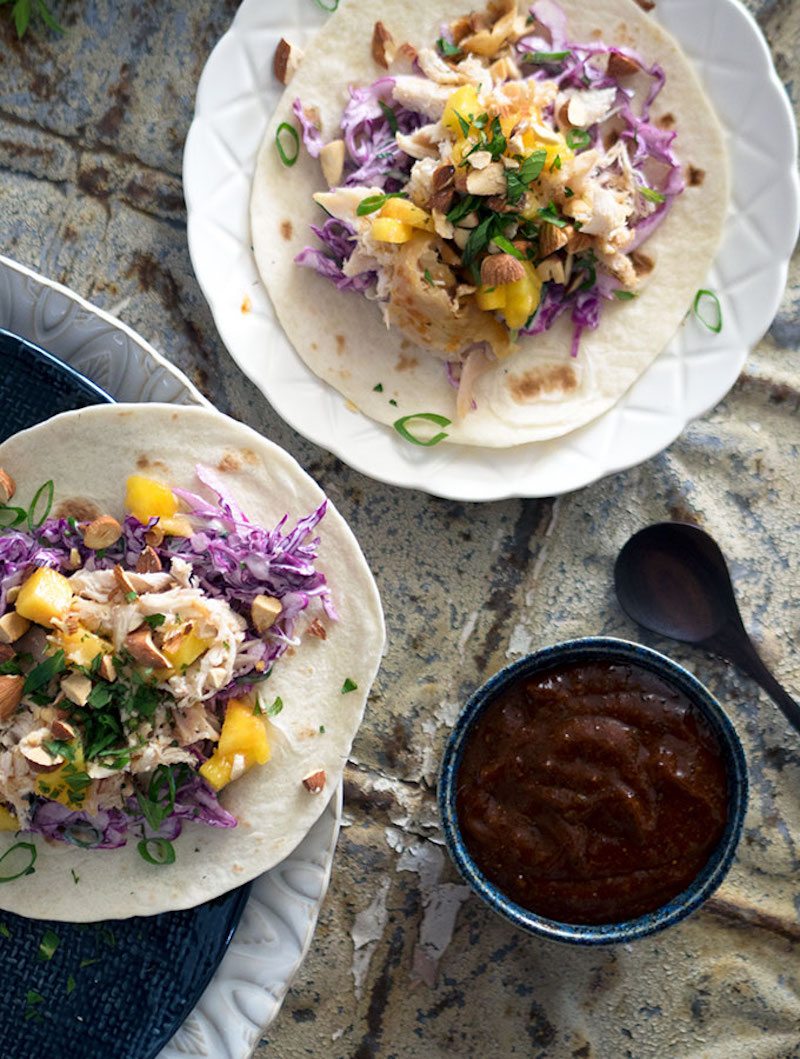 Print
Author:

Sara McCleary

Yield:

4

servings

1

x
1

Red Rooster cut roast chicken with Moroccan Glaze

1

extra serving of Moroccan Glaze

10

pack Tortillas (medium size)

2

peaches (finely diced)

½

bunch mint

1 cup

oven roasted almonds

¼ cup

low fat sour cream

¼ cup

Japanese mayonnaise

½

lime (juice)

¼

red cabbage (finely sliced)

2

spring onions
Instructions
Remove chicken meat from the bones and shred the chicken with your fingers and place in a serving bowl.
In separate serving bowls place peach, mint and roasted almonds.
In a medium size bowl mix sour cream, mayonnaise and lime juice until combined. Mix through red cabbage and spring onions and place in a serving bowl.
Warm tortillas in the microwave until warmed through. Place on a serving plate or in a basket. Cover to keep warm.
Place all ingredients on the dining table for people to self assemble their tacos.
Recipe Notes
To assemble
Place a tortilla on your plate. Top with a spoonful of coleslaw, a decent amount of chicken, sprinkle with roasted almonds, mint and peach. Finish off with extra Moroccan glaze to taste.
Sara McCleary
Food is a passion, not only eating but developing recipes with uniqueness and wow factor. Travel and photography fall a close second to food. A gifted recipe developer and food photographer. My blog, Belly Rumbles, was created to share my love of these things with willing readers. The ones that can put up with my rambling babble.