Make an on-the-go snack in just six ingredients and without turning on your oven. These hike-ready granola bars are sweet, salty, and loaded with peanut flavors.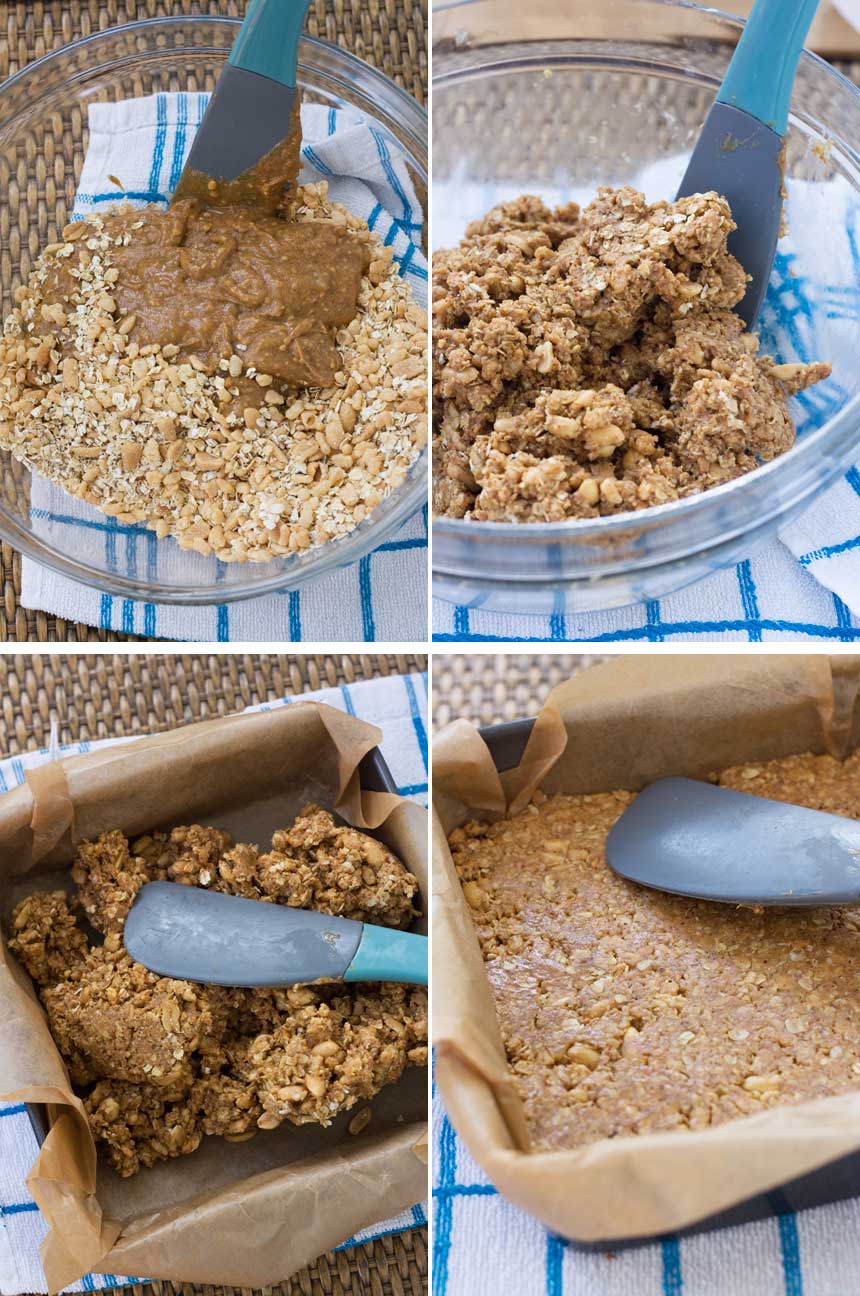 These no-bake granola bars are absolutely packed full of peanut-y flavour and covered with a delicious peanut butter coating. Made with only 6 ingredients! Are these really granola bars… or something a little more decadent?
I've had it in mind to make something like these sweet and salty peanut granola bars ever since I tried something similar on a hike (incidentally, in a beautiful national park area of the UK called The Peak District). Because, you know, hikes equal perfect opportunity to stuff one's face with granola bars – especially of the smug homemade variety!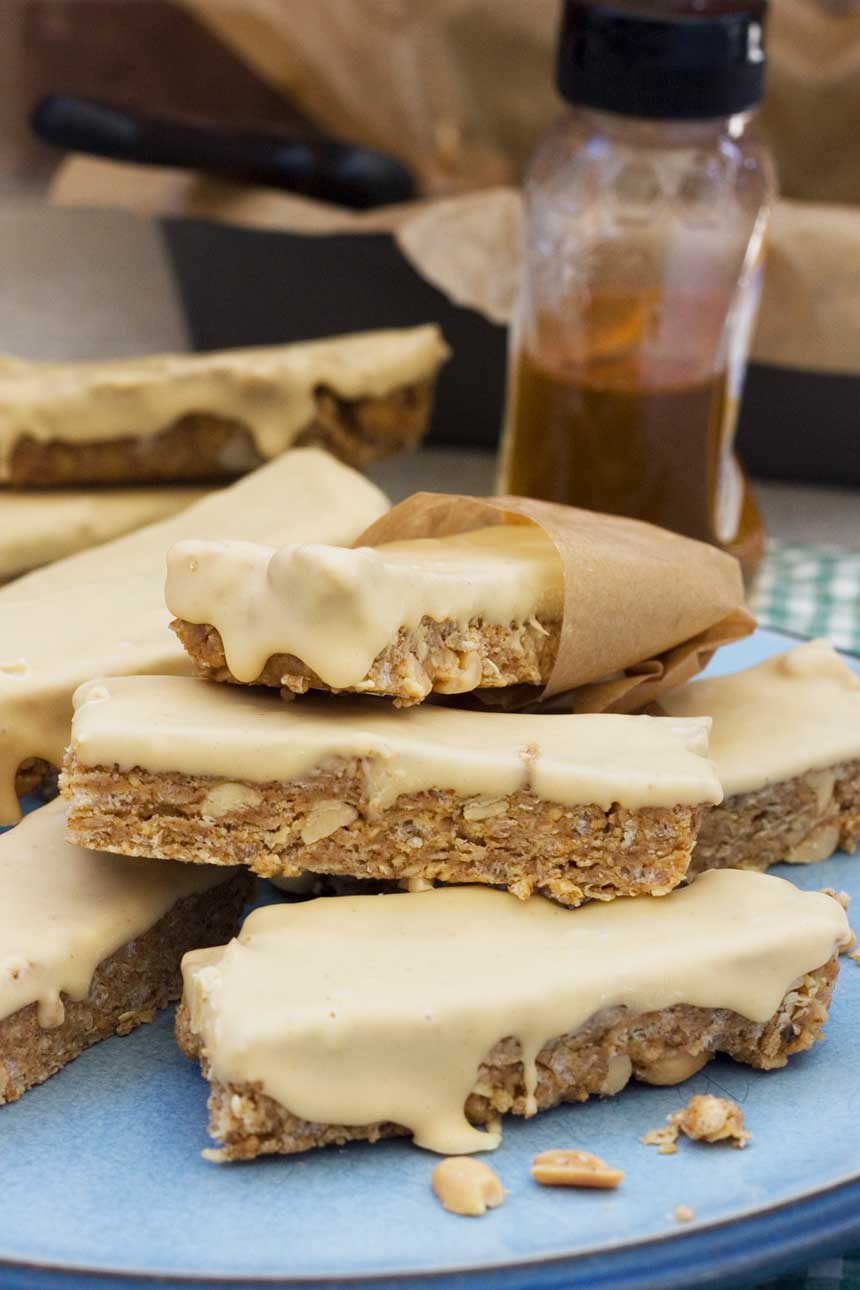 These bars are no-bake, and contain only six ingredients, which makes them ridiculously easy to make. Simply warm the peanut butter with the honey, then pour onto oats, rice krispies and peanuts. Mix well, press into a tin, and freeze for half an hour before cutting up into bars.
Then comes the fun part. Melt a bit of peanut butter into white chocolate, then dip the bars into the mixture so that half of them are coated.
Just a quick note about the coating. You only need to use about 100 grams of white chocolate – but make sure you melt it in a bowl or dish that's small enough so that the white chocolate is deep enough to dip into but big enough so that you can dip the whole of the bar in it. If you only have a bigger bowl, just use a bit more chocolate – I'm sure you'll be able to cope with licking out the bowl afterwards!
See Also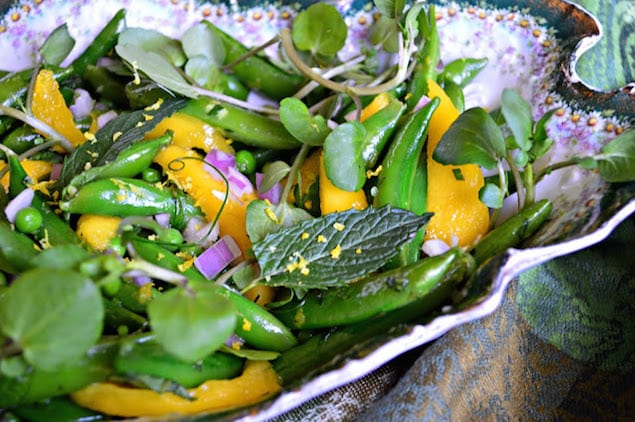 Whether you decide to go with the coating or not (I say yes!), you'll still end up with that irresistible 'sweet and salty' quality from the combination of salted peanuts and honey.
I like to wrap these up individually in greaseproof or baking paper and store them in the freezer until ready to eat. This isn't essential, and don't worry, it doesn't actually 'freeze' them – it just keeps them nice and fresh and chewy.
Print

---
For the bars
1½ cups

135 grams rolled oats

1 cup

rice Krispies

½ cup

75 grams salted peanuts

1 cup

250 grams smooth peanut butter (or almond butter, or a mixture)

½ cup

honey
For the coating
100 grams

/ 3.5 ounces white chocolate

1 tablespoon

smooth peanut butter
---
Instructions
Combine the rolled oats, rice Krispies and peanuts in a bowl.
Heat the peanut butter and honey together slightly in a smaller bowl (I did this by microwaving for 20 or 30 seconds*).
Pour the peanut butter and honey mixture over the oats and peanuts, and mix until the dry ingredients are well combined.
Press into a 9 x 9 inch (or similar) tin or dish (press down and right into the corners!), then freeze for around 30 minutes before cutting into about 10 bars.
Melt the white chocolate and peanut butter together in a small(ish) flat bowl or dish, then dip the top side of each bar into it. Place the bars non-coated-side-down to set.
If you like, wrap bars individually in baking or greaseproof paper and freeze until ready to eat.
Notes
*If you don't have a microwave, heat the peanut butter and honey together slightly over a bowl of simmering water (taking care not to let the bowl touch the water). You don't really have to heat it, but it just makes it a bit easier to mix into the dry ingredients.
Helen Buxton
Hi, I'm Helen. I'm originally from the UK but currently live between the UK, Greece and Australia with my husband (it's a long story!) We'll get settled eventually! I love nothing better than to travel the world … and sample the local street food. I absolutely love (attempting to!) put together flavours and fresh ingredients from all over the world – just so long as the recipes are easy peasy to make!