The sweet pea and ricotta spread on this crostini contrast perfectly with the salty, crisp prosciutto.
Before spring's up, I have the perfect appetizer for you. Peas and prosciutto make a wonderful pair in just about any context. On this crostini, the creamy, pea-ricotta spread is just the right contrast to the crisp, salty prosciutto. When you crisp up prosciutto in the oven, it essentially is like bacon. And there's never anything wrong with bacon.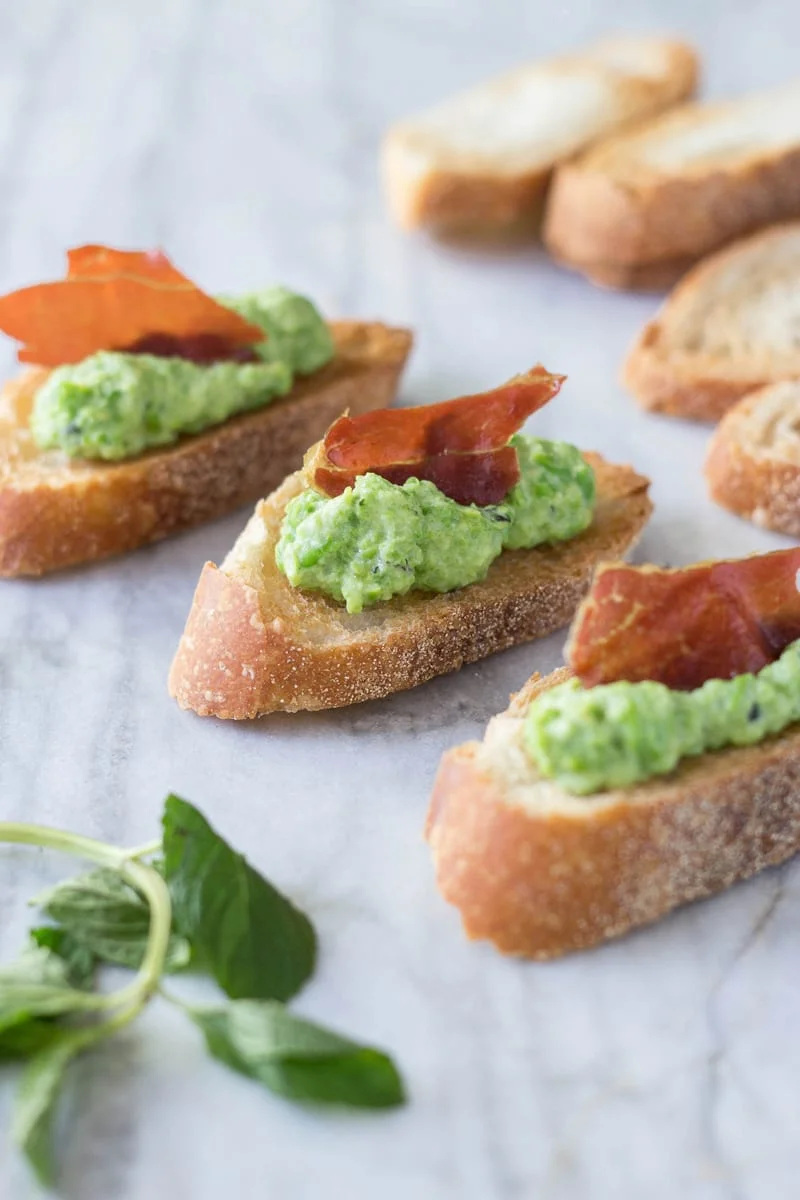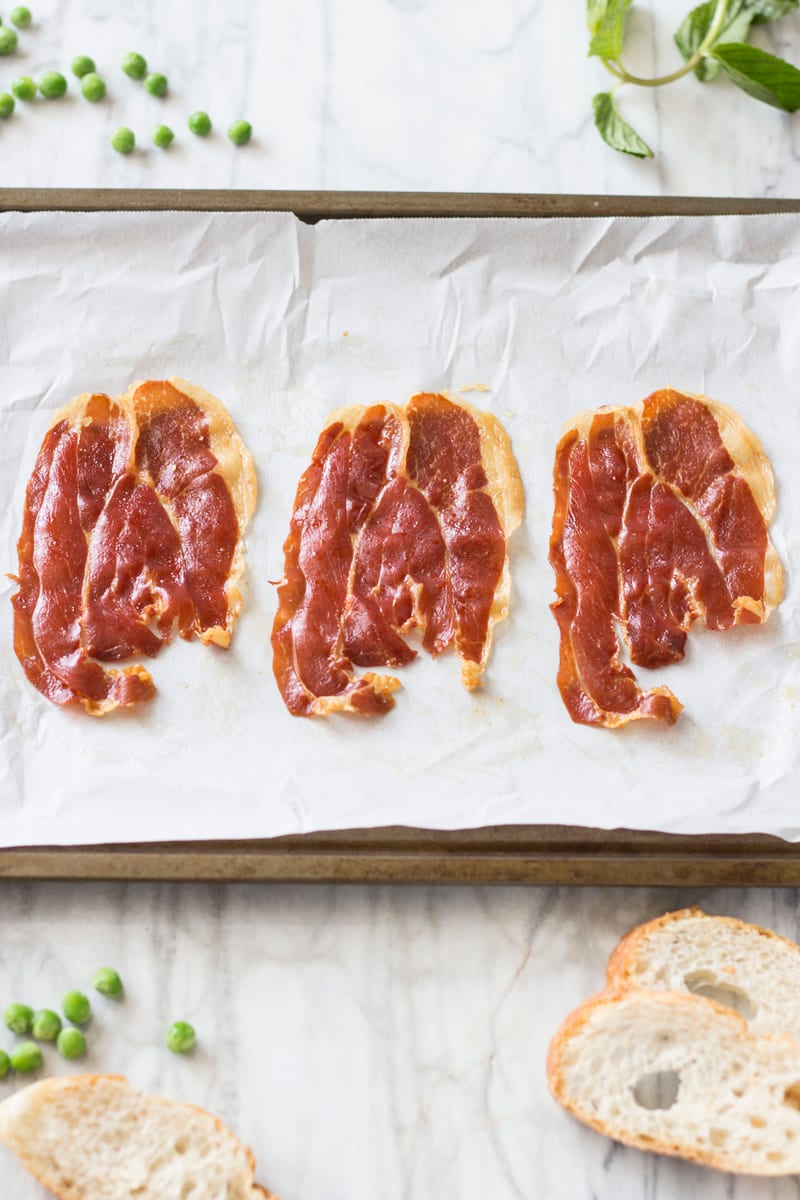 Sweet Pea & Ricotta Crostini
The sweet pea and ricotta spread on this crostini contrast perfectly with the salty, crisp prosciutto. It's sure to be an appetizer your guests will remember.
Ingredients
French baguette bread, sliced into 16- ½ inch slices
3 slices (about 1 ½ oz) prosciutto
1T extra virgin olive oil, plus more for drizzling
10oz (about 2C) shelled peas, fresh or frozen*
2T mint leaves, roughly chopped
½ C ricotta cheese
Zest of 1 lemon
1T lemon juice
Kosher salt and fresh cracked pepper
Instructions
Preheat oven to 375°F. Line a sheet tray with a silicon matt or parchment paper. Place prosciutto on pan and drizzle lightly with oil. Bake on the center rack of the oven for 12-14 minutes, rotating half way through, or until the fat renders and the prosciutto begins to crisp. It will continue to crisp up as it cools. Set aside. Break into pieces, when ready to serve.
Warm a large sauté pan over medium heat. Add oil to the pan, followed by the peas. Season with salt and pepper, and sauté until just warmed through. Transfer peas to a food processor along with the mint, and process to combine. Add ricotta, lemon zest and juice, and blend until incorporated. It's okay if the mixture is slightly chunky. Taste and adjust seasoning, if needed. Transfer mixture to the fridge to chill. Place in a piping bag, if desired.
Preheat the broiler. Place sliced bread on a baking sheet several inches away from the broiler. Broil approximately 40-60 seconds per side, checking every 20 seconds or so, or until golden brown.
To assemble, pipe or spread approximately 1 ½ tablespoons of the pea mixture on each slice of toast, drizzle lightly with oil and top with a piece of prosciutto. Enjoy.
*NOTE: If using fresh peas, blanch and shock first. Frozen peas can be placed in the pan even if they are not completely defrosted.