Margaux Alexandria Cintrano takes on a tasty journey through 15th century Spain.
By Margaux Alexandria Cintrano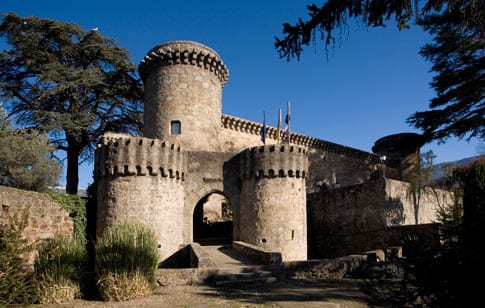 Since 1928, the Spanish Government at the initiative of Marqués Vega Inlán, King Alfonso XIII had opened the first Hotel Parador of Tourism in the heart of the Gredos Mountains range in Navarredonda de Gredos, Ávila. Since then, the Hotel Parador Network has been rescuing ancient hilltop castles, impressively enchanting monasteries steeped profoundly in ancient history, massive octagonal towers, princely palatial  mansions and intriguing fortesses.
FABLED CASTLE DROPPED FROM HEAVEN
Here is a fabled castle dropped from heaven, the Parador Hotel and Restaurant, Carlos V, located in Jarandilla de La Vera, Extremadura. Snuggly nestled in the Gredos Mountain chain, the XV century restored castle of Emperor Carlos V, the royal gem of the Renaissance awaits its guests. Emperor Carlos V, was the most powerful man in the world during his reign and resided in this historical 15th century castle for almost one year, prior to his retiring at the Yuste Monastery, 8 kilometres away, in the village of Cuacos, a visit not to be missed. This renovated four star hotel is a fortified castle which dates back to the Counts of Oropesa, and was built over the ruins of a fortress that had been reconstructed centuries later and was inhabited by King Alfonso XIII. It has all a castle should have, a Blue Room with a fireplace, and 15th century tapestries, a Salon of Portraits, a Patio of Arms, robust corner towers, migrating storks, embrasures, machicolations, turrets, which are small projecting armed structures for gunners and heraldic shield crests. The Italian Renaissance prevails throughout and the dining room views look out onto a beautiful courtyard. The ivy shaded sanctuary covered with palms depicting the the region´s sub tropical micro climate  and the fountains, create the priviledged paradise for after dinner drinks all year long. Through the years, without sacrificing the structures, one enters across a draw bridge between two cubic fortress towers.
Noble Room 219 – Our room, complete with balcony and splendid garden views, was a true royal refuge and paradise of sweet dreams.
Firstly, the designation of origin or appellation of La Vera, is renowned for their goat cheeses and there we were given a tasting of the following:
QUESUCO – a blue vein variety goat cheese with a very creamy texture.
IBORES WITH PIMENTÓN, SMOKED PAPRIKA RIND – this is a semi soft variety with a smoked paprika slightly spicy rind
RULO – this ecological goat´s variety is very similar to French Chevre and is produced in a very similar manner.
The Emperor´s Carte included:
Lar de Barros local white wine  – 100% Macebo grape variety – Almendralejos, Badajoz Designation of Origin, which paired lovely with the many appetizers or tapas that our light late evening meal had begun with.
The starter was smoked herrings served with a drizzle of scalded quail eggs. The main course was Stuffed Aubergines filled with fresh hake, delectable. The dessert was a fusion between a doughnut and French Toast, served with pinenuts and creamy goat cheese filling.