Sweet Corn Panna Cotta with Sbrisolona Crumble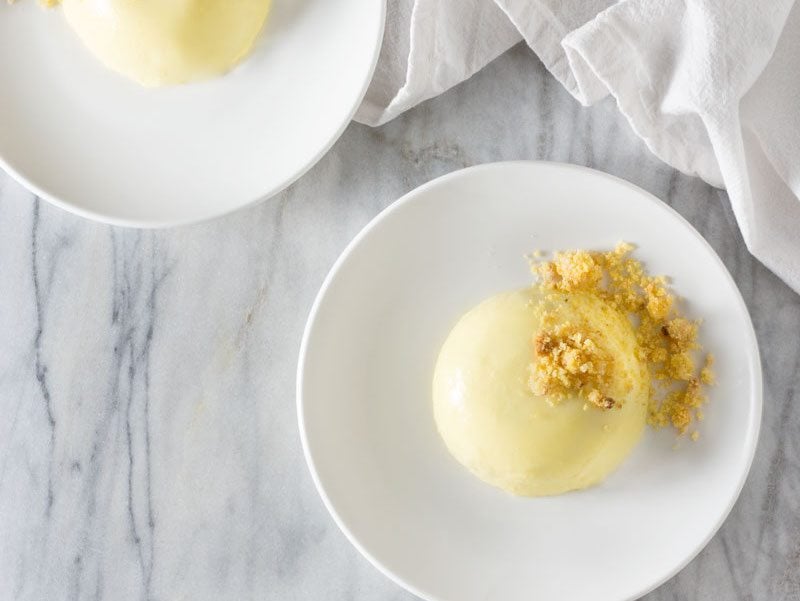 Did you freeze some of summer's corn for later? How about using it to make a fun panna cotta dessert?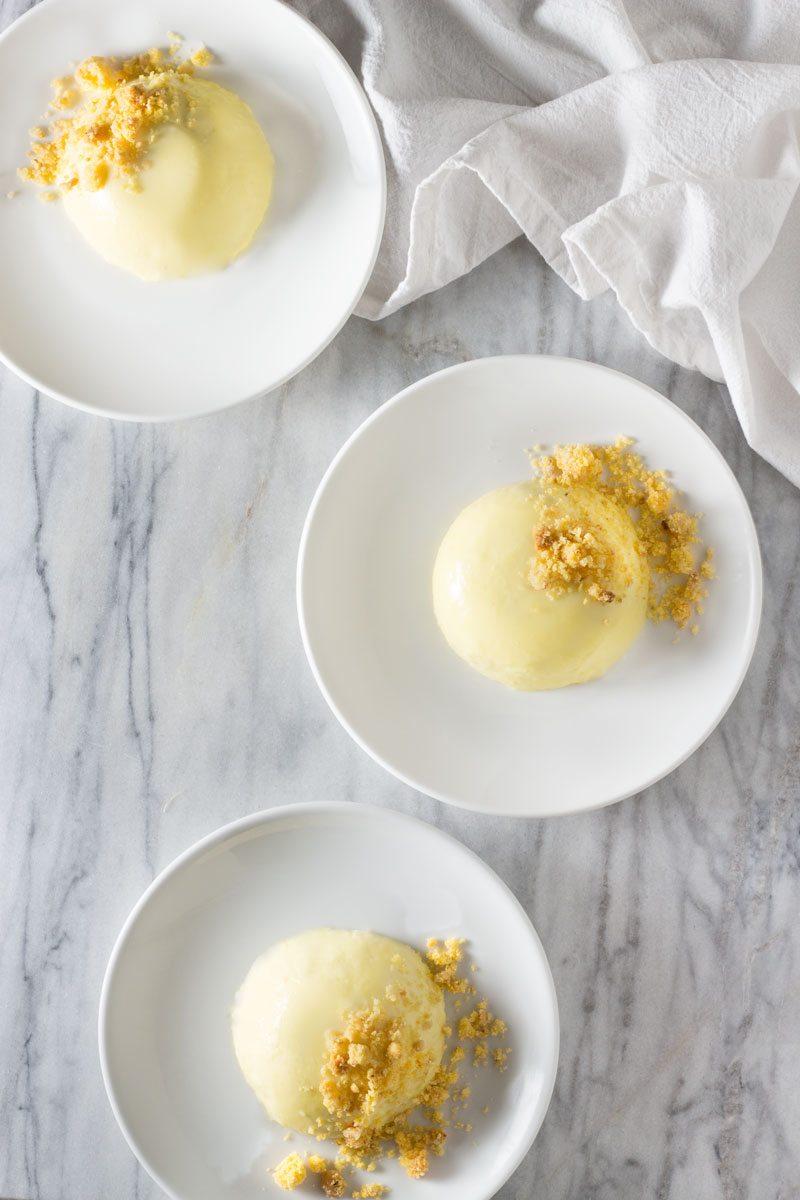 Corn might not be so common in the dessert world, but I'm really into it! My taste of corn ice cream at a New York parlor may have helped inspire this a bit. That AND work. Panna cotta is one of the desserts we serve on a regular rotation. Sbrisolona is something my boss whipped up once or twice before I started seeing it around on the web. Now, my boss would never combine these two desserts, but I sure like them together.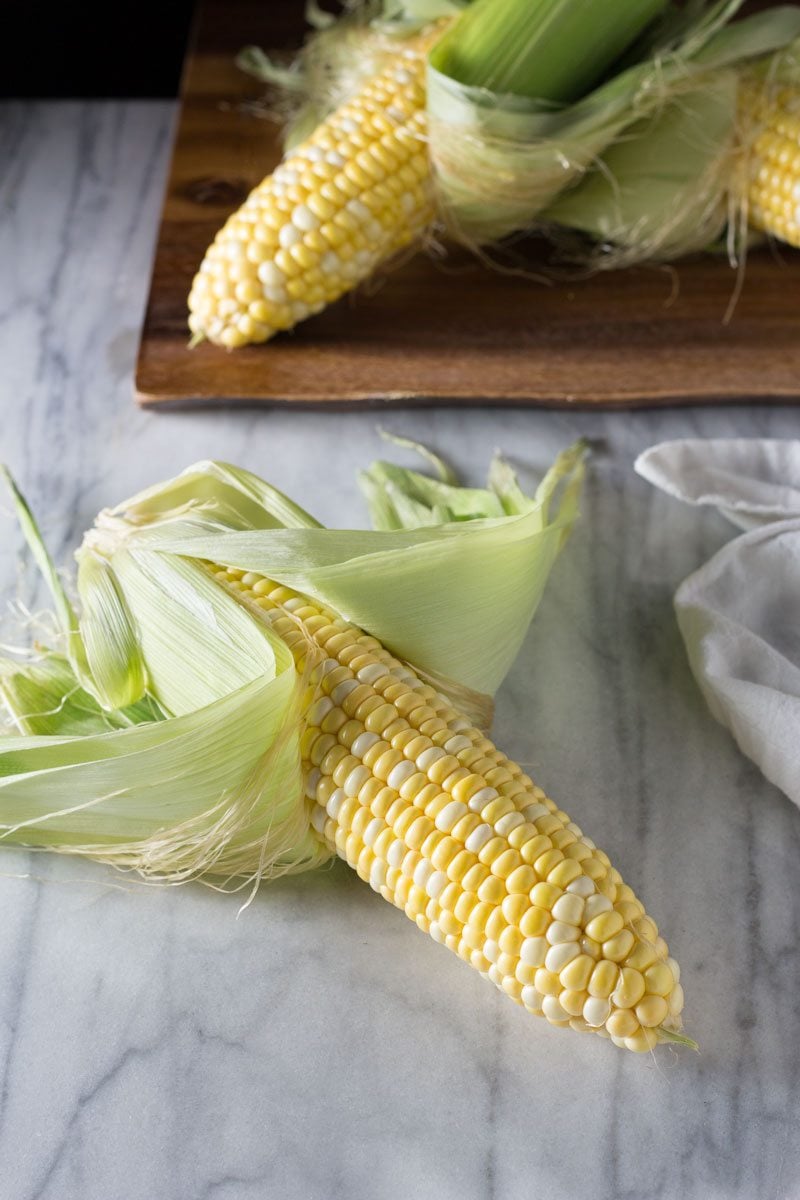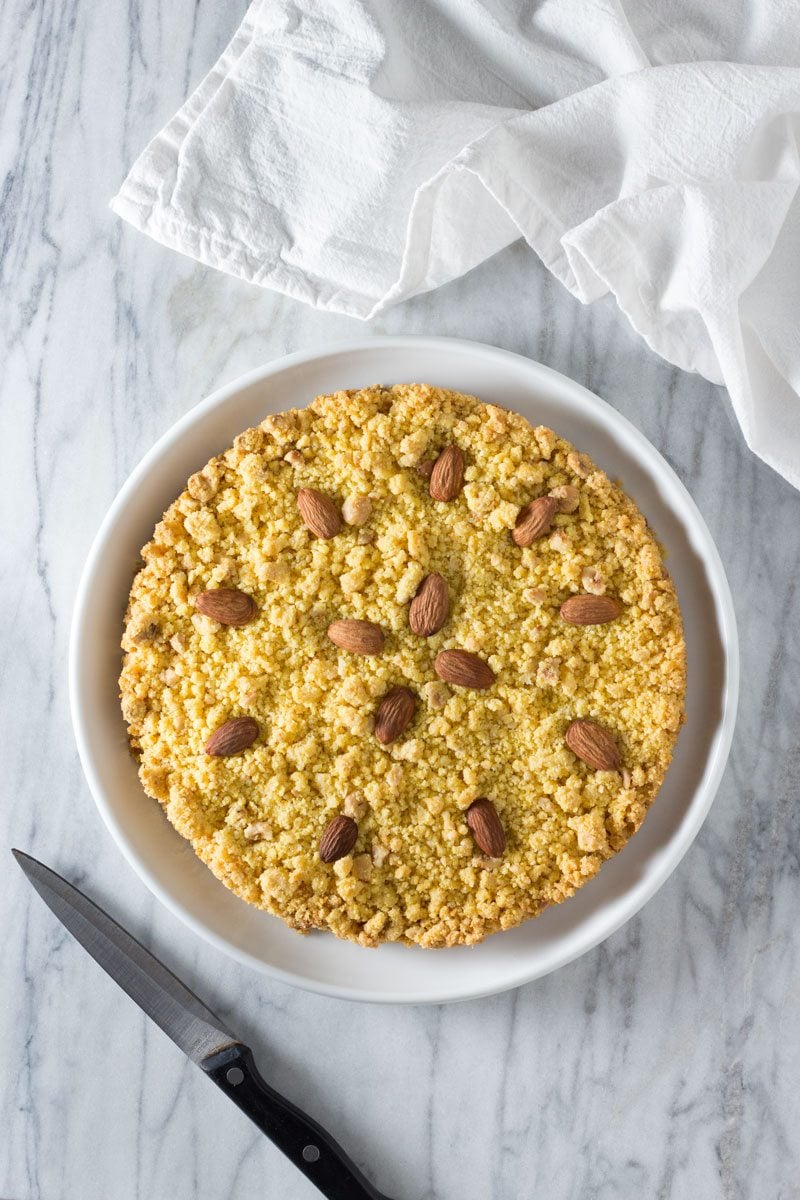 First, lets talk panna cotta. It definitely tastes like corn, but it's subtle and not too sweet. It's also irresistibly creamy. Now, that didn't come without a price. After a few trials, I found filtering the corn-cream mixture through a sieve and then through a cheesecloth was the only sure way to get this 100% lump free. That corn is fibrous, man.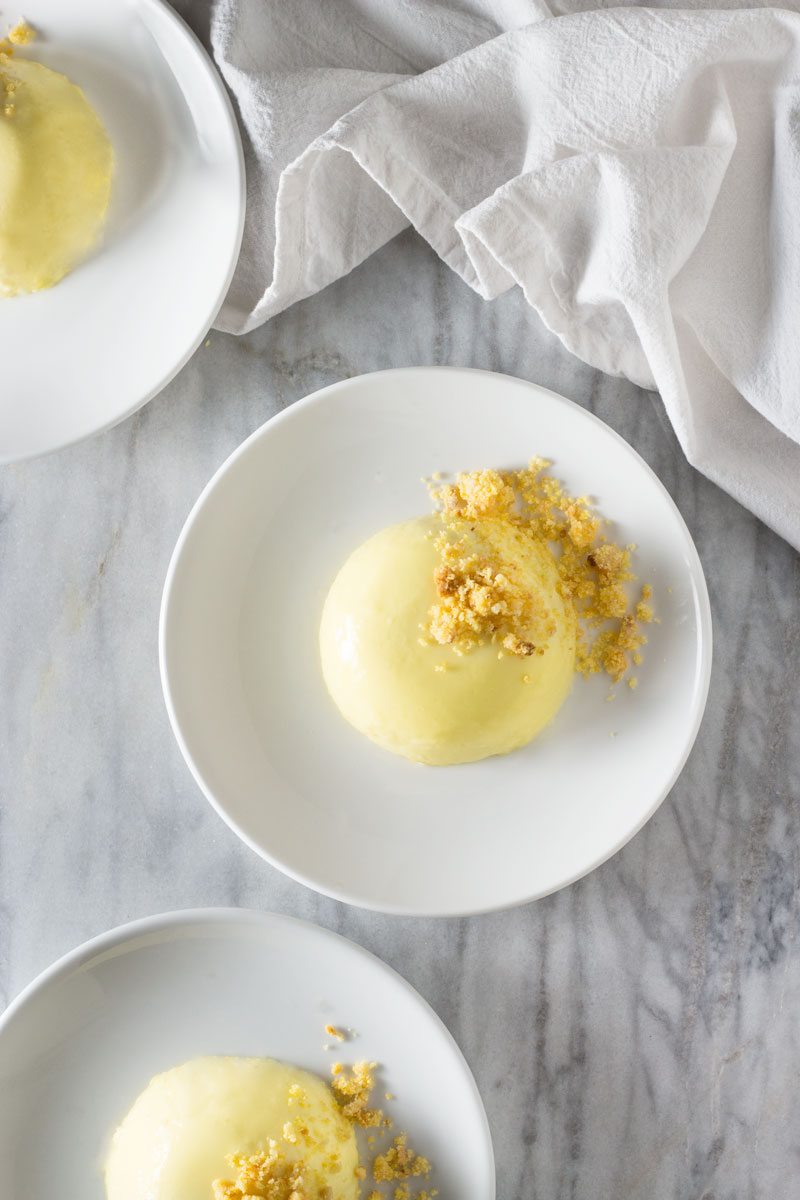 Now the sbrisolona… If you're not familiar with this Italian cookie-cake type creation, let me give you a little run-down. It's made with a combination of flour, cornmeal and ground nuts. I used both almonds and hazelnuts, and tweaked a recipe from my boss. The texture is kind of like the crumb topping on a muffin, so it's pretty addictive. This recipe will give you plenty of extra sbrisolona to snack on, so you're all set. I also love how the panna cotta and the topping contain different forms of corn. It might be an unusual combination, but they really compliment each other.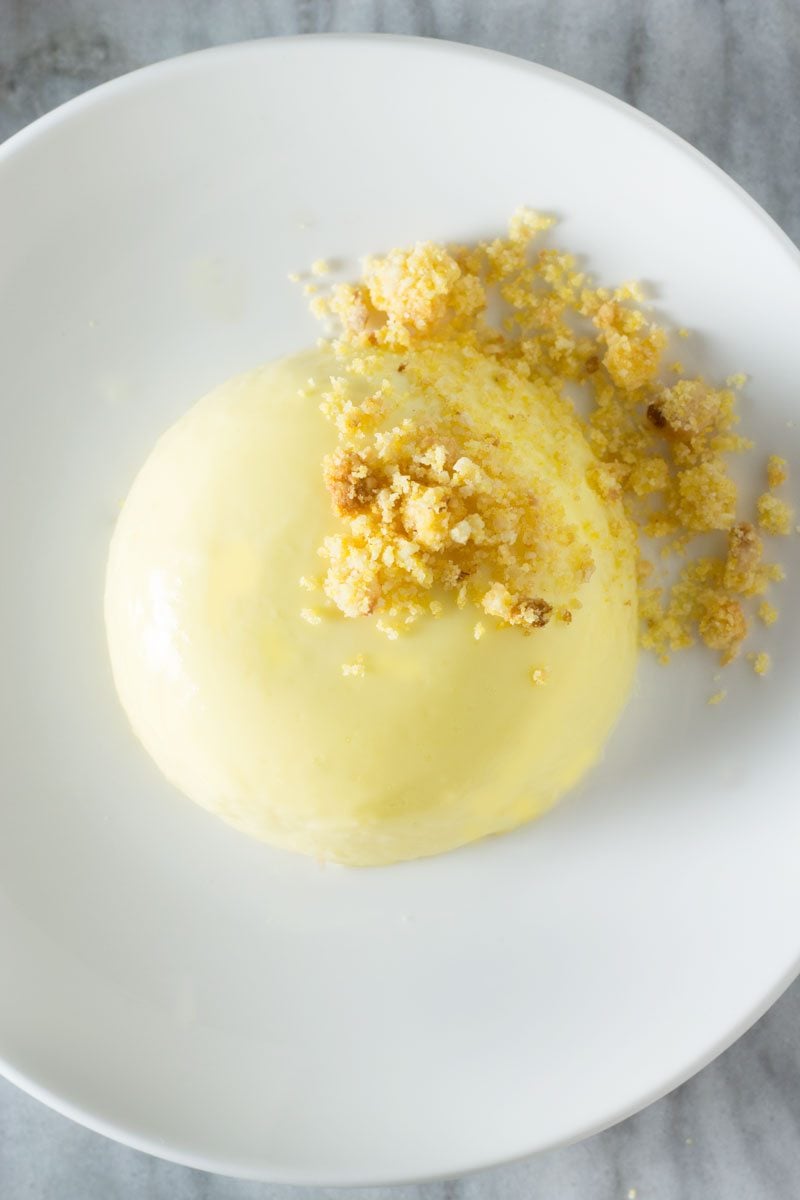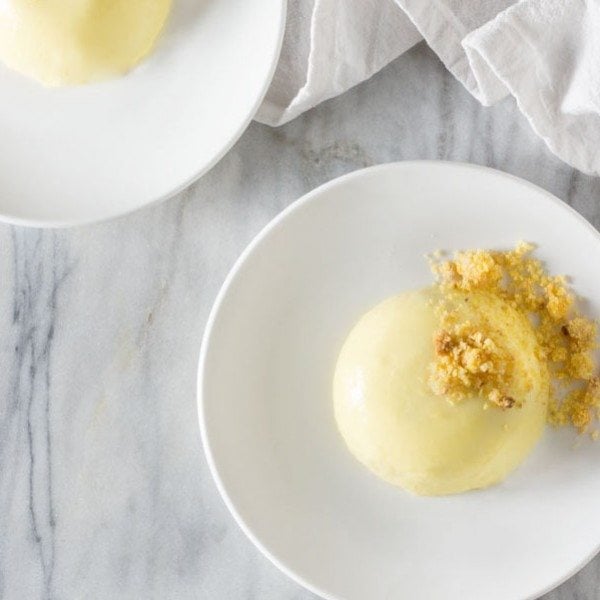 Sweet Corn Panna Cotta with Sbrisolona Crumble
Ingredients
2 ½

C

fresh corn kernels or frozen

defrosted corn (3-5 ears of corn)

2 ½

C

heavy cream

2/3

C

granulated sugar

½

tsp

kosher salt

½

C

milk

1

packet unflavored

powdered gelatin (about 2 tsp)

3.5

oz

all purpose flour

3.5

oz

fine yellow corn meal

3.5

oz

unsalted butter

softened at room temperature, sliced

2

oz

blanched

whole almonds

1.5

oz

skinned hazelnuts

½

tsp

kosher salt

Zest of ½ orange

Dash vanilla extract

10-15

skin-on almonds

to decorate (optional)
Instructions
Butter 6 (5-6 oz) ramekins. Set aside.

Add corn kernels and ¼ cup of water to a small pan. Bring to a boil, lower to a simmer and cover. Steam for about 3-5 minutes or until just cooked through. If all of the water evaporates during cooking, add a couple extra tablespoons, as needed. Drain and transfer to a blender.

Place heavy cream, sugar and salt in a small sauce pan. Bring to a simmer over medium heat.

While cream mixture heats, pour cold milk into a small bowl, sprinkle over gelatin and allow to bloom for 5-10 minutes. Whisk milk and gelatin into simmering cream mixture. Reduce heat to low and whisk until smooth.

Pour cream-gelatin mixture over the corn in the blender. Blend until smooth. Pass through a sieve. Filter for a second time through a cheesecloth. Pour into greased ramekins.

Cool to room temperature. Cover and refrigerate at least 4-6 hours or overnight, until chilled and firmed.

For the sbrisolona, combine flour, cornmeal, sugar and salt in a bowl.

Finely grind blanched almonds in a food processor. Remove. Coarsely chop hazelnuts in processor. Add nuts to flour mixture.

Add butter, zest and vanilla to mixture. Work in butter, using your fingertips, until the mixture resembles wet sand. Refrigerate at least 3-4 hours or overnight.

Preheat oven to 350°F. Grease a 9-inch springform pan. Cover bottom in parchment and grease again. You may also use a ring mold placed over parchment paper.

Break up sbrisolona mixture into small (~ ½ inch) chunks and spread around prepared pan until full. Do not press down and pack. Decorate top with skin-on almonds, if desired.

Bake about 30-40 minutes or until golden brown. Cool for 10 minutes, remove sides of springform pan, and cool completely over a wire rack. Remove bottom of pan and transfer to a plate.

For serving, unmold panna cotta. Place ramekins into a bowl or container of hot water, making sure water does not get into the ramekin. Allow to sit for about 30 seconds. Remove from water and run a knife along the inside edge of the ramekin to loosen the panna cotta. Place a plate on the top of the ramekin, flip to invert, give it a gentle tap and unmold. If the panna cotta does not unmold, place it in the warm water bath again. Crumble over pieces of sbrisolona. Enjoy.
Sabrina Russo
My Three Seasons represents the 3 key factors that are most important to me in cooking. #1 Seasonal ingredients #2 Proper Seasoning (don't skimp on that salt!) #3 Cooking like a Seasoned chef (technique is everything). My name's Sabrina. I live in NYC. I'm a registered dietitian with professional cooking and food styling experience. Come cook with me.