Sushi Skills – Take a Sushi Making Class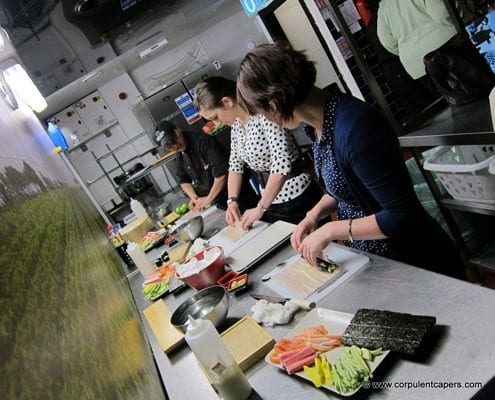 Nikki Vivian is introduced to chefs Danny Dinningson Poththmi and Arvind Rawat, and get a crash course in the art of making sushi.
By Nikki Vivian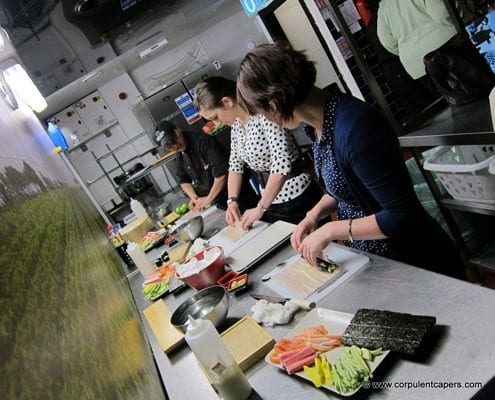 I am fascinated by Japanese culture and food. Japan has always been on my list of places to visit but sadly on two occasions I have been set to go and something has prevented me from getting as far as booking tickets.
The freshness of the food and the idea of simple flavours that enhance the ingredients in a dish rather than over-complicating things is a revelation to me and one I have been dying to discover. Unfortunately, this post isn't going to end with a visit to Japan but I did however recently get invited along to cook with the Sushi Chefs at Red Hot World Buffet in Cardiff.
I love sushi and I have made it at home before but without the proper equipment, I have used a cheaty method so I was very excited about being shown how to do it properly.
We were introduced to chefs Danny Dinningson Poththmi and Arvind Rawat who both have an impressive background having worked in restaurants all over the world including Japanese restaurant Japingo in Dubai. Head chef Uttam Kamokar has been a chef for 18 years and his CV includes Burj Al Arab in Dubai. I felt that I was in good hands and after a demonstration, even more so.
Making around 800-1000 pieces of sushi a day, the chefs made it look very easy. It definitely wasn't as easy as it looked but I did pick it up after a while and although significantly slower, my attempts were passable. We used the traditional method of making sushi roles with a sushi rolling mat covered in cling film and experimented with sushi rolls, moving onto Nigri. We even tried some Uramaki which was a challenge. These involve rolling the sushi so that the rice is on the outside.
If you haven't made sushi before, I definitely recommend giving it a try. It's great fun and once you get the hang of it, it isn't too difficult. I recently bought a sushi mat and have been making sushi at home. They are very reasonably priced and you can pick up everything you need from any Japanese supermarket or online. Make sure you have a sharp knife though, this is vital otherwise the sushi gets squashed when you cut the roll into pieces.
Sushi classes are available at many sushi restaurants across the globe – for Red Hot World Buffet (located in UK), check their website for more info.
Nikki Vivian
Nikki is a food blogger from the UK and founder of food review website yourlastmouthful.com. Having travelled extensively, Nikki is passionate about discovering food from across the globe. Currently living in South Wales, she makes it her business to sample the best local produce and offerings from local independent food businesses.