Sip something fun this summer and relax with Portugal's Casal Garcia wines. Fun enough for a gathering and versatile enough to pair with easy patio meals.
Enjoy a casual summer brunch with tapas-style food that pair perfectly with late mornings, easy conversations and Vinho Verde wines from Casal Garcia. Check out the recipe for peach crostini and Greek salad cups with lamb proscuitto.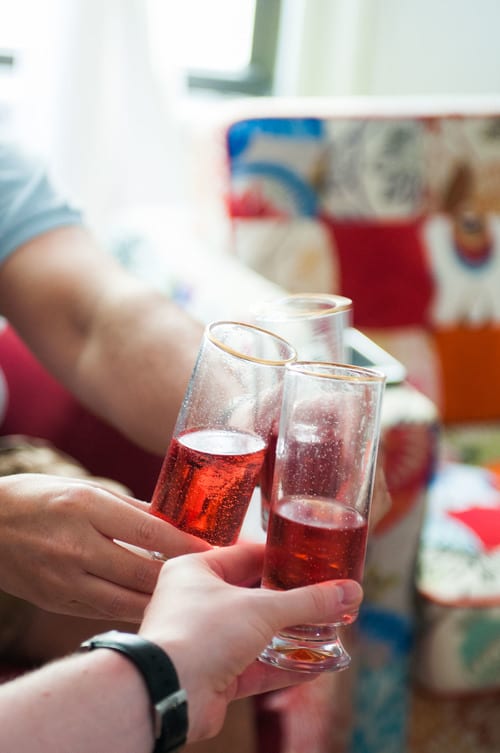 Portugal is a relative newcomer to the wine market in the US and as such are generally priced lower than comparable wines from Europe, making them an incredible value. Their wines are typically not aged as long and have fresh, crisp and fruitier notes to them. One of my favorites from the country are Vinho Verdes. Literally translated as 'young wines', and originating from the Minho province of North Portugal, they are consumed in the same season as they are bottled. They are one of least known and best crisp Summer value wines you can find this season!
I was first introduced to them by friends a couple of years ago. In an eternal quest by a French couple for quality wines that pared in value to those you can find in France itself (an awesome bottle of local wine for $7!!!), they had found the range of Portuguese wines very flavorful on the palate and very friendly on the wallet. Thus began my own affair with these wines.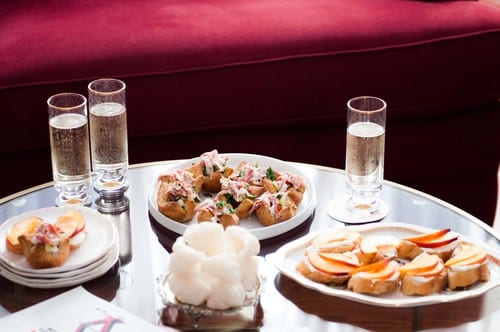 I am typically a red wine drinker, but come summer and something shifts inside me. True, I am generally thirsty but as 6pm strikes, I find myself craving for a crisp, dry white that has light fruity notes and an easy sip, as I wind down from the day and plan dinner.
I now always keep a couple of bottles of vinho verde whites in the fridge. There is a slight effervescence to them that makes them a happy bubbly but with more panache. They are also incredibly versatile, easily going from glass to pan as a deglaze for seafood and chicken. I do not know of anyone one yet, who appreciates white wines, who has thumbed their nose on it. in fact, they are usually surprised by the depth of flavor in so young a wine.
Vinho Verdes also come in rose and sparkling, but I had not tasted them until recently with the Casal Garcia wines. The Rosé is certainly of a beautiful shade, like the namesake flower in full bloom – a middle between the Provencal pale pink and the Spanish fiery red. On the nose, it was light and rather mildly floral and the taste was pretty much along the same lines. The rose is not a crisp or dry and if you refer that flavor, I would definitely stick with the white, which from the same vintner has a subtle green apple taste. The bubbly was surprising richer than I expected from this class of wines and also fairly different from the naturally effervescent whites.
To pair them with food, I chose a whimsical theme of casual brunch with tapas style food that best pairs with mid-summer late morning, easy flowing conversations and light headed happiness. A scene that allows these wines to shine best. I have shared the recipes for the Peach and Spice Crostinis and Greek Salad Cups with Lamb Prosciutto below.
Overall, you can never go wrong a white Vinho Verde and while the flavors may differ subtly across vintners (based on sub-region and vineyard), they deliver a crisp, clean, light sip every time. The sparkling wines are ok as such but are much better in a cocktail, even the ever-popular mimosa. The rose follows the same script and I think is better with some summer fruit added, which brings forward the natural fruitiness of the wine. Try blackberries or yellow nectarines for the same.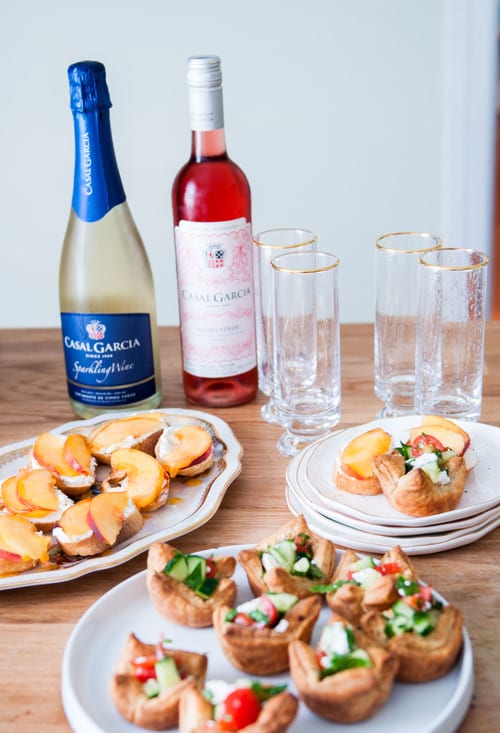 Celebrate summer with a refreshing poke bowl video recipe that pairs perfectly with Casal Garcia's crisp wines.
Print

---
PEACH AND SPICE CROSTINIS
1

baguette (sliced into

1/2

inch thick slices on the bias)

2

ripe yellow peaches/nectarines (sliced thin)

1/3

lb ricotta cheese
Mike's Hot honey
sea salt
GREEK SALAD CUPS WITH LAMB PROSCUITTO1 sheet of puff pastry
1/2

hot house cucumber ((seedless), diced into

1/2

inch cubes)

1/2 pint

cherry tomatoes (diced)

3

T parsley
handful of fresh feta chunks
juice of half lemon
sea salt
slices of lamb proscuitto or other cured lamb
grainy mustard
dukkah or sumac to finish
---
Instructions
PEACH AND SPICE CROSTINIS
Arrange the baguette slices in one row on a sheet pan. In a 350F preheated oven, toast the bread for 3 minutes until just crisp.
Spread a generous amount of ricotta cheese on each slice.
Arrange a couple of peach slices per crostini.
Sprinkle a touch of sea salt and drizzle with hot honey per taste.
GREEK SALAD CUPS WITH LAMB PROSCUITTO
Preheat oven to 400 F.
Thaw and roll the puff pastry sheet out to about 1/8 inch thickness.
Cut squares large enough to fit cupcake/muffin pan molds with a little over hang. Fit the squares into the cups and using a fork prick gently all over.
Fill each cup with pie weights to keep the pastry from lifting too much while baking.
Bake for 15 minutes until golden brown and puffed up. Remove and cool for a few minutes until you are able to handle them.
Meanwhile, toss everything except the lamb and mustard to make a quick salad. Chill until ready.
When ready, remove the pastry cups and spread a layer of mustard at the bottom. Fill each with salad, gently pressing to full. Top with lamb proscuitto and serve.
A sprinkling of sumac or dukkah will also be great but optional!
Category:

Appetizer, Brunch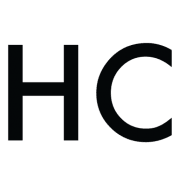 Asha Yoganandan
Asha is the Founder and the Creative Strategist of INK, a digital marketing consultancy focused on food and leisure clients. A key social influencer, she has a reach of over 400K across digital platforms. She edits and publishes NOURISHED magazine, a seasonal and quarterly food magazine with international distribution. She writes an acclaimed blog, Fork Spoon Knife, on food and culinary travel related topics. She pens for and has been featured in The Daily Meal, Redbook Magazine, Spenser Magazine, Huffington Post, Good Food Jobs, Food 52, Mashable among others.