The go-to snack in the markets and cafes of Hungary is a savory fried dough treat called Langos.
By Elspeth Velten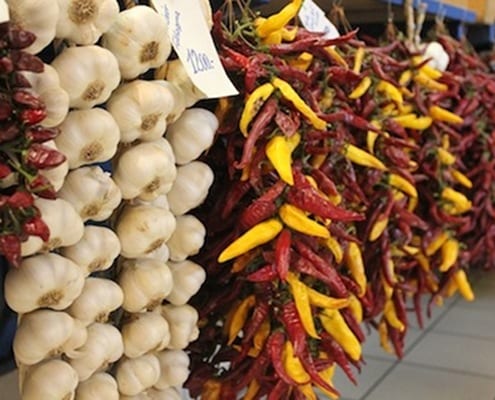 On a recent trip to Budapest, I learned that the go-to snack in the markets and cafes of Hungary is a fried dough treat called Langos. Instead of going in a sweet direction, Hungarians take this towards savory and top it with a layer of sour cream and heaps of shredded white cheese. Almost anything can be thrown on top, and when I ordered mine at the Great Market Hall near the river bank in Pest I chose to add Hungarian pepperoni. The country is known for its cured meats, and the market is full of stalls draped from floor to ceiling with links small and large. They're also obsessed with paprika. Don't leave without getting a pouch of the sweet or hot kind, and also some CHEAP saffron. Fight the crowds to get to the langos stand on the upper deck of the market.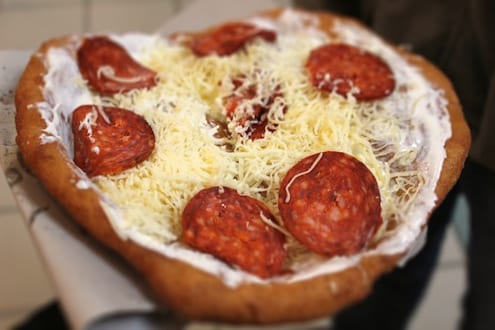 This langos was served cold, and with some prodding, I convinced the woman to serrate the middle so it could be easily folded in half. This turned it into kind of a messy ordeal; sour cream and cheese definitely hit the ground where I perched outside the market. This was very filling, but I wished it was warm. The dough was made too long before it was served, which I guess is to be expected in such a crowded tourist destination.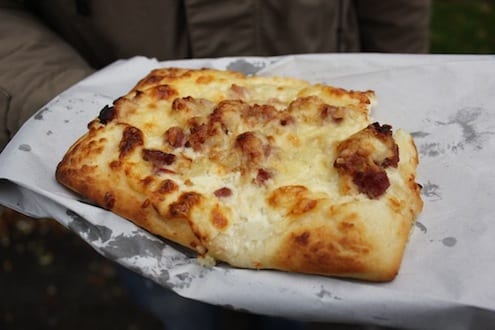 I stayed in a hostel located well outside the center of the city on the Buda side, and I became acquainted with another version of Langos. It was unrecognizable in looks AND taste, yet the sign in front of it on a rack in a tiny bakery hut indicated that this was, in fact, and incarnation of the doughy treat. I ended up eating this rectangular rendition for breakfast on two days, it was so good. Served hot and topped with soft melted cheese and chunks of ham, this is my perfect way to start off the day. (I'm definitely a savory person over sweet any day.)
See Also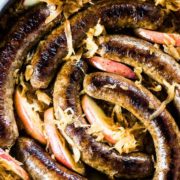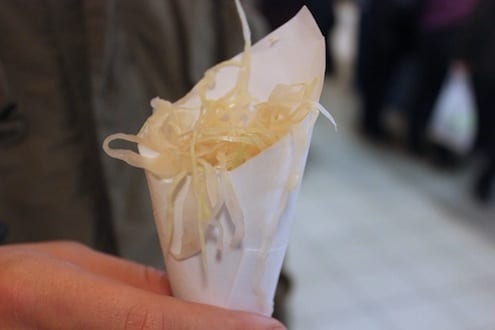 Other tasty morsels in the Great Market Hall include fresh sauerkraut and pickled peppers in the basement level. Indicate that you only want a tasting portion, and the pickle person will give you a mini cone with the most pickle-y sauerkraut ever. They're also happy to sell you just one or two stuffed pickled peppers, don't be afraid to ask! Take notice of all of the smiling pickles stacked in jars. Such a happy place.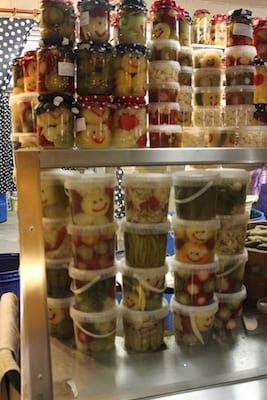 Elspeth Velten
Elspeth is a contributing writer at Honest Cooking. She is based in New York, but her love for food and travel continues to lead to adventures all around the globe. Elspeth regularly shares her experiences on her food blog, To Stay or to Go? Her happy place is among green curries and fruit smoothies in Thailand.