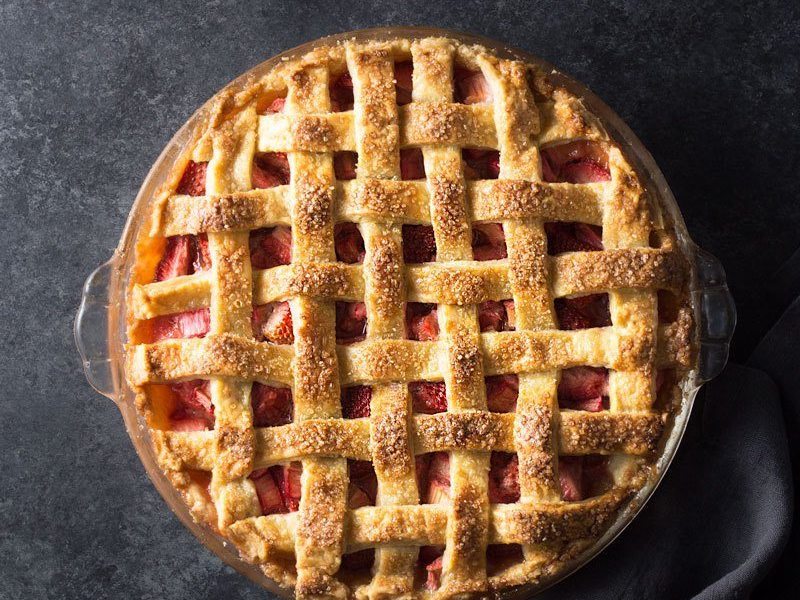 It's rhubarb season! And you know what that means. Strawberry rhubarb pie, of course.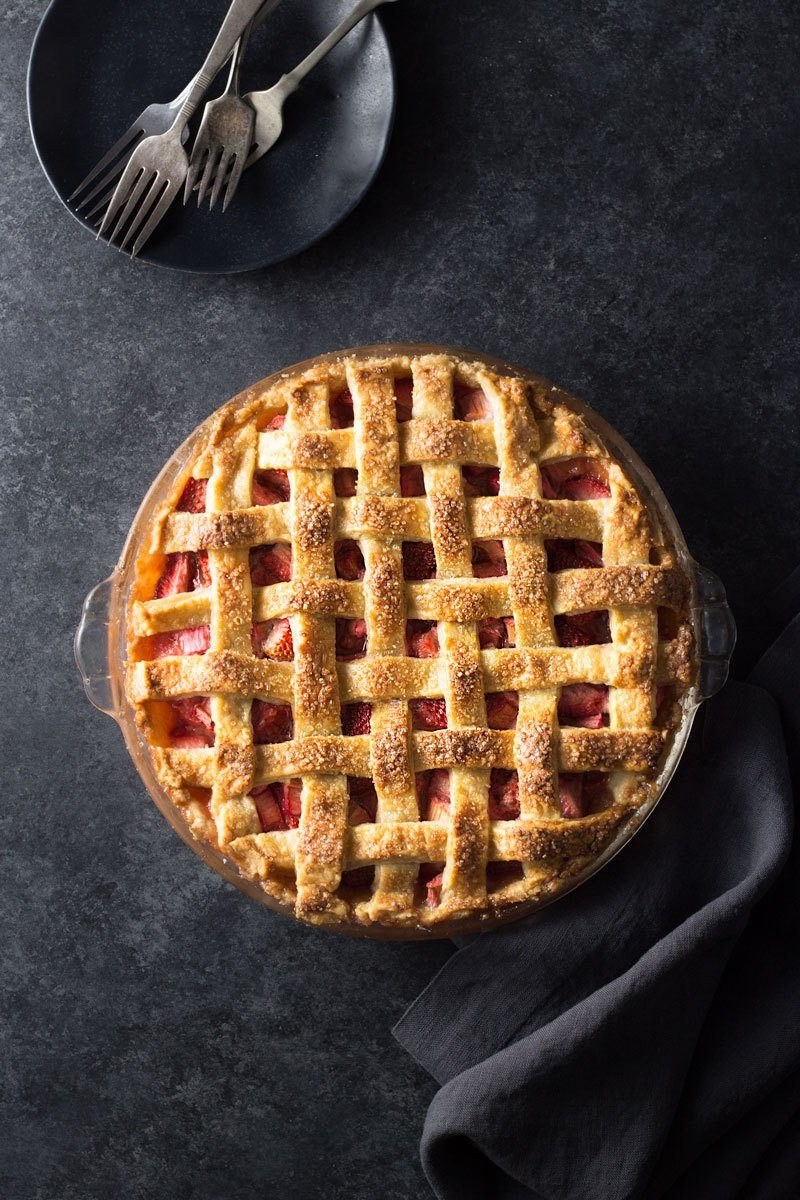 A good pie starts with a good crust. I'm calling this the best strawberry rhubarb pie for a reason. The crust is a big part of it. There are a few tricks to get the crust tender and flaky.
TIPS FOR A GREAT PIE CRUST: 
Cold butter sliced in big chunks.
Work with your hands to create some thin, flat pieces and some larger chunks of butter.
Vodka! Crazy right? It moistens the dough without encouraging gluten formation, hence keeping the dough more tender.
Apple cider vinegar. Same as above. It helps make it tender! Also provides a subtle tang.
Work quickly! Don't let that butter melt. Stick it in the fridge when needed.
Ice water, always.
"Laminate the dough." Cut in quarters, stack and press back together to form great layers of butter. See recipe for more details.
Sprinkle some of the cornstarch directly on the crust for an extra moisture barrier.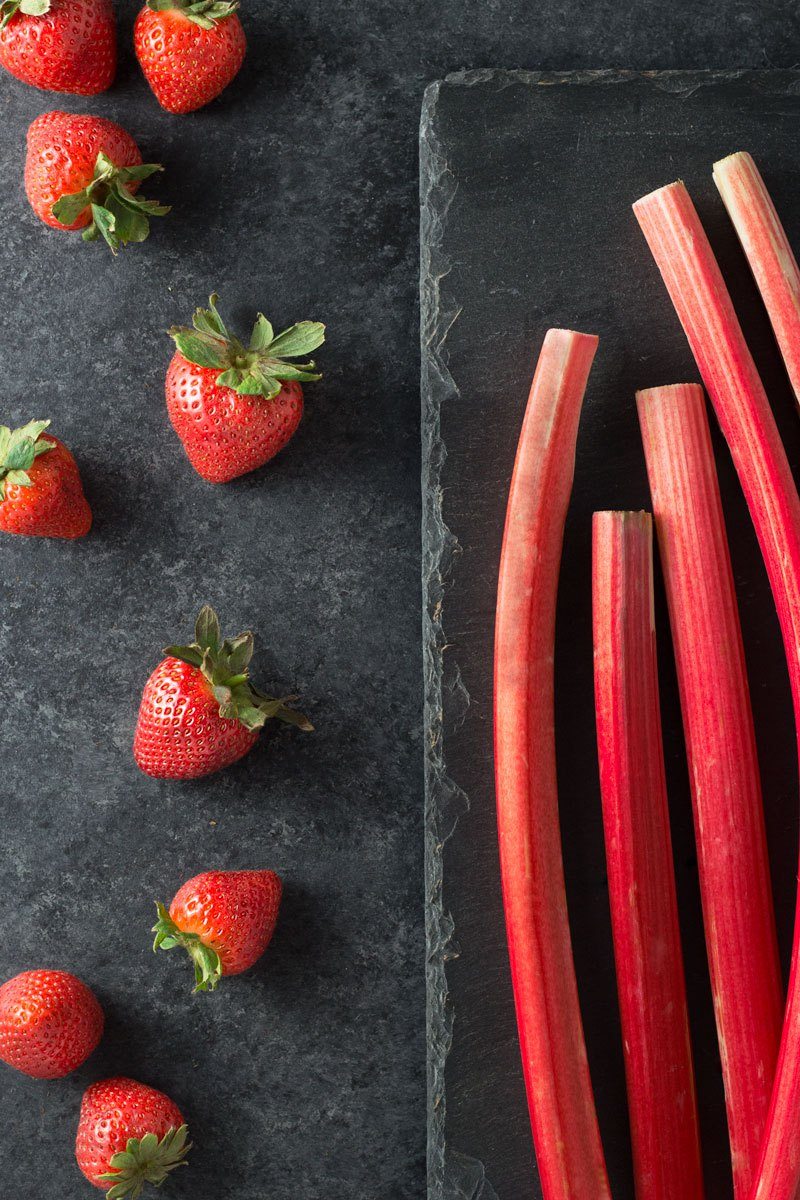 I actually used rhubarb for the first time while working on this pie recipe. I was so excited to finally cook with it. It's extremely sour when raw, but I have seen it used in a dish as a garnish, cut up extra tiny, so that's something I'd love to experiment with. I'd also like to do some savory cooking with rhubarb, but so far I kept it sweet. I actually just made a jam yesterday with my leftover rhubarb, which came out delicious. What are your favorite rhubarb recipes?
Back to the pie. So after you get that crust just right, it's time to focus on the filling. I like to stay pretty traditional with a couple of small twists. I sweetened the strawberries and rhubarb with a combination of white and light brown sugar, for that slightly caramely flavor. I also add vanilla bean paste and lemon zest for a nice accent to the fruit. If you're not familiar with vanilla bean paste, it's a thick, gooey  paste, speckled with tons of vanilla beans. It stays good forever in your pantry so it's a nice option that's in between vanilla extract and a fresh vanilla bean. Feel free to substitute vanilla extract if you can't find it.
To decorate the pie, I chose to do a lattice. I explained the method in my recipe, but there are obviously a ton of great videos out there if you want to study up on lattice making. The lattice isn't exactly essential to a good strawberry rhubarb pie, but in my opinion, the crunchy topping is. I first brushed the top crust with an egg wash and then generously sprinkled over demerara sugar for a nice crunch.
I think you can serve this pie straight up. The crust and the filling are great as is together, but I have to say a nice dollop of whipped cream definitely doesn't hurt. If you're feeling extra naughty, do it up with some vanilla ice cream. Okay, after all this talk, I think it's time for some pie.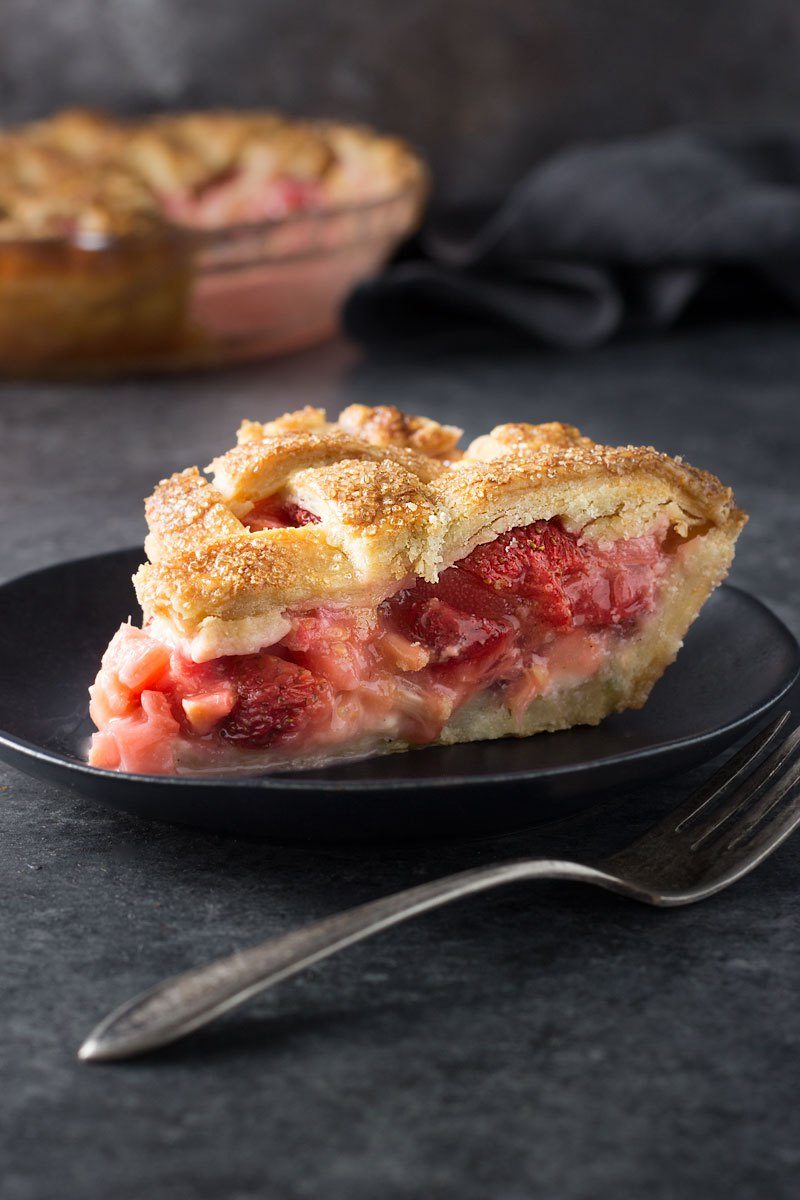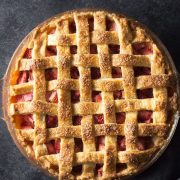 Strawberry Rhubarb Pie
Sabrina Russo
When rhubarb is in season, it just wouldn't be right to skip out on strawberry rhubarb pie. Check out my twist on this classic American treat!
Ingredients
2 2/3

cup

all-purpose flour

plus more for dusting

1 ½

tbsp

sugar

1

tsp

kosher salt

18

tbsp

unsalted butter

cold, cut into ½ inch slices

3

tbsp

vodka

chilled

1 ½

tbsp

apple cider vinegar

chilled

3

tbsp

+ 2 tsp ice water

1

lb

~4 cups rhubarb, cut into ½ inch slices

1

lb

~2 ½ cups strawberries, hulled & quartered

½

cup

granulated sugar

1/4

cup

light brown sugar

packed

5

tbsp

cornstarch

divided

1

tsp

vanilla bean paste or vanilla extract

1/4

tsp

kosher salt

Zest of 1 lemon

2

tbsp

unsalted butter

cold, cut into ½ inch cubes

1

egg beaten with 1 tbsp of water

for egg wash

Turbinado or demerara sugar

for sprinkling
Instructions
Mix dry ingredients: Combine flour, sugar and salt for the dough in a large bowl.

Add butter: Toss in butter to coat. Rub butter into flour using fingertips to create some large, irregular pieces and some thin, flat pieces. Work quickly to avoid overheating butter. Place in fridge for several minutes if butter gets too warm.

Add liquids: Mix together vodka, vinegar and 3 tablespoons of ice water in a measuring cup. Drizzle over flour/butter mixture. Mix with fork to create a shaggy mixture. Knead to form a dough. It should look dry and rough. Drizzle over remaining 2 teaspoons of ice water and knead together. Do not overwork.

Laminate dough: Divide the dough in half. Shape one half into a ¾ inch block. Divide into 4 equal pieces. Stack pieces on top of each other and press down to shape into a ¾ inch disc. This will create layers of butter that become flakey when baking. Repeat with remaining half of dough. Wrap in plastic wrap. Refrigerate at least 2 hours or up to 5 days.

Roll out dough: Remove dough from fridge and sit on counter for 5-15 minutes or until warm enough to work with. On a lightly floured surface, roll dough 1/8 of an inch thick into a 13-inch round. Transfer to a 9-inch pie plate and chill in fridge. Repeat with second half of dough, and transfer to a parchment-lined baking sheet. Chill in fridge.

Cut lattice: When dough on baking sheet is chilled, transfer to a lightly floured surface. Use a ruler or long thin spatula to cut out 3/4 inch long strips of dough. You should have about 12 good strips. Return to baking sheet and chill.

Mix filling & heat oven: Combine strawberries and rhubarb in a large bowl. In a separate bowl, mix together sugars, 4 ½ tablespoons cornstarch, zest and salt. Combine sugar mixture with fruit mixture. Stir in vanilla bean paste. Preheat oven to 375°F.

Fill pie: Remove pie dough from fridge. Allow strips for top crust to soften slightly so they're pliable enough to work with, but still chilled. Trim bottom crust. They are two options: trim edge flush with pie plate (as I did) or leave a 3/4 inch overhang for crimping. Sprinkle over ½ tablespoon of cornstarch directly over the bottom crust and brush to spread over bottom and sides. Add fruit filling over crust. Dot with butter. Brush top, inner edges of bottom crust with egg wash.

Make lattice: Place 6 strips of dough spaced out evenly across the top of the pie. Start in the center, using the longest pieces in the middle and the shortest towards the end. Fold back alternating pieces of dough half way up the pie. Place one long strip across the center, in the opposite direction of the other pieces of dough. Unfold the strips so they lay over the strip just placed down. Fold back the opposite pieces of dough and place another strip spaced evenly apart from the last strip set down. Unfold strips. Repeat with remaining strips of dough to create a basket weave pattern. If bottom crust is cut flush to pie plate, press strips into bottom crust and trim off all extra dough. If you left an overhang, trim excess dough from top strips and press into bottom crust. Then fold over bottom crust and crimp as desired.

Chill & bake: Place pie plate in the freezer for 10 minutes. Remove from freezer and place on a baking sheet. Brush top with egg wash and sprinkle over a generous amount of turbinado sugar. Bake on the center rack of the oven for 60-70 minutes or until well-browned and filling is bubbling. Place pie plate over wire rack and cool completely, for several hours, before serving. Store in fridge. Enjoy.
Sabrina Russo
My Three Seasons represents the 3 key factors that are most important to me in cooking. #1 Seasonal ingredients #2 Proper Seasoning (don't skimp on that salt!) #3 Cooking like a Seasoned chef (technique is everything). My name's Sabrina. I live in NYC. I'm a registered dietitian with professional cooking and food styling experience. Come cook with me.