A sweet, tart, and refreshing sip of spring.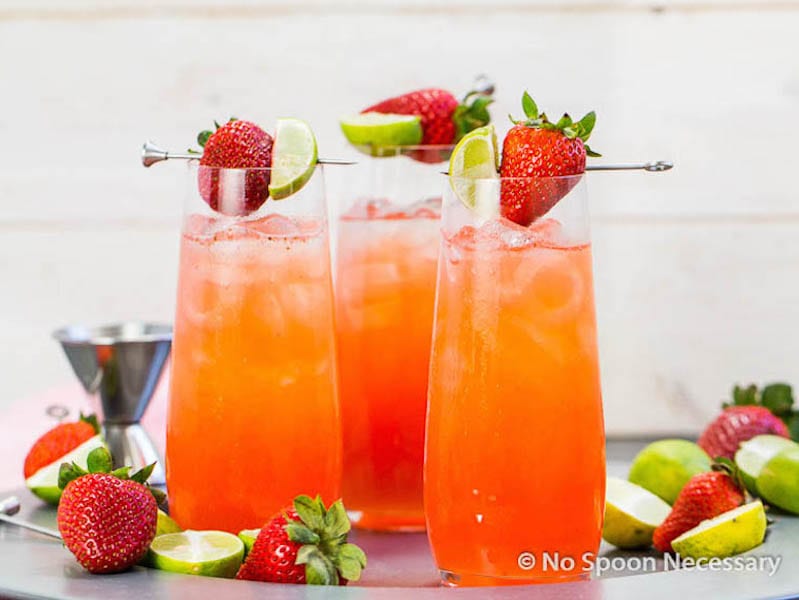 This libation is sweet, tart, and refreshingly delicious. It is the liquid embodiment of spring with a boozy touch. It is the perfect way to start and end your weekend, and gulp during of course. In case you are too young to consume alcohol, or simply want a virgin rendition of this drink, it can easily be made non-alcoholic. Simply replace the champagne and vodka with Sprite, sparkling water, club soda, or a combination of the three.

Strawberry Lime Cocktail
A sweet, tart, and refreshing taste of spring.
Author:
Cheyanne Holzworth
Ingredients
1 Cup Water
1 Cup Granulated Sugar
1 Cup Fresh Strawberries – quarter or halved (depending on size)
1 Cup Key Lime Juice
1 Cup Strawberry Vodka
1 Cup Champagne (or Sparkling Wine)
For Serving:
Strawberries
Key Lime Wedges
Ice Cubes or Crushed Ice
Instructions
Combine water and sugar in a small saucepan and place over high heat. Bring to a boil. Cook until water turns clear. (This should happen immediately). Remove from heat.
Add strawberries and let seep in sugar water (simple syrup) for at least 20 minutes, or until syrup is room temperature.
Use an immersion blender to puree strawberry simple syrup, or transfer syrup to a blender to puree. Transfer to a fine mesh strainer placed over a large pot or container and strain syrup. Discard strawberry seeds.
To strawberry simple syrup add key lime juice, vodka and champagne.
Fill glasses with ice and pour in strawberry key-limeade cocktail. Garnish with strawberries and key lime wedges. Enjoy immediately.