Step-By-Step French Recipe: Recette De L'œuf
Alsace is known for its famous fairy-tale villages and wine ( Have you heard of the Alsace Wine Route? Read about it here for some hot tips on where to go !)
For those who can not make it to Alsace in France, Michelle Tchea's Chefs Collective has asked two young, inspiring and very much 'watch this space' chefs.
Classic yet modern interpretations of delicious French dishes in the village of Barr.
The two chefs  ( go team!)  lead the restaurant, La Table Du 5 at 5-star luxury hotel, 5 Terres Hotel & Spa.
This is one of the signature dishes by chef Axelle Gillig & Mathias Stelter – Recette de l'œuf.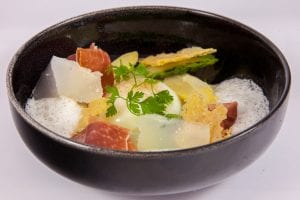 Recette de l'œuf
Ingredients :
4 Organic Eggs
4 San Daniele Ham Slices
1 big Potato
A piece of Parmesan Cheese
150g of Grated Parmesan Cheese (100g for crisps / 50g for the sauce)
30 cL Cream ( 10cL for mashed potatoes / 20cL for the sauce)
50g Butter (for mashed potatoes)
Mushrooms of your choice (we are using chanterelles at the moment)
Shallot, Garlic, Parsley
Poach the eggs in a 63 degrees water for one hour.
We use a sous-vide cooker to maintain the temperature, it's very precise and not too expensive, we are using an anova one.
Cut and then bring to a boil the dices of Potato until they are tender.
Then drain and mash them, add cream and butter to make it creamy. Don't forget to season it with salt and pepper.
Shave the Parmesan with a vegetable peeler to make some nice petals.
Then to make some delicious Parmesan crisps, pour some grated Parmesan onto a silicone baking sheet in the oven 180 degrees (Celsius) for approximately 8/10 mn, it depends on the oven.
To make the Parmesan Sauce, take some grated Parmesan cheese, then bring it into a boil with the heavy cream, season it with salt and pepper. Put as much Parmesan as you like.
We are slicing the ham ourselves with a Berkel machine, but you can buy it in thin slices it will be perfect.
Then wash and cut the mushrooms of your choice, and stir fry them with butter, add some minced shallots, garlic and parsley.
If you are ready to plate, put a little bit of mashed potatoes in the middle of your plate, then one egg, season it with Fleur de Sel and Pepper, then mushrooms, ham, Parmesan flakes and crisps. Finish with the Parmesan Sauce.
The dish is ready to serve, enjoy it
Michelle Tchea
Michelle Tchea is a 4-time bestselling author. Her books include, Building a Perfect Meal, My Little SoHo Kitchen, Signature Dishes (Australia's Best) and Chefs Collective. Her work can be found in other leading luxury travel and food magazines including Travel+Leisure Asia, SMILE, NUVO Magazine and The Telegraph