Steak 954 – Modern Beach View Restaurant in Fort Lauderdale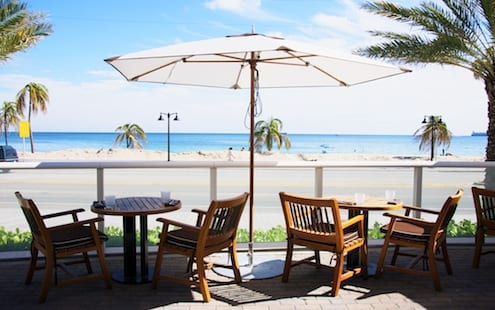 Steak 954 is a well-designed restaurant with impressive views of the beach where one can find a variety of dishes made with fresh ingredients, presented with style.
By Brenda Benoit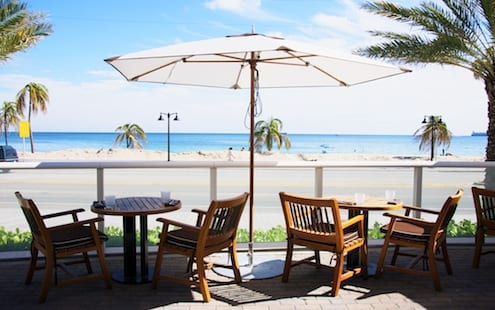 The vibe at Steak 954 is modern, the decor vibrant with colors ranging from the brightest greens to the deepest blues. The outside seating area could not have been more pleasant, the long white-sand beach a whisper away from the tables and the ocean so blue that it looked that it was painted by Picasso himself.
This time my dining companion was Miss D., a person whose opinions are so visceral that you can guess what she is thinking just looking at her face after each mouthful.
We started with the French Onion Soup which was made with ciabatta crostini, gruyère and provolone cheese. The thick layer of cheese was decadent and the soup underneath very aromatic.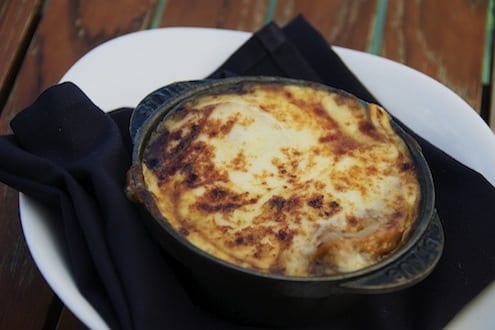 The Long Island Duck Slider combined burgers made from duck, cabbage slaw and kimchee aïoli on a brioche bun; all this accompanied by crisp house-made chips. This was a hit around the table. It was not too big so only one bite per person and wow, the flavor was great and heavenly.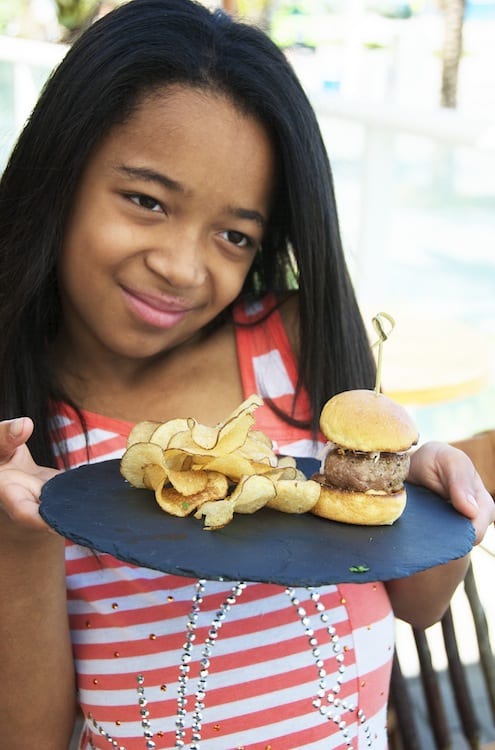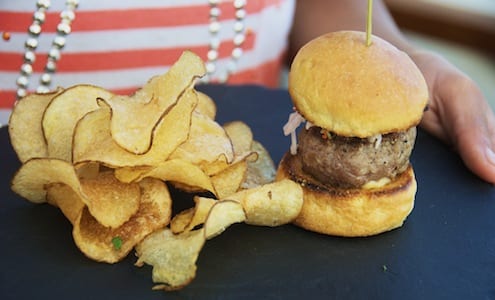 Roasted Natural Chicken Breast came next. It was served with nora mills grits, shaved vegetable salad and a foie gras emulsion. The chicken was golden on the outside and juicy on the inside. The grits were creamy and the foie gras emulsion added a nice touch.  This dish was a bit on the salty side though.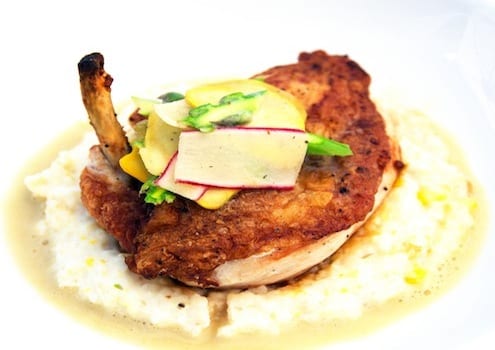 The Local Snapper was served with an interesting combination of ingredients. The snapper itself sat on a bed of cucumber tzatziki and cilantro coulis and was topped with a fava bean "salad". Again, this dish was also a tad too salty. Miss D. agreed.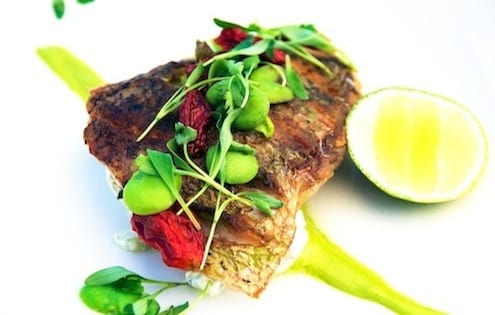 The Broiled Filet Mignon on the other hand, was pure genius. The portion was quite generous and it came with pomme frites (aka french fries), sautéed broccoli rabe leaves and a roasted mushroom sauce that was to die for.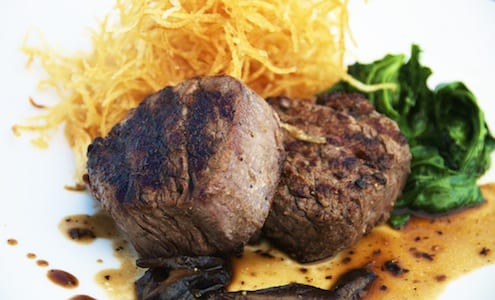 Desserts were both spectacular and very pretty. The Sticky Carrot Cake was gooey and moist and the crème fraîche ice cream an original addition. The cognac butterscotch the cake and ice cream were sitting on was just lip-smacking.
The Caramalized Chocolate Bread Pudding was faultless, the combination of chocolate and caramilzed bananas adding a fine balance. And the hazelnut ice cream? Nothing short of a party on the tongue.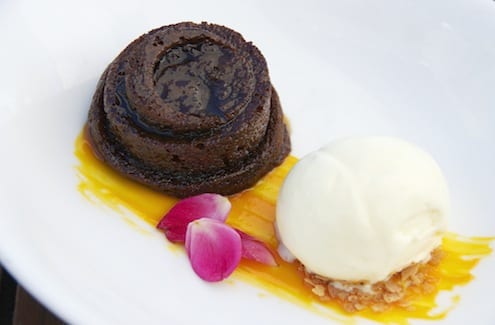 Brenda Benoit
Brenda Benoit was born in the city of St. George's in Grenada and grew up in Caracas, Venezuela. She has been living in Miami for over 20 years, loves to cook, eat and to try new restaurants & cuisines - always with her camera as a companion. She's a dedicated cookbook collector and is in the process of writing one of her own.