SPONSORED POST: From Dijon Originale mustard to Cornichons, Maille has a rich heritage starting in 1747 that honors tradition. Check out these easy one-pan brunch recipes that pack great flavor, thanks to Maille. PLUS, be sure to enter for a chance to win their epic brunch makeover giveaway.
This is the perfect one-skillet spring brunch dish to serve to a crowd. Your guests will love the savory flavor and addictive crispy texture of this Spring Vegetable Hash paired with the creamy herb dressing.
Maille Brunch Makeover Giveaway!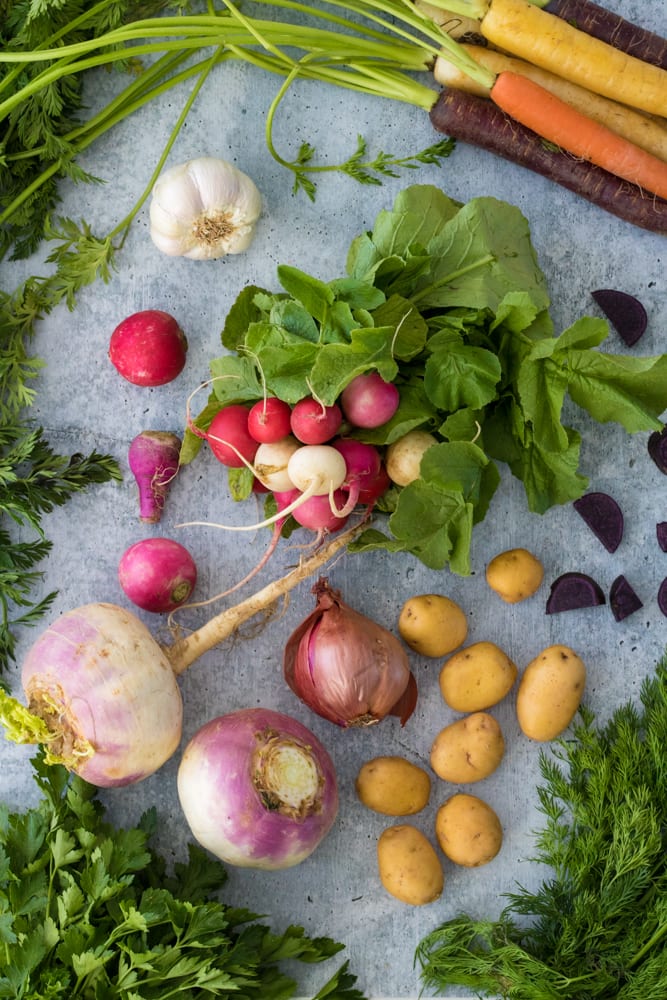 This hash is packed with my favorite spring root vegetables: rainbow carrots, Easter egg radishes, turnips and baby potatoes. The flavor in this dish starts with shallot, garlic, olive oil, salt and pepper sautéed in a cast-iron skillet. After the veggies start to soften, transfer the skillet to the oven for a crispy finish. Then, broil it quickly at the end for the perfect golden brown sear.
This dish gets a major flavor boost at the end with an addictive creamy herb sauce for drizzling on top. The sauce completely makes this dish and is quick to pull together in a mini food processor or blender. It is dairy-free and yet super creamy from simply combining olive oil, tahini and water. The sauces flavor comes from Maille Dijon Originale mustard paired with fresh dill and parsley, my favorite springtime herbs. I also added a touch of maple syrup to balance out the Dijon mustard and tahini flavor. Don't skip it!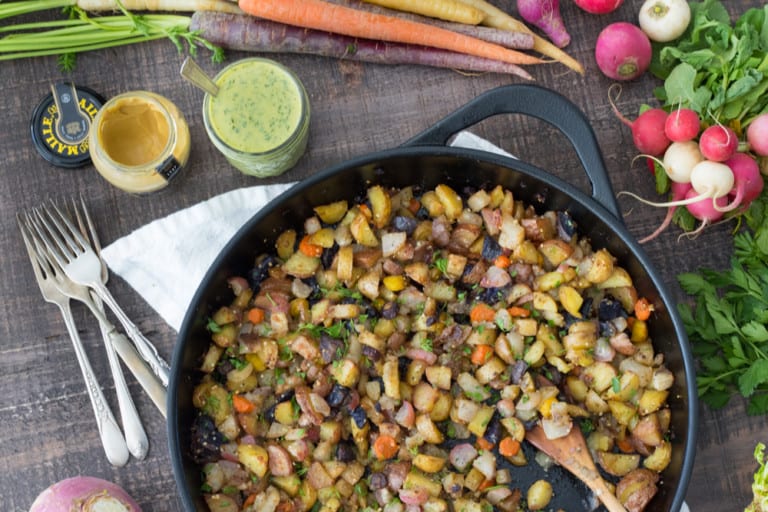 A spoonful of Dijon mustard is great for adding quick and easy amazing flavor. In this recipe, I partnered with Maille and used their Dijon Originale mustard which I love for its authentic French taste. Maille ingredients are clean and the taste is always bold and gourmet. The mustard works so well in this sauce and compliments the flavors of the hash perfectly.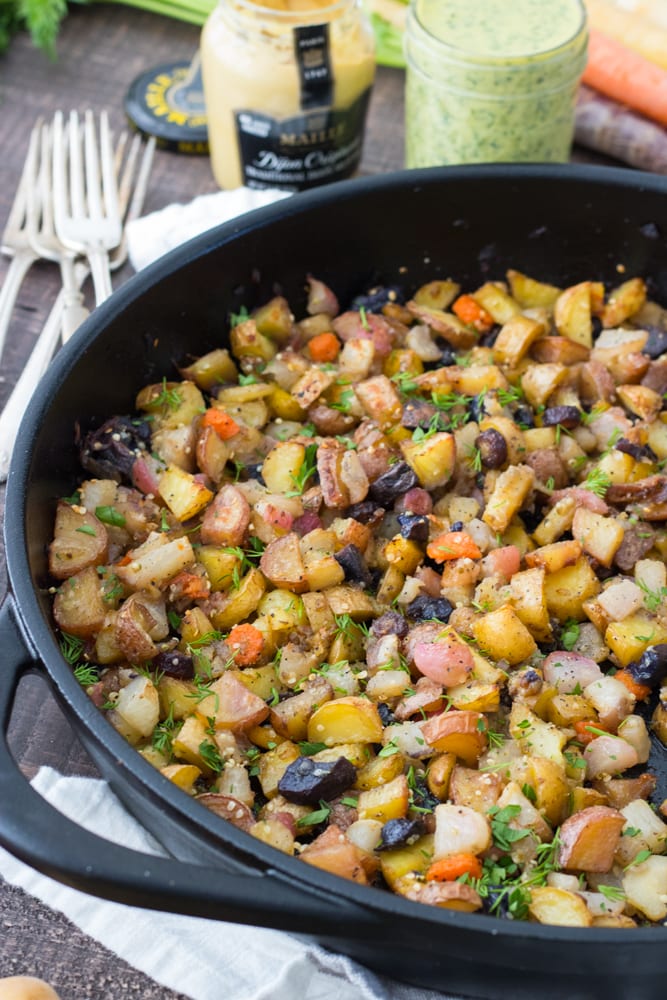 For the potatoes in this recipe I recommend either baby Dutch yellow potatoes or fingerling potatoes. These two varieties have an earthy, nutty, buttery taste and tender skin that work well in this hash. The fingerling potatoes I used were purple, yellow and red offering even more color to the dish.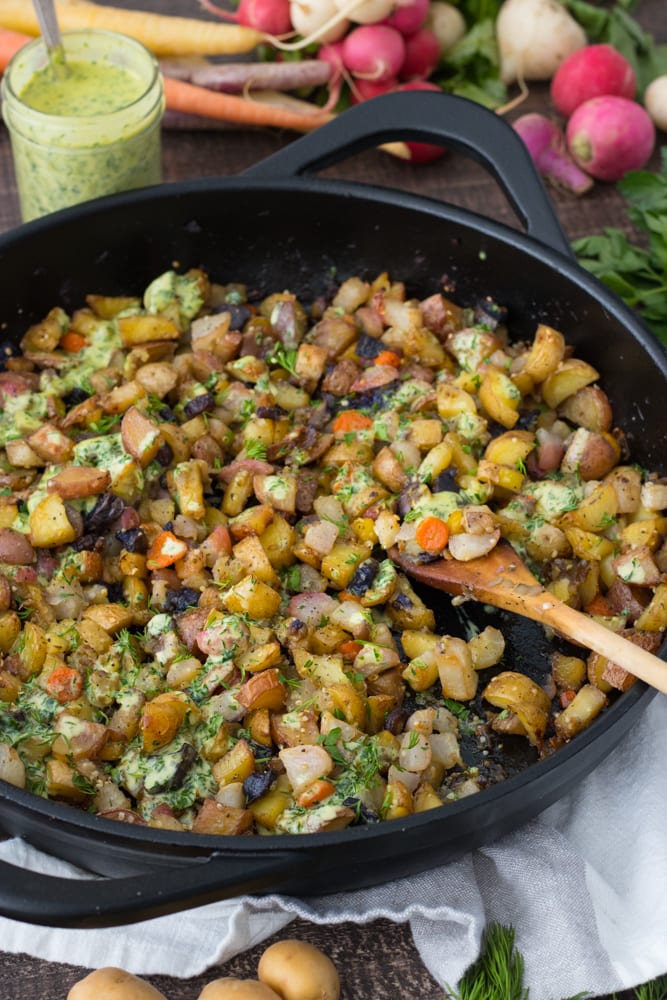 You could use regular radishes in this recipe but I have been loving the festive Easter egg radish variety this time of year. The vibrant hot pink, red, white and purple colors really stand out in the dish.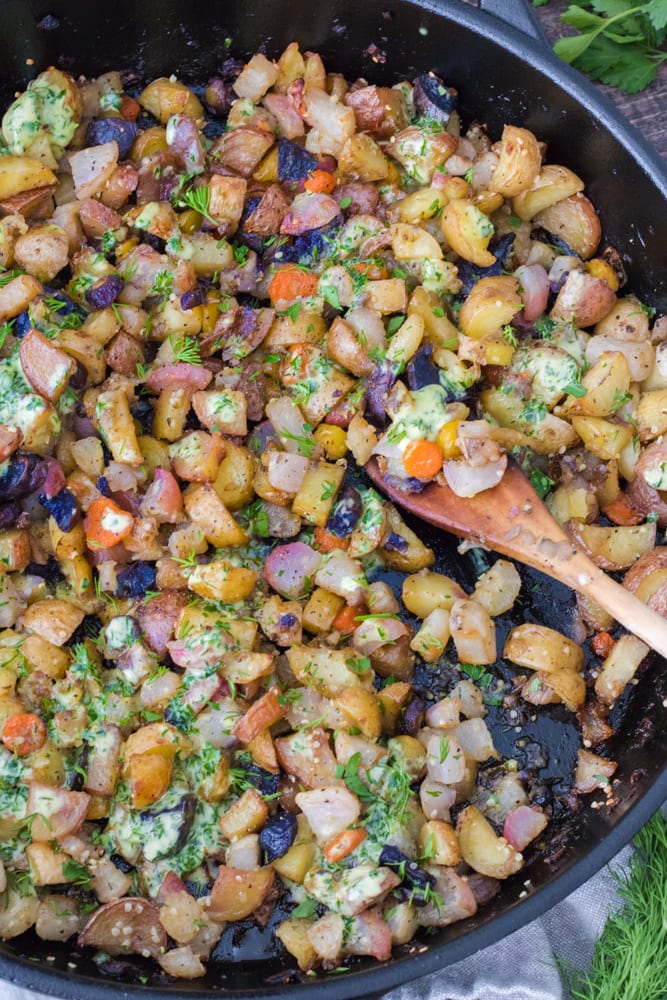 This recipe is gluten-free, nut-free, refined sugar-free, soy-free, egg-free and dairy-free.
I hope you love this hash as much as I do. It is so seasonal, colorful and flavorful.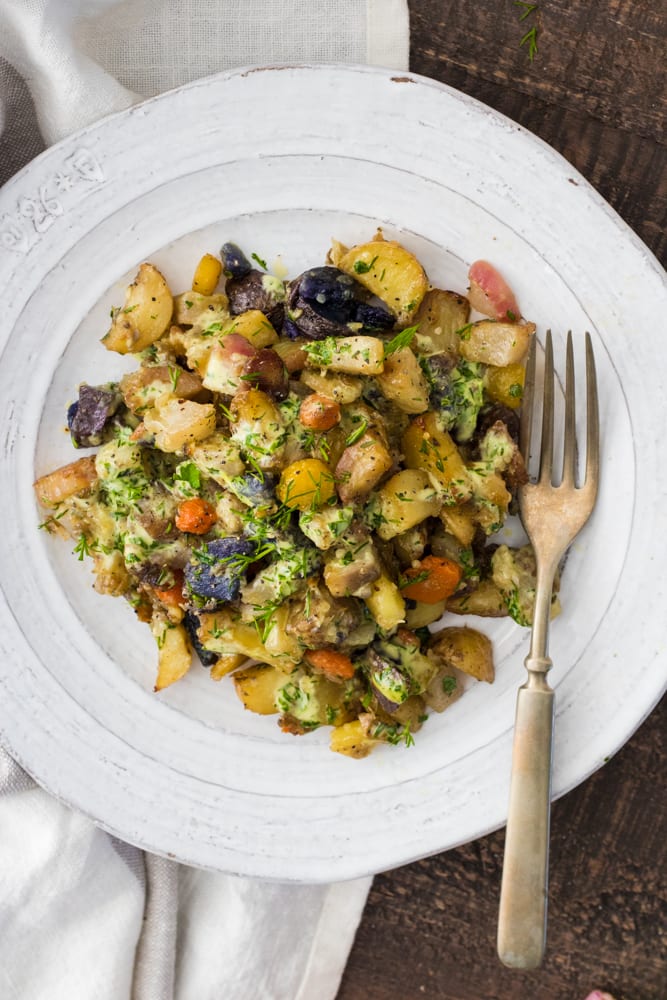 Enter for a chance to win a Maille Brunch Makeover! As part of this partnership with Maille, Maille is offering my readers a $500 brunch makeover! Enter below to win a 5-piece cast iron set, 16-Piece Rachael Ray Dinnerware set and 6 Maille flavors including Black Truffle Mustard + much more! Good luck!
Maille Brunch Makeover Giveaway!

Spring Vegetable Hash and Creamy Herb Sauce
Ingredients
For the Hash:
6 tablespoons extra virgin olive oil
2 shallots, peeled and diced
1 large garlic clove, minced
1 teaspoon fine salt
½ teaspoon ground black pepper
1.5 pounds baby Dutch yellow potatoes or Fingerling potatoes, diced into small bite-sized pieces
4 large rainbow or regular carrots, peeled and diced
1 turnip, peeled and diced
10-12 ounces radishes (I used Easter egg radishes), diced
¼ cup hemp seeds (optional)
For the Creamy Herb Sauce
½ cup extra virgin olive oil
¼ cup runny tahini
1 cup fresh dill, large stems removed (save some for garnish)
1 cup fresh Italian flat leaf parsley, large stems removed (save some for garnish)
1 tablespoon Maille Dijon Originale mustard
1 tablespoon maple syrup
½ teaspoon salt
¼ cup filtered water
Instructions
Preheat oven to 425 degreesFahrenheit and prep your veggies.
For the hash:Heat the oil in a 2-quart cast-iron skillet over medium heat. Once the oil is hot add the shallots, garlic, salt and pepper and sauté for 2-3 minutes until the shallots are translucent. Add the potatoes, carrots, turnip and radishes and sauté over medium heat for 20 minutes until the potatoes start to soften. Add hemp seeds if using. Stir frequently throughout the cooking process and ensure the veggies get evenly coated with the oil. Transfer the skillet to the oven and roast at 425 degrees Fahrenheit uncovered for 30 minutes. Broil at 500 degrees Fahrenheit for the last 2-3 minutes for a golden brown crispy sear.
For the creamy herb sauce:While the hash cooks in the oven, prepare your sauce. Add all sauce ingredients to a mini food processor (or blender) and puree until smooth and creamy. Set aside. If making the sauce ahead of time, thin out with 1-2 tablespoons filtered water just before using as the sauce thickens as it sits overtime.
For serving:Garnish the skillet with chopped dill and parsley leaves. Serve the hash hot out of the skillet or transfer to a serving dish. Drizzle with the creamy herb sauce or serve on the side and allow your guests to drizzle their own portions.