PARTNER POST: Dive into the 120 days of summer with Santa Rita wines that pair perfectly with the foods of the season, straight off the grill.
Marinate the less expensive, tougher cuts of steak and grill for a tender, super flavorful summer dinner paired perfectly with Chilean wines.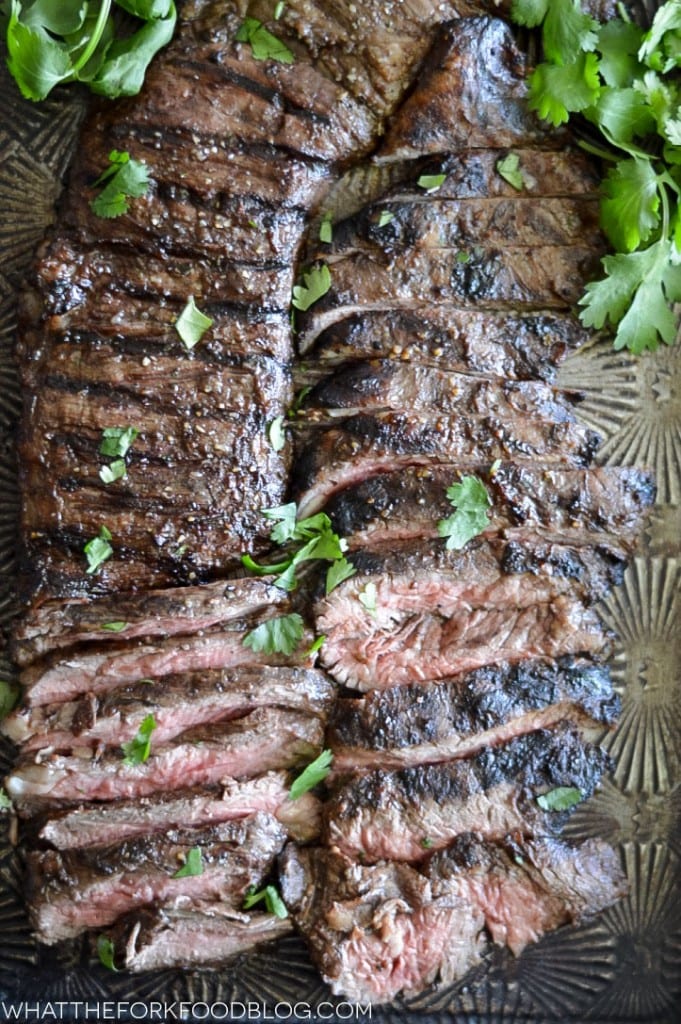 In my house, steak is a must as far as summer meals go. It's easy, filling, and so delicious. My favorite steak is the ribeye but they're so, so expensive we rarely have them. Instead, I often buy what's on sale or even what's marked down because it needs to be cooked within a day or two.
That's how I happened to come upon today's meat – the grilled skirt steak. It's a cut of meat that I almost never get but one that I need to keep in the rotation – it's so good!
Skirt steak can be tough but it's great for marinating. I've included my absolute favorite steak marinade in the recipe today, which is one I grew up eating. Growing up, we almost always had it on London Broil; which was another steak that needed to be marinated for a long time.
I cooked the skirt steak to medium so it's still nice and red in the center. Skirt steak is best when cooked medium-rare to medium, no more! It's a very thin steak so it cooks VERY quickly on a hot grill – I'm talking 3-4 minutes per side TOPS. Yes, you read that correctly: 3-4 minutes per side for a total of 6-8 minutes. Fastest cooking dinner ever!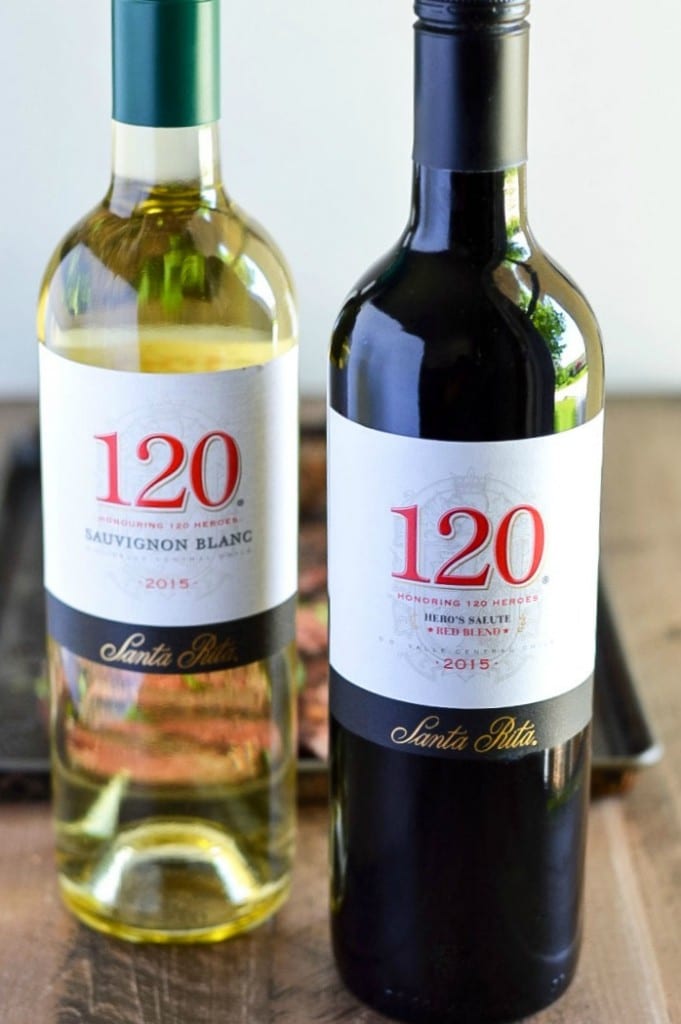 While this grilled skirt steak cooks extremely fast, you do need to marinate it for quite a while. For the ultimate flavor, I like to marinate it for 8 hours or even overnight. It needs AT LEAST 4 hours – and I'm talking bare minimum or or else you won't impart that delicious marinade flavor into the meat. I also hit my steaks up with some Badia Complete Seasoning right as I put them on the grill for an extra boost of flavor – so good!
Today I paired my steak with a Hero's Blend red Santa Rita 120 wine, which is a Chilean wine that I LOVE! The red blend that I received pairs really well with grilled red meat and stewed meats.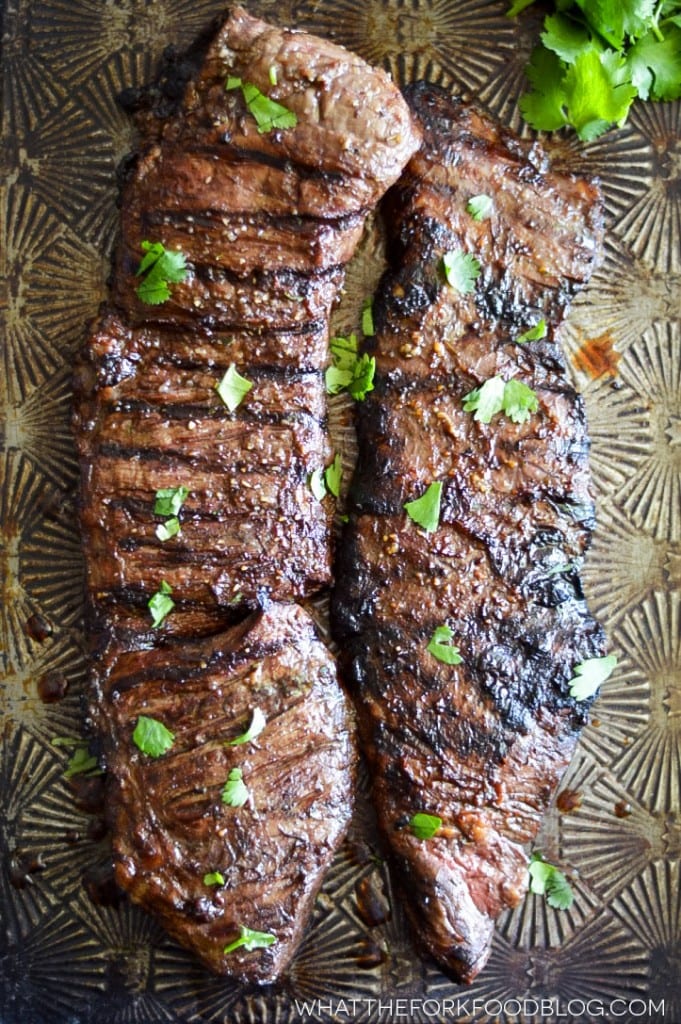 Their Sauvignon Blanc would go great with grilled garlic shrimp or grilled chicken.
Both wines are great for bbq's and any summer party you're attending. Enjoy!
See Also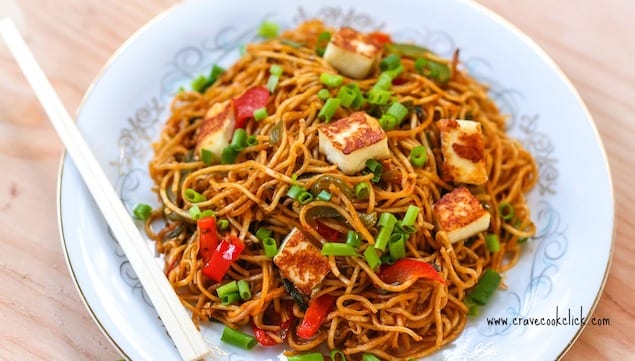 P.S. This steak is fabulous left over. Slice it thinly and against the grain and you'll have a perfectly tender, easy to eat steak that you can toss on top of salads.
For more grilling inspiration with Santa Rita, check out this grilled Chilean chicken and pebre sauce.



d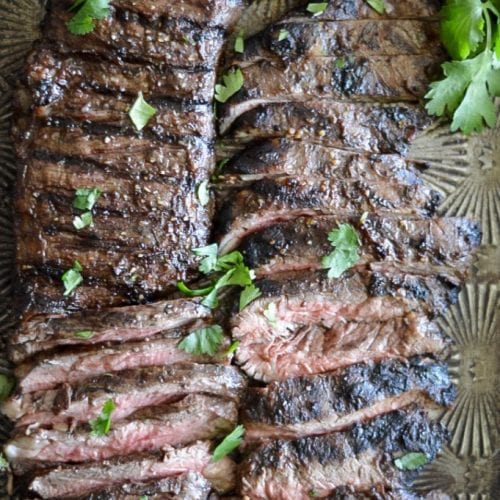 Sharon Lachendro
Ingredients
2

lb

skirt steak

1/3

C

avocado oil

or Canola oil

2

Tbsp

gluten free steak sauce

2

Tbsp

dry sherry

2

Tbsp

red wine vinegar

2

tsp

Worcestershire sauce

1

tsp

seasoning salt

I used Badia complete seasoning
Instructions
Place the skirt steak in a large resealable bag or glass baking dish.

Whisk together the oil, steak sauce, sherry, red wine vinegar, and Worcestershire sauce. Pour the marinade over the steak, coating all of the meat. Refrigerate 6-8 hours or overnight.
To Cook the Steak:
Preheat grill to 500 degrees.

Clean and oil the grates then place the steak over the hot part of the grill and sprinkle the steak with the seasoning salt. Grill 3-4 minutes per side or until the internal temperature reaches 130-135 degrees.

When the steak is done, let it rest on a platter for 10-15 minutes before cutting. To serve, slice the steak thinly and against the grain.
Notes
Prep and cook time does not include marinading time.
Sharon Lachendro
New Englander born and raised. I'm the wife of a gluten-sensitive sweets and carb lover and mother to two beautiful girls. I'm the author of What The Fork Food Blog, home of easy gluten-free recipes that can easily be adapted for gluten-eaters. I love, love, love vanilla, Julia Child quotes and coffee. Lots and lots of coffee.