Denise Sakaki about downtown Las Vegas, the unofficial "Ninth Island" of Hawaii.
By Denise Sakaki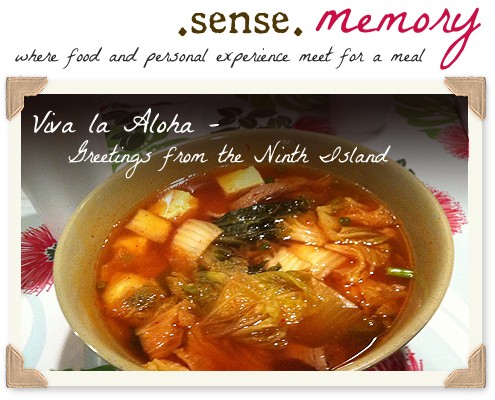 Las Vegas has firmly cemented itself in the American consciousness as a grown-up amusement park, a metropolis of sinful delights where one can celebrate a short weekend of excess and quietly hop a plane in the hopes that whatever regrettable deeds will remain stranded on the tarmac like some forlorn stray dog. Maybe it's the theatrics of Vegas that prompts this sense of wild abandon, visiting a place that swims in an identity crisis. It's a city in the middle of the Nevada desert, miles from nowhere, with nowhere to go, yet you can find replicas of the Eiffel Tower, the floating city of Venice, downtown Manhattan, a medieval castle and a giant pyramid from Ancient Egypt, tangled in an ant farm of music, lights and ringing jackpot bells. It's a city having a 24-hour masquerade party, inviting others to join in and play pretend for a few blissful days and truly escape. But for some people who regularly visit Las Vegas, it's not an escape, it's more like coming to a second home.
It's no surprise to find a little bit of the South Pacific hiding amongst the jungles of transplanted culture, but we're not talking kitschy Tiki bar lounges and fake plastic grass skirts. Downtown Las Vegas is the unofficial "NinthIsland" of Hawaii, except that it's all sand, no beach. A few miles away from the glammed-up Strip is the Downtown area of Las Vegas. It's full of older hotels that have avoided the guillotine of sparkly progress that has turned most of the newer hotels into luxury retail/concert mega-parlors. Downtown Vegas hotels like the Fremont, Main Street or Union Plaza are sentinels of a bygone era, when people came to Las Vegasfor one thing – to gamble, and hopefully come away with a bit of luck to line their pockets. What these hotels lack in luxury amenities, they make up for in comforts of home, which is to say, the food. At least if you're from the Aloha State. You can get a hot bowl of oxtail soup as a midnight snack, fresh malasadas (a popular sugar-dusted doughnut pastry) at breakfast, a big bento plate lunch with slow-cooked kalua pork served alongside the two-scoops of rice and potato-macaroni salad. There are snack shops like the old "crack seed store" of the plantation days, selling packages of dried fruit and nuts, preserved with the traditional salty-sour li hing powder. Hawaii is very much a food culture, but a habitual one, where people will stay true to their favorite dishes, no matter where they are.Las Vegas, being the ever-vigilant marketer, took note of Hawaii's creature comforts, and recreated a little bit of the islands in their downtown hotels, offering favorite dishes that would normally not be seen on a typical casino menu. How often do you see Spam and Portuguese sausage on a breakfast buffet line at the Bellagio? It's been an ongoing relationship for decades, with big hotel/casino operators like Sam Boyd, marketing directly to the islands with charter trips and hotel/airfare packages to make the traveling process simple and carefree. The fact that gambling of any kind is illegal in Hawaii lends that much more appeal for a visit to Sin City. There is a bit of a cultural allure, as Asia is a region that prizes the notion of luck, and Hawaii has a high concentration of Asian Americans. Luck isn't just chance, it's something ritualized and valued; people wear a lot of red, as a sign of good fortune, and all the gift shops sell figurines and charms in the shape of frogs, as they're a symbol for luck.
But it's not just about the gambling. People can find slot machines almost anywhere on the West Coast. Las Vegas has managed to not only transplant a culture, but let it flourish. Las Vegas has become a home to many Hawaii transplants, many of them working in the casinos that specifically cater to island visitors. Walking through the California Hotel on a busy weekend, it's like wandering through a shopping mall in Honolulu. Familiar shops from Hawaii like Lappert's, an ice cream and coffee parlor, is full of parents and children. There's a restaurant called Aloha Specialties that has a kimchi saimin that's as good as anything you'd have in Hawaii, with giant chunks of the spicy pickled cabbage swimming with noodles in a chili-spiced red broth. The crowds of people talking in the local Pidgin English almost drowns out the ringing of slot machine bells, and for a second it really does feel like Hawaii. People comment how they run into neighbors and friends more often in Las Vegas than they do their own city, and on weekends, the hotels are often booked solid with family and school reunions. The lure of Lady Luck is of course a draw, but what keeps the Hawaii crowds Downtown is as simple as what's on the plate. While visitors can go to the New York-themed hotel and get a hot dog, or visit a Parisian styled hotel and eat crepes, it still doesn't feel as oddly genuine as going Downtown and getting a fresh malasada, a bowl of saimin, and feeling like you're in Hawaii. Just try to ignore the sounds of the slot machines.
Denise Sakaki
Denise Sakaki is a freelance food writer and photographer who is always searching for the connections between food and personal experience. She is the creator of the food blog Wasabi Prime and contributor to Serious Eats, 425 Magazine and Drink Me Magazine.